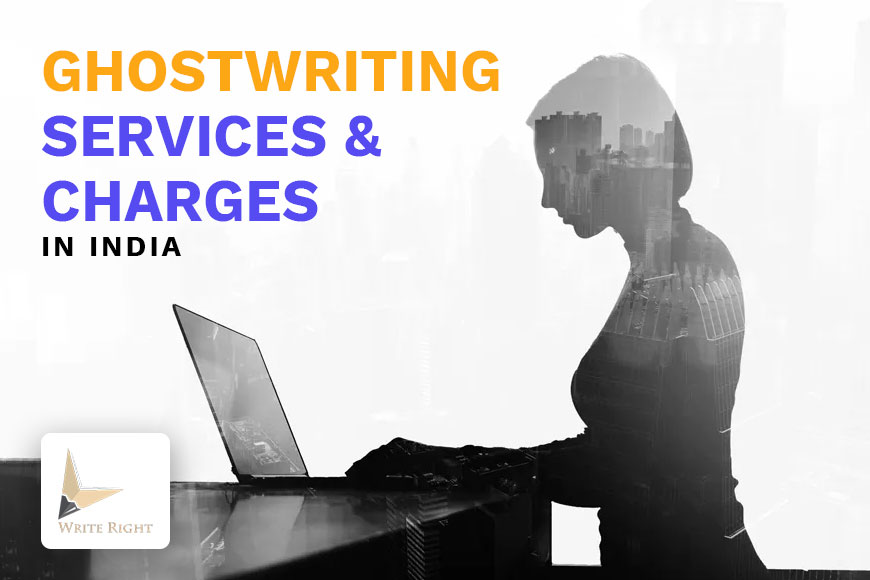 Introduction
Are you clinging to close deadlines and tired of thinking of ideas for your next project and getting no result? Are you stuck on a writing assignment and looking for a miracle? Then look no further; ghostwriting services are here to help you ace your writing tasks. This detailed guide on ghostwriting services in India will answer all your concerns and give you some valuable tips about finding the exemplary ghostwriting service.
What is a Ghostwriter?
So, you can put your tingling brain to ease as we will help you navigate this process of hiring ghostwriting services, their authenticity and understanding its benefits. The first important point is what exactly is a ghostwriter? Don't worry; it is not an evil spirit to be afraid of. Instead, it is someone who delivers you quality work while ensuring you get all the credit. Sounds fascinating, doesn't it?
A ghostwriter burns the midnight oil to deliver the best quality work they are paid to write and don't take the credit away from you. They don't work for fame; they work for you. Some projects where a ghostwriter can help you will assist you in understanding the role of a ghostwriter. Earlier, ghostwriting was limited to the domain of book writing. However, with the emergence of demand for content, ghostwriting services in India are highly in demand for domains like business proposals, SEO marketing, website content, social media promotions, and any field that requires content for promotion and thriving.
Let us say you run your organization. It is the company you build from scratch, something you are very passionate about; you wouldn't want to take any kind of chances with the quality of content uploaded on your website. However, you are busy and want someone to help you write it for you; Tadaaaa, the ghostwriter, is here for you. They write the content as per your requirements, add creative and unique elements, and deliver the results with optimum privacy. Another occasion would be if you are writing a book, but the deadline is near, you are halfway through, you need some assistance to complete the book, but you are the author, so why would someone else write for you? That is what ghostwriters get paid for, to deliver top-quality with taking your spotlight.
Now that you know how vital a ghostwriter is, you might ask where to find one? Finding reliable ghostwriters is easy; that is why we made this guide to help you with ghostwriting services in India. First, we will list some of the top organizations that are affordable, authentic, and values you.
Why use their Ghostwriting Services?
Finding the perfect ghostwriting service is like finding the right pair of socks. First, you need to weigh what value they offer and how they will help you complete your writing task in time without compromising on quality. Thus, we have curated a list of the top 5 ghostwriting services in India to make the process of finding your fit hassle-free. These platforms offer umbrella services ranging from content for e-books, blogs/articles, academic essays, scripts, proposals, and every work that requires writing.
The best part about hiring a ghostwriting service is that you don't need another editor to proofread your work or pay any extra bucks for any revision. Ghostwriters are a master of their art, and they proofread every piece of work multiple times so that it saves you any trouble. Once you receive the final draft, you can rest assured and upload it in a click as multiple revisions are run on the work, and skilled professionals who acquire the knowledge of the work deliver the best results. So, you not only get all the credit for your work, but you also get affordable service which saves your day and effort, allowing you to invest your valuable time in other tasks in your hands.
As previously stated, these ghostwriters deliver error-free and grammatically correct writing, and each piece of content written can reach many individuals. These blog posts have the potential to convert each reader into a prospective client and ultimately into a customer. The ghostwriter can draft material and story ideas based on the needs of the client and the cooperation and agreement between a ghostwriter and the client, especially if they are experienced with the area or industry.
So, if you are looking for a savior to take the task off your shoulder, hire a ghostwriter, and wait for them to do wonders while you relax!
Top 6 companies that offer Ghostwriting Services in India
Even though you will find tons of organizations providing these services, finding the best fish in the ocean is our job. Therefore, we have designed a list of top 5 companies offering top-quality services at affordable rates.
1. Write Right
The first one on our list is a globally recognized organization known for its revolutionary work in the space of content writing services. At Write Right, every content and work is done very systematically as while they ghostwrite for you; they bring in different ideas for every kind of platform.
They offer solutions to every writer's problem. Write Right works with bloggers as they give their rough thoughts and ideas; they reproduce them with perfection. They assist firms by obtaining directions and a quick message and then writing a post in their pattern depending on that.
As a result, a businessperson/blogger or anybody else provides preliminary data that needs to be edited and exaggerated to meet the client's requirements. Then, Write Right crafts the entire text based on the title provided just ahead of time, and you can sit back.
The USP of Write Right is their services cater to SEO/Search engine optimization is the adequate part of writing any content. They are perfectionists who conduct extensive research in order to elevate your material to new heights. Write Right understands SEO on a new level because of their expertise. They've built relationships by mastering the ins and outs of SEO, so they know how to develop content that will be highlighted and ranked automatically in search engines.
2. Estorytellers
This agency acts as a one-stop shop for all of your ghostwriting needs since their ghostwriters are professionally trained and dedicated to writing, editing, and researching for their clients' publications and blogs. In addition, their ghostwriters create high-quality content that is novel and imaginatively written in editions and on websites to pique readers' interest in the credited author's works. Because Estorytellers understands people's objectives and interests in reading, they have a team of excellent ghostwriters on hand at your discretion.
Estorytellers ghostwriting services stand out because their ghostwriters provide creative content according to the type of books ranging from fiction, non–fiction, religious, academic, medical to website demand. They require different types of editing, research, specialized content, and time. Therefore, our price is genuine so that all can avail this facility.
We effectively tether the writing chops of our writers with our unique writing processes to consistently deliver impeccable writing services that can meet the clients' objectives and resonate well with the audiences reading the same. If you are looking for a ghostwriting service that matches your persona and embodies your writing style, then Estorytellers is the right match for you. They ensure that the writer's voice is aligned with your opinions without compromising the creative process of writing.
3. Kalam Kagaz
This company exemplifies teamwork because it has worked with several authors over the years, supporting them with the release of their works. So, whether you're a new publisher, an entrepreneur, a motivational speaker, or an amateur looking to boost your online presence and prestige, Kalam Kagaz is the place to be!
At Kalam Kagaz, meeting your demands is an easy process. Your whims determine it. Their ghostwriters create flawless fiction, nonfiction, biography, recollection, novel, and instructional books and articles. However, if they write suitable material for you, you get full credit because it is ultimately your effort. Kalam Kagaz has a lot of experience handling your tight deadlines and job load. It has enabled them to have a deeper understanding of market fundamentals and consumer needs, as well as to apply what they've learned to produce high-quality work.
Their staff works closely with each client to ensure maximum satisfaction. They help you from the start to the finish of the process, from envisioning your idea to turning it into stories. The goal of Kalam Kagaz is to ensure that you don't get anything less than the best at an affordable price to meet the needs of various writers. Their services may help you take your brand or company to the next level. When you work with Kalam Kagaz, your passion and ambition become a reality!
4. Bloggism
Bloggism is the ultimate banger on our list of ghostwriter services in India. More than 100 ghostwriters and editorial staff members make up their team, all of whom work relentlessly to guarantee that the final product is of the highest possible quality. Bloggism takes pride in offering customers an unlimited number of modifications on all orders to ensure maximum satisfaction. Furthermore, because their writers and editors welcome feedback, they will make changes until you are delighted with the final output. Therefore, your work constitutes your voice and idea with the blend of their writer's thoughts. You get to be in the loop of the progress of your content and provide your inputs to ensure the best quality.
Furthermore, their crew meticulously checked all draughts and finished pieces for errors before delivery. As a result, their ghostwriters have a track record of fine-tuning your ideas to perfection. However, they know that achieving excellence requires substantial effort and attention. Thus, their crew has been hand-picked to ensure that they deliver second to none outcomes. So, you get top-class services with the vision that your work is your style, and you are the ultimate author of it.
5. Taletel
Taletel's ghostwriting services are designed to help you achieve your publishing goals. From the initial planning phases through the moment, you open the first page of your book or another writing project. They'll act as your ghostwriter, editor, professional, and industry expert. Some authors are looking to connect with clients who need their abilities and experience. This is something that ghostwriting services can help with. At Taletel, they create content to meet all your marketing needs.
Their expert team of writers is equipped with robust knowledge about various domains. They strive to deliver informative and high-quality content. Taletel's initial focus is on customer engagement and retention. They aim to write content that provides in-depth analysis, actionable insights, and valuable tips. Taletel's ghostwriting and editing services include all you need to produce your book, resume, letter of recommendation, or even blog content for your website.
Hire a ghostwriter from Taletel to start dealing with your content, and they'll genuinely take care of the rest. You can expect the most incredible quality work from their ghostwriters, who are ready to assist you at any time. If there's one thing that I have seen, Taletel, as an organization has learned from their decades of ghostwriting, is that each job is unique. Their customers come to them for almost any reason you can think of.
6. Content Euphoria
This is a bonus one for you, as this emerging and most loved ghostwriting service provider has so many excellent services stacked inside their treasure box. Founded by SunDeep Mehra, a top-ranked content writer globally, Content Euphoria has made its unique place in the market for its exceptional discipline and quality in content writing services. From academic writing services to digital marketing services they offer 500+ specialized services in Academic and Content Writing niches.
With the slogan 'Writing Success Story,' Content Euphoria's unique Educational and Marketing services include sop writing services, letter of recommendation(lor), resume writing services, essay writing, blog content writing, and many more come in affordable options. Moreover, the best part is their client-focused personalized, and quick process. They value your opinions and work on your projects collaboratively without taking any credit or draining your wallets.
Content Euphoria offers the perks of all the services mentioned earlier and combines perfectly with affordability as it is working towards revolutionizing the writing service sector. In addition, the range of expertise and the blend of well-researched work makes it worthy of our list of top-6 ghostwriting services. Their ability to deliver your work on strict deadlines, follow a thorough procedure, research the topic and enhance the output of the work is commendable.
Furthermore, Content Euphoria has the biggest club of in-house and freelance writers with expertise in all domains. Thus, any ghostwriting services ranging from a statement of purpose to books or articles to any form of content writing services make Content Euphoria a match made for you. Head to their amazing website to know more about their client relationships and their phenomenal work.
Is Academic Ghostwriting illegal?
By no means is ghostwriting a novel concept. Ghosting for the purpose of creative endeavors has a long and illustrious history. Even renowned individuals like Mozart ghosted for others for a portion of their careers. There have always been people who seek to share their thoughts throughout history. Some people or businesses aim to establish a name for themselves. Many of these people, however, do not have the time or motivation to complete the work themselves. This is where Ghostwriting comes to the rescue.
Now, The big question here is: Is ghostwriting even legal? Absolutely. Ghostwriting is legal. There's no gray area here: it's your ideas, your knowledge, your name, your book. Some publishing industry experts estimate that as much as half of all published books– some even by big-name authors– are in fact ghostwritten. Ghostwriting is exceptionally typical today, specifically in the conventional publishing industry. Numerous well-known stars, chefs, actors, business individuals, and even authors hire ghostwriters to write books for them. A wide range of demanding people can benefit from ghostwriting services.
For instance, Web marketers and individuals who have websites are constantly hiring ghostwriting services. This is because they require aid in creating material and availing details to possible clients and customers concerning their items. If such services did not exist, a lot of information would never have been printed. The key factor is intellectual property rights. The writer wholly owns the copyright to the content they create, and when you buy it from them, you get the rights to own, use, reproduce, publish, alter, and generally do anything you want with it. The ghostwriter must be given credit or attribution in some situations but not in others. Your agreement with the writer affects attribution. So, ghostwriting is lawful because it is governed by a contract and does not violate any laws or the rights of others.
Charges of Ghostwriting Services in India
Hiring Ghostwriting services in India is quite affordable compared to a full-time writer. You can save more than 50% in business costs by hiring Ghostwriters in India from the above-mentioned top 5 ghostwriting companies. These services are affordable and ensure that they don't dig a hole in your pockets. The range of these services varies from the task's urgency, genre, word count, and topic. However, India's average range of ghostwriting services lies between INR 2 to INR 5 per word. As a result, you don't need to drain your budget to hire a ghostwriter, and neither do you have to compromise on your requirements.
How to choose the best Ghostwriter in India
Being overwhelmed with your work and being expected to deliver every time can be pretty exhausting. We require some additional help here, and a ghostwriter is a perfect solution for these situations.
A ghostwriter is expected to wear many hats and be a joker of all trades. Yet, while each trade might differ in work, some things remain standard across all the works the ghostwriter encounters.
Acclaimed and competent ghostwriter possess the following skills:
They should be research-oriented. A ghostwriter's work is as vital and detailed as their research is. Since they are expected to develop and write on a wide array of topics, they might not have the necessary knowledge in that field, so research is the best tool for a ghostwriter.
Ghostwriters should be fast learners and flexible. A learning curve is associated with every task. An experienced and knowledgeable ghostwriter is adaptable and very responsive to the tasks he is handled. He should extract every ounce of information and requirement from the customer to deliver the final product that meets the client's expectations. Punctuality is always valued in the world, and this field is no exception.
Delivering the work time is not only highly expected of a ghostwriter but is also essential for him. In addition, a ghostwriter should be available for their customer to keep them up to date on the developments on their tasks.
Furthermore, a ghostwriter should be inclined towards details, for they are what makes their work polished and exceptional. One must not make any mistakes and proofread as many times as possible before finally delivering it to the customer.
Ghostwriters can be contacted through their respective writing services. Though there are a plethora of writing services available, it is essential to choose which service's modulus Operandi aligns with best of your interest. The rule of thumb says that good reviews should be prioritized, but many other aspects need to be pondered upon.
Selecting the right Ghostwriting Service
The service you choose must have reputed, and have a team of professional writers working there. Without a doubt, the writers you are employing and trusting your work should be capable enough to deliver it right. Everyone understands the importance of time, and punctual service is one of the most sought-after. Time is of the essence in this field, and delivering the right product at the right time is very much expected of a reputed service. A delay of even a short duration can jeopardize someone's dreams, and hence timely content delivery is of topmost priority.
Another thing you might want to enquire about the writing service you are choosing is the way they provide support. Good communication is essential to tailor the content according to your needs and make the ghostwriter understand the task he will work on ultimately. Communication is the fundamental yet critical factor to a successful relationship between you and the service. Ghostwriting can be expensive sometimes, and hence one must also look after the affordability of the writers. Some might be charging enormous amounts for the inferior quality of work, and therefore a good knowledge of service is required.
All-around availability is yet expected of a good writing service, and listening to the customers' needs throughout day and night is also required. In addition, the writing service must be delivering superior and genuine quality of work for its users, and it can be verified by reading their reviews and searching online. Choosing an excellent writing service not only assures you the best quality of work but also eases up your tension about your work, and you can easily divert your attention to other matters at hand without even thinking twice about the service.
How to collaborate with your Ghostwriter?
You have a fantastic book concept, but you don't have the writing talents or the time to make it a reality. Instead of allowing this to deter you, you've gone above and beyond and hired a ghostwriter. How can you perfectly make the most of your hard-earned investment now that you've signed the contract? First, you must understand how to collaborate with your ghostwriter effectively.
Be aware this is a partnership: It's a mutually beneficial connection. That is extremely crucial. Some clients believe that the ghostwriter will suddenly write the book on their own, but this isn't the case. To supply all of the subject matter expertise, you must collaborate closely with your ghostwriter to supply all subject-matter knowledge. It's a genuine process, and you, as the author, must put in a lot of effort by giving information and assessing the content.
Despite the fact that you've hired someone to perform the actual wording, your expertise powers the book, and you'll still have to do some hard lifting to make it a success. It's critical to set expectations. You'll almost certainly be scheduled for hours of interviews and feedback on each round of draughts to ensure that you're satisfied with the path your ghostwriter is taking. It might be tempting to glance over these draughts and approve them simply. After all, you can always catch it later if you're not fully satisfied. However, the longer you procrastinate to address problems, the longer your ghostwriter will have to solve them. Think of your book like a multi-layered cake. The longer it takes to rebuild, the more layers you stack on top of each other. When it's a single-layer cake, be a good partner and make your modifications then.
Conclusion
Now that you have completed this detailed guide on ghostwriting services and charges in India, you are equipped with all the magic potions you need to make a decision about hiring a ghostwriter and opting for ghostwriting services. Be smart, measure the pros and cons, check the affordability concerning your budget, choose the right ghostwriter, and provide your inputs. At last, we wish you the best, and you can rest assured about selecting any of the top-5 companies as they check every box for the best-ghostwriting services in India.