Top 10 Content Marketing Agencies in the World [Verified 2022]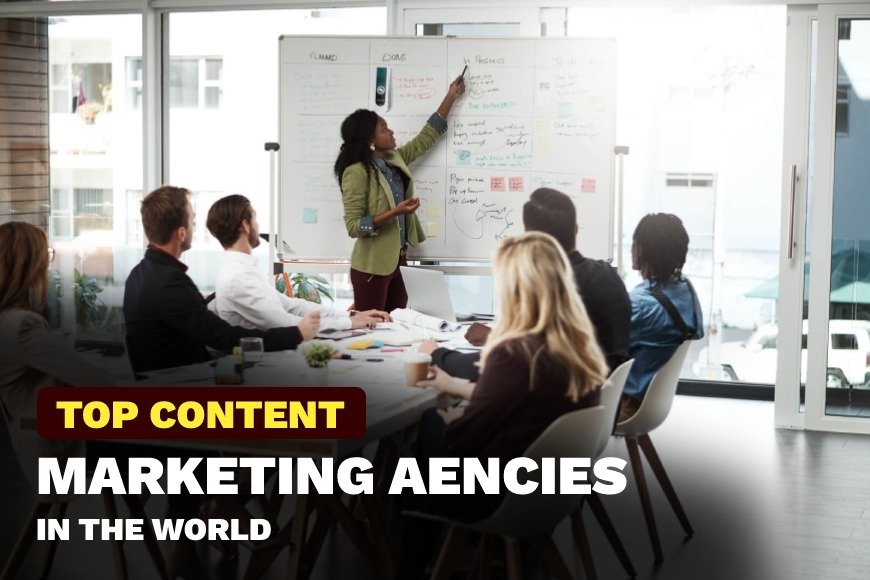 Content is King: Does it Sound Cliched?

"Content is King, Marketing is Queen" and taking Bill Gates's sentiment a bit further, it could be said that Content Marketing rules the roost!
Content Marketing as a Service
Content Marketing is rapidly gaining momentum the world over for numerous reasons. First, it is aimed at helping buyers make good decisions. Second, the service takes away the burden from the customer of making cumbersome market surveys and comparative studies. It could be defined as "a marketing technique of creating and distributing valuable relevant and consistent content to attract and acquire a clearly defined audience to drive profitable customer action."
Examples of Content Marketing Services
Customers have loads of questions in their minds before they lighten their wallets to buy a preferred item or service. Today's millennials go to the length of doing a SWOT analysis of every restaurant they visit, every game they download, every shoe they buy! So much for the negative propaganda that they splurge without a thought. E-books, videos on youtube, webinars, educational articles, entertainment relating to the product, all these and more come under examples of content marketing services. The team develops, writes, edits, and promotes custom (and search engine friendly) content for the concerned business.
Strategies adopted by the stalwarts in the Content Marketing industry
Knowing your audience: That's the first and foremost step
Figuring out the feasible content channels
Deciding on the content type and allocating resources
Assessing the current position of the brand or company, or service as it may be
Giving the product a distinct Voice: Making it unique
Old wine but always a new bottle: Even if it is something that has already been told, it needs to be packaged well for re-telling
Eye-catching Headlines: Adding visual impact to the words used
Researching the market well before taking the leap
Referencing and link building: Insights must be shared with the customer who wants to probe more by providing relevant links
Take action plea: The result would only be achieved when the customer finally reads and acts on the suggestions given by the Content Marketing company. Hence a call to action is mandatory
Editing and proofreading: A thorough check before it goes to print, old-world strategies hold good even in the digital world
Keeping the SEO principles in mind all through: That's how you finally reach your objective
The final thing which crops up the moment a searcher presses the ENTER button is the result of tremendous hard work and mindful strategies adopted by the Digital marketing gurus.
Content marketing companies and SEO agencies
With content being such a roaring business, it is needless to say Content Marketing companies and SEO agencies have cropped up a dime a dozen the world over. Though both these terms are errantly used synonymously, it would be useful to understand the difference first.
An SEO Agency typically focuses on data and metrics in the search world. It's all about calculating visibility and traffic as well as finding trends in search behavior so that the company can create the best possible content. In addition, SEO agencies help the customer with keyword research to understand how to optimize a piece of content to show up on the top of a Google SERP (usually by looking at search volume and competition of certain terms/phrases).
A content marketing company will think about your company and the way it is structured, and write content based on what will help your audience most. Its focus is not searching analytics; emphasis is on writing encouraging and educational content that would help the buyer as well as the seller. In many cases, a content marketing agency will do whatever it takes to market that content and make it the most relevant, which means offline efforts.
Top 10 Content Marketing Companies
Fiverr
Fiverr is one of the best-rated Content Marketing companies in the world. They have revolutionized the way the digital marketplace works. The Fiverr platform connects businesses with on-demand freelance talent offering digital services in more than 400 categories, across 8 verticals including graphic design, digital marketing, programming, video, and animation.
Scatter:
Spiral Content Solutions Private Limited incorporated launched their content management platform and service, Scatter in 2015.They cater to 200+ brands by partnering with 700+ freelancers and reputed content creators. They help brands scale content creation and manage their digital assets by combining best-in-class content strategy, smart storytelling, and a suite of proprietary mar-tech solutions. Scatter has offices in Mumbai, New Delhi, Bengaluru, and the UAE.
Lexiconn
Lexiconn boasts of being one India'sery first content marketing agencdia, having served over 600+ clients in 20 countries, catering to both B2B and B2C brands. Lexiconn works with leading Indian brands like ICICI Bank, Siemens, Times Internet, and HCL.
Write Right
Write Right is globally ranked by Good Firms and Clutch, a ratings and reviews platform that publishes the most extensive and referenced client reviews in the B2B services market, as the best content writing agency for India and abroad. Quality work, delivered within the deadline and crafted to perfection to suit the customer's needs, is what Write Right is all about.
Estorytellers
Estorytellers is a subsidiary company of Write Right. The trustworthy content that they provide has kept them above the market competition. "We turn it into magic," says their website, and they have testimonials to prove their point.
Verblio
Verblio is a US-based online content writing service specializing in SEO-optimized content such as blog posts, product descriptions, and website copy. With excellent Digital asset & workflow management, and superior content strategy and creation, Verlie is another Content Marketing company to reckon with.
BLoggism
BLoggism with its years of industry expertise, proven processes, and a talented team, creates bold, relevant, and personalized campaigns that deliver real growth. Their ability to use technology to manage content as a business asset has brought them this far and will take them ahead. They are a Google Award-winning Content writing company.
iWriter
iWriter is a platform that will match you up with content writers who can craft everything from articles to press releases. Mapping customer journeys, developing workflows, and communicating effectively with top management has stood them in good stead in the Content Marketing world.
Taletel
Taletel provides the right amount of guidance to clients' business activities. They have a systematic approach:
Create an outline and have it approved
Write the post
Create accompanying images
Send the post to the editor
Make any changes
Upload
Publish
The Ahmedabad-based company infuses a 360-degree approach to content services and remains ahead of its competitors.
Kalam Kagaz
Kalam Kagaz has expert writers who creatively write Resumes, Cover Letters, and Linkedin Profiles to help clients stand out from the crowd. They specialize in SOPs for MS, Universities, Visa, PhD., internships, scholarships, and other student needs.
What does the Future in Content Marketing look like?
The Content Marketing World will only become better with the times. It is now poised for a more personalized approach.
'We are not going back to anything. We're not going back to dial-up phones; we're not going back to anything ancient … The old must give way to the new. The new must come in with intensity, with innovation, with great fury and speed.'
Building content communities: The future will see a further rise in Slack communities and focus on personalization.
Going live with videos and Webinars.: A quick and effective medium to educate your audience and get immediate feedback
Improving content experience:  The future might be Interactive content rather than just pop-ups that could be quite boring.
Focusing on products and services: The focus of marketers will be on buyer personas. There is a definite prediction of a rise in AI in content soon.
Doubling down on SEO: The SEO strategy will only get intensified shortly. Deep digging to keyword research to bring forth the optimum results.
Purposing content across channels: The content fire is to burn across social media posts, blog posts, panel discussions, newsletters, round tables, podcasts, conferences anywhere and everywhere.
Engagement is the key
All the top-rated Content Marketing Companies will have to keep the midnight fire burning to get ahead of the competition. And with new entrants in the space in every nook and cranny, it is only with excellent deliverables that one can win the content marathon.
The selling strategies might change, but the customer remains focused on the best buying experience. So they will always look for assistance to get real value for money spent experience. They need someone to ratify their brand and choice. That's where content Marketing companies step in.
Content Marketing Solutions answer the customer's questions and builds trust among the target audience. For the client, it generates leads, connects customers, and aids in conversions.
Content Marketing will move from strength to strength. All HAIL!!