Whether you are a fresher searching for your first job, an experienced professional looking out for a change, or a student applying for your first internship, you will need a proficient cover letter.
Your resume can be enhanced with a crisp cover letter that highlights your strong points and puts across why you are different from other candidates.
However, before you sit down to pen the perfect cover letter for your job, you need to understand what, exactly, is a cover letter.
What is a Cover Letter?
A cover letter is a document added to your job profile that summarises your professional background relevant to the job you are applying for. It is around 250 to 500 words long that aims to spark the HR manager's interest so that they get influenced to look over your resume.
One should note that the cover letter is not meant to replace their resume. Instead, it works as a supplement to boost your CV. Thus, it should not repeat what has already been mentioned in the resume.
Here is a decent example of how a cover letter should look like.
How to Write a Cover Letter?
If you are writing a cover letter for the first time, then it is understandable that you will be a little stumped. However, writing a cover letter does not need creativity. Instead, all you need is the format to make sure that your cover letter catches the eye of the recruiter in seconds.
A cover letter should consist of the following four parts.
Salutation: Through the salutation, you address the reader, that is, the recruiter or HR manager, by their designation or name.
Introduction: This is the section where you need to catch the attention of the HR manager. Introduce yourself and briefly explain why because you are suited for the role.
Body: In the following two or three short paragraphs, go in-depth regarding your professional experience, skills, achievements, and other highlights.
Conclusion: The most essential part of a cover letter is the call to action that influences the recruiter to call you in for an interview.
What Makes a Cover Letter Professional?
You have now followed the format of the cover letter. But even then, it looks a little rustic. Here is how you can make sure that your cover letter looks professional.
Brush your header
The first part of the cover letter that will catch the eye of the recruiters is the header. Make sure that the header includes the following points.
Your name
Your phone number
Your email address
Your professional title
Your home address
Link to your website or social profile
The date
Name and title of the hiring manager
Name and address of the company
Greeting
Address the HR manager directly by their name. Not only they will feel that the cover letter is personally tailored for them, but it will draw them in immediately as well.
Remember, use the last or first name of the recruiter as per the culture followed in the company.
Opening Paragraph
Your first paragraph should show how you can fit in the needs of the employers. Refer to the job description. How well do you fit in? Highlight the achievements that show how you are the right pick for this job.
The Following Paragraphs
Do not fill your cover letter with your achievements. Explain why and how you fulfil the specific requirements of the company. Show how you are the expert in this field or the perfect fit for this position. However, make sure that you do not keep on bragging.
Use bullet points to summarize your top-notch achievements. Make sure that you also explain why you are eager to join them.
One way to showcase this would be to draft your cover letter in a way that says that you want exactly this job, not just any job. Your enthusiasm towards the position should be portrayed through the body of the letter.
Close it With a Bang
The end of the cover letter plays a decisive role regarding the position. Do not consider the end of the cover letter as space where you need to wrap up. Instead, it is an opportunity for you to get the recruiter to get excited to read your resume.
How can you do that? Provide the hiring manager with something. Tell them that you will love to discuss the position's requirements and your part in the company in a personal interview. Reach out to them to act.
Once you have marked your impression, you need to top off the cover letter with a formal sign-off. You can use any one of the following.
Thank you for your consideration.
Your truly
Best regards
Respectfully yours
Add Extra Value to Your Cover Letter with Postscript
Want to provide more information about your past projects? You can mention these in the postscript to keep the hiring manager interested in your profile.
Points to Keep in Mind
Make sure that your email address looks professional and is from a respected provider.
Do not use the email address provided by your current employer.
If you cannot find the hiring manager's name, you can use greetings such as Hiring Manager, To Whom It May Concern, etc.
If you want to work in a company that currently does not have any open positions, you can write a cover letter explaining how you are interested in a job.
State one of two facts about the company. It will show that you are personally invested in the position and have researched it as well.
Examples of Cover Letters
Cover Letter Example for Students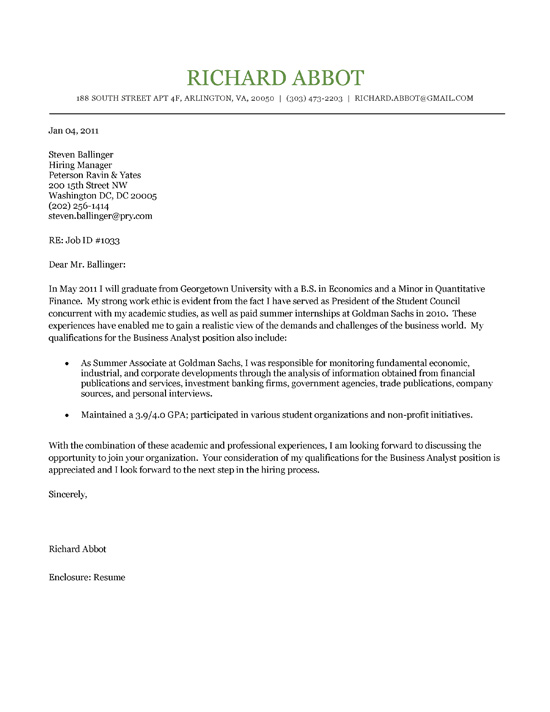 Cover Letter Examples for Professionals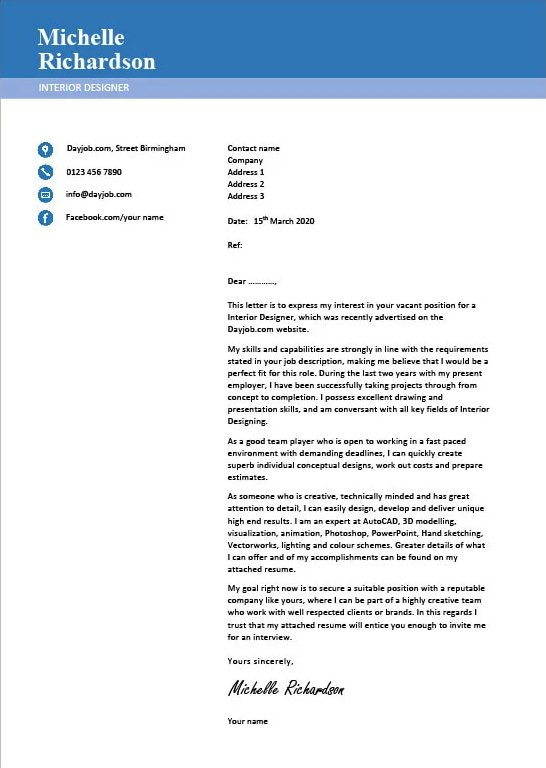 Cover Letter Example for College Admission
Cover Letter Examples for Freshers
With the examples given above, you can understand how the language of a good cover letter should flow. You can either edit these examples or use them as templates and create one that showcases your skills in the best way to your recruiters.