REVIEW ON IIM SKILLS CONTENT WRITING MASTER COURSE
Want to put across your thoughts on a subject but find yourself fumbling for the right words? Maybe you want to deliver better content on your website but do not know keyword research and SEO tactics? Or, hey, do you want to become a blogger and are lost in the blogging jungle out there? The Content Writing Master Course at IIM SKILLS has an answer to all your woes.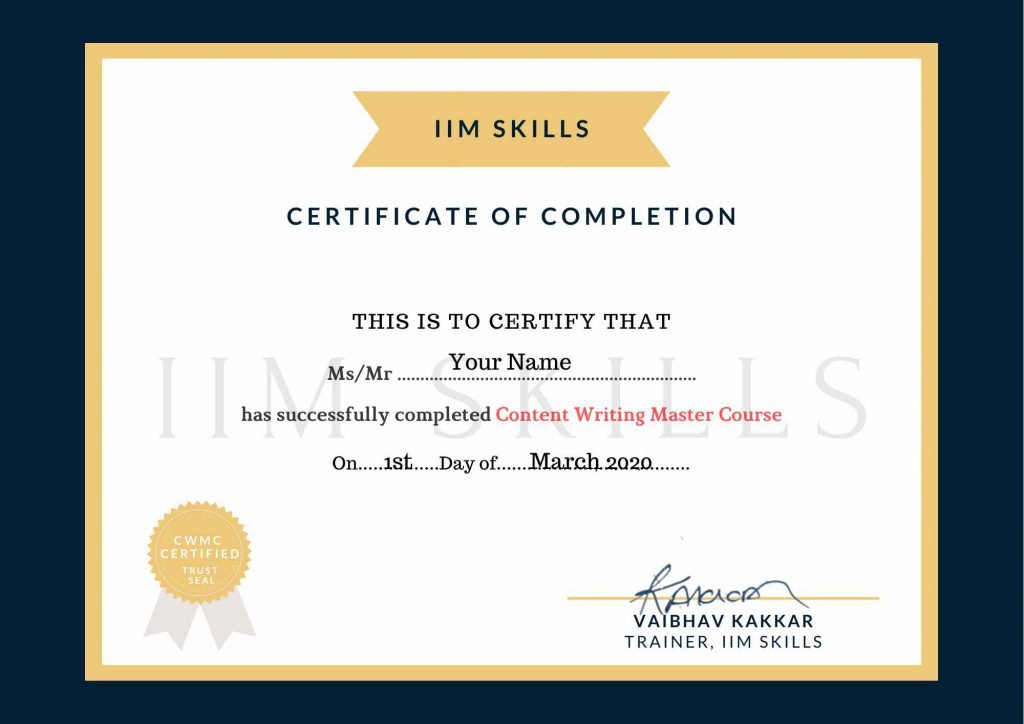 What is the role of a content writer? Creating compelling content that adds value by way of information, engagement, adding to subscribers/clients, etc., is the job of a content writer. The content writer should research extensively on the relevant topics and produce facts creating digital or print content or both for companies.
Under the content writer jobs, again are specializations such as SEO content writers, editorial writers, report writers, feature writers, press release writers, technical writers, creative writers, fiction/non-fiction writers, and so on. Selecting one of these areas and specializing in it makes for a niche writer. Versatile content writers manage to perform gigs across various specializations.
Content writing is an illustrious and prospering career that a person of any age and gender can pursue from any location around the world. The present-day scenario offers immense opportunities for people seeking a career in content writing.
It is a career that provides great flexibility and creativity. Most content writers take up "gigs" at several different companies, giving them diverse topics with not an iota of monotony.
Some thoughts on content writing:
Good content writing is not about artsy-crafty words in beautiful fonts. It goes way beyond that. Any form of information that educates people, gives information, or inspires and persuades people is content.
Content is everywhere. The videos you watch, the blogs you read, the articles, listicles, the news, the novels, social media, so on and so forth. What matters is content within a context. Any content stuffed without context is of no use. Nevertheless, at the risk of sounding clichéd, "Content is the King" and is here to stay.
IIM SKILLS is a global leader with a stellar reputation in the content writing industry. With its headquarters at New Delhi, it is a forerunner and a brand to reckon with in content writing training.
The training here is far from just words! The institute is in sync with the latest developments in the online world and believes in empowering its students with practical, actionable strategies that work.
You don't need to have a way with words or be creative with words. Content writing is not a career for the highly educated elite only, as most people would like you to believe. It is, in fact, a career that a layman with average English can pursue, and IIM SKILLS shows you how to be a pro.
You may be a student looking for a passive income, an entrepreneur wanting to hone your content on the online platform, a digital marketer looking at up-skilling yourself, or a housewife, blogger, etc. Look no further than IIM SKILLS, as it is the best place to learn the practical part of content writing that no one else will teach you.
What is the practical part, did you ask?
Gradually, we see an obliteration of the fine line between content writing and content marketing. Today, if you want to be a content writer, you inevitably have to know content marketing. The new career-centric role is that of a content marketer, not the traditional content writer anymore.
You cannot just pen a few words and call it a day. Only grammatically correct articles do not qualify for good content anymore. Content within context, with intent and with the integration of marketing, transforms it into valuable, marketable content.
You have to learn the dynamics of marketing, maybe not in-depth, but be knowledgeable nonetheless, to provide value to the content. In contrast, most other training institutes do not offer this vital jewel of information. IIM SKILLS, being the jewel itself, shares all the secrets. Yes, you can call it the secret sauce to success in content writing.
Up-skilling is all about being employable and being of value to employers. Today, everyone talks in terms of ROI. Even with regard to learning a skill, people weigh the returns before investing their precious time. No one wants to invest in a talent that will not add value.
To understand why IIM SKILLS is undoubtedly a high return on your investment, let us go over their course in detail.
IIM SKILLS Content Writing Master Course in detail
Duration and Platform:
The Content Writing Master Course is an online classroom training for four weeks. The training is instructor-led via Zoom, the remote conferencing platform that uses cloud computing.
Let me tell you; this is as good as a virtual classroom for those having apprehensions about an online class. The sessions are highly interactive.
Since it is entirely online, you can sit in the comfort of your homes, without the worry of the hustle-bustle outside; no worries about commuting to and fro to a physical classroom setting. Most importantly, it is time-saving, and the schedule is as per the convenience of the batch as a whole.
What more freedom does an online classroom give you? Well, it gives you the freedom to access the sessions and be in the virtual classroom, irrespective of where you are. Just log into it through your mobile or a desktop, or laptop, and you are in with just a click.
Irrespective of your geographical location, this training is accessible to all. To top the advantages is the flexibility of a weekend or a weekday batch. Choose one that is most convenient for you.
Another significant advantage of online training is the recording of every session. For some genuine reason, if you are unable to attend the prescheduled online session, you have the benefit of watching the recording of the same. The access to the Learning Management System provided on day one, will take you through the recorded session.
Faculty:
The faculty is very courteous and pleasing. The lead trainers are domain experts. Mr. Vaibhav Kakkar himself is a lead trainer for the content writing course and has extensive undisputable knowledge of 10 years!
The trainer makes the online sessions lively and engaging and very patiently guides every student. You will not find this kind of individual attention at any other institute. No amount of academic robotic training can substitute for learning from an expert.
Web Development:
At the outset, the web development and blog creation modules might intimidate the non-tech-savvy people out there. Relax, as the training is entirely student-centric with a minimum number of students per batch to facilitate personal handholding through the entire curriculum.
IIM SKILLS shows you how even a person with absolutely no IT background can create his/her website on the first day itself. Now, isn't that exciting? It may not be a simple feat, but the Content Writing Master Course makes it simple and easy for you.
There are 16 hours of lectures and 60 hours of practical assignments. The web development module is for five hours. Learning here is completely practical and fun, with hardly a moment to ponder or get distracted.
The web development module takes you through building a WordPress website, an understanding of various plugins, and some technical understanding of server integration. You will also learn about HTTPS secure server set up, which is a crucial aspect.
Optimizing the website for mobile use and web page loading optimization are also currently relevant topics that you can learn.
The assignments are practical learning of each session. Upon review, the trainer provides valuable inputs and motivates students to give their best.
SEO
Now comes the secret sauce part of the training. Before you begin the course, you may have come across a lot of digital marketing jargon. When you research for a career in content writing (which inevitably you would before taking up the course), you will notice that employers seek content writers with SEO knowledge.
What is all the hype about SEO, one might think? Without SEO or search engine optimization, content creation has no value. Write content with the intent of educating or informing. At the same time, follow the SEO rules for your content to be visible. There is no use of content that has no visibility.
Though SEO falls under the realm of digital marketing, IIM SKILLS understands its importance in terms of employability. Under the Content Writing Master Course, with a student's first approach, IIM SKILLS imparts this knowledge as well.
The SEO module lasts for 15 hours. This module will take you through keyword research, developing local pages SEO, backlinks, social bookmarking, and the likes.
The next time you hear the digital marketing jargon, you will not feel out of place, and thanks to IIM SKILLS, you will understand the conversation better.
This part of the training is indeed the secret sauce if you want to create content that can rank. It is also vital from a job/career perspective, which you realize when you start looking for jobs, and all employers want SEO Content Marketers!
Social Media
For a large number of people, social media is just a form of entertainment, a way to be in touch with family and friends. Be it Facebook, Instagram, or Twitter; they are all virtual communities and a platform of expression.
The Content Writing Master Course teaches you how to leverage the power of social media. It will educate you about various social media channels and how to distribute your content across platforms with ease of automation. This module is for 10 hours.
The social media marketing module will allow for participants to make their own social media profiles and learn to auto-scheduling for social sharing. Micro-blogging at twitter and an introduction to the Facebook Ads is inclusive as well.
Today, hundreds are running their businesses and thriving well through Facebook, utilizing Facebook Ads. The same trend is flourishing on Instagram. There are shopping sites, influencers under different categories, information on current affairs, et al.
Post the Content Writing Master Course; you will view social media in a different light. You will understand the unleashed potential therein and learn to make use of this in ways you never thought you would.
Content Writing
Finally, content writing is for 30 hours. This module explains in detail the need for topic selection, selecting a niche, and how to get started. Weekly writing assignments help strengthen writing ability. You learn how to integrate the marketing and SEO part of your writing.
The Content Writing Master Course helps teach you the dos and don'ts of content creation. Now, you will realize all the exercises that go on behind the stage before the actual content delivery on the online platform.
This excellent course gives information on the various forms of content; how one type differs from another.
They trainer educates about the nuances of a press release, white papers, articles, blogs, listicles, web content, copywriting, and more. You also get to learn about content publication channels and the distribution of content across channels.
Once you start your practical training on actual writing, you will understand how to write content with an intention. Write what people want to know about and create relevant content. You will learn about the use of storytelling, infographics, custom pictures, etc.
Creating logos is also inclusive, and it is incredible how simple things are when you have a mentor like IIM SKILLS.
Content Check and Distribution:
Polishing your content with edits and grammar checks, using tools to check for plagiarism, and also tools that tell you how engaging your content is and the level of readability, are all a part of the content writing module.
The Content Writing Master Course also explains how Google works, how it loathes plagiarized content and penalizes for it, and in the rare case scenario of penalization, how to go about the same.
The module also covers how to set up contact form 7 to enhance lead capturing. It enlightens students about third-party email marketing tools and the setting up of automation. The intricacies involved are genuinely astounding and surprising yet very, very educative.
Yes, content writing has an ocean of opportunities. The options within content writing itself are vast.
Apart from everything content, the course also teaches you about competition, analysis of competition, and healthy competitive practices. Curated and unique content is all about following these SEO practices.
Content with intent abiding by SEO principles gives greater visibility to the content. Ultimately, that is what we desire.
Reviews on Quora:
As a part of the content writing exercise, the students of the Content Writing Master Course learn about different platforms where they can start writing to enhance their writing skills.
For exposure, participants have the option of sharing their experience of the course on Quora. Quora is a knowledge sharing question-and-answer platform, where answers are not doctored but genuine.
All the reviews out there on IIM SKILLS are individual experiences of students, written in their own words.
For a good institute, its students are its ambassadors. Judging by that, IIM SKILLS sure has a great many ambassadors who cannot stop claiming that it is THE BEST.
Tools
The Content Writing Master Course helps you master a lot many tools that you will need to produce excellent content.
For web development, the tools you will learn to use:
WordPress theme.

Web hosting.

Various plugins.

Domain registration or migration.
The SEO module makes adept at tools like:
Ubersuggest.

Google keyword planner.

Rank watch.

SERP rank checker.

Google My Business.

Various social bookmarking sites.
Social media marketing teaches you about tools like:
Buffer.

Facebook Ads.

TweetDeck

Social media listening tools.
The content writing module empowers you with tools such as:
Answer the public, Google keyword planner, Ubersuggest.

Keywordtool.io.

Wordcount.net.

Small SEO tools.

Plagiarism detector.

Grammarly.
These tools are of great significance and incredibly vital for content writing. The learning management system or LMS, where all the curriculum, recordings, etc. are available, is accessible for a lifetime to all the participants of the Content Writing Master Course.
Certification
For any course you take up, one of the first things you look for is accreditation and certification. Without the certification, the physical element of value addition in your resume will be missing.
IIM SKILLS offers global accreditation and master certification.
The students get content writing certification from HubSpot. The HubSpot Academy offers globally renowned Content Marketing Certification with its headquarters in Cambridge, Massachusetts, USA.
The students of the Content Writing Master Course can appear for the Hubspot exam after completion of their program and get certified.
Placement Assistance:
Being student-centric, IIM SKILLS takes you from pre-school level to graduation level in content writing with a complete handholding through the entire journey. Like a loving family, it stands by you helping you achieve your goals, whether it is a job, a freelance market, or guidance on a start-up.
IIM SKILLS offers placement assistance. It assists students in how to monetize their writing skills and the ideal pricing for a content writing career. In the freelance market, IIM SKILLS guides you on creating eye-catching proposals, the use of infographics, and even on how to work from home.
Due to internet penetration, globalization, secure payment solutions, etc., the freelance market is ripe with content writers. Most companies are sourcing their content writer requirements from the freelance market, and so the demand is enormous.
IIM SKILLS also provides a virtual internship program. The internship program is for three months, and students qualifying need to provide eight approved articles.
TAKEAWAY
IIM SKILLS is an institute that treats all of its students as one big family, helping them work on their strengths and go on to being productive content writers. They invite their students to the IIM SKILLS discussion forum group, providing inputs and suggestions and solutions.
IIM SKILLS helps its students even after the training period and differs from the rest of the institutes. The institute has a human element and warmth about it that places it above all other content writing institutes.
It is not the skill per se that is easy or tough, but the ability to breakdown anything complex as perceived by common man, into digestible, actionable bite-size plans, and assistance in execution, that sets IIM SKILLS apart.
An eager mind welcomes all learning. The Content Writing Master Course is not just a content writing course, but a content writing and content marketing course rolled up in one.
IIM SKILLS provides an unmatched experience that is engaging, inspiring, and enriching.
Even complicated things seem way too simple and doable. Now, that is a special skill that IIM SKILLS have inherent in its name as well as its genetic makeup. Yes, IIM SKILLS is an institute with a personal touch, an institute that is your friend, guide, and mentor, even way after your training with them is complete.
SIGN UP FOR A FREE CONSULTATION / DEMO CALL FOR IIM SKILLS: HERE