Newsletter Services
Newsletters are an impactful component of any successful email marketing strategy. Knowing how to compose a newsletter can help almost any type of business. Newsletters can help you build long-lasting relationships with your customers, regardless of whether you're a venture, an e-commerce giant, or anything in-between. After knowing a mandatory introduction about the newsletter, you must be thinking of curating one. But you do not have to worry as Write Right's reliable newsletter services are there to help you! To make sure that your personalized and well-curated newsletter stands out in a crowded inbox, you need to experience the Newsletter Writing Services that Write Right's team provides.
Newsletter writing, as a mainstay of email marketing and content marketing in general, is sometimes overlooked in favor of lead generation assets. Email newsletters are a vital piece of the follow-up procedure to convert website visitors into paying clients once leads are captured. So, why should you opt for newsletters, why should you consider making one, and what makes a newsletter a good marketing tactic?
Newsletters' sole purpose is to keep the audience/subscribers updated about all the main events and happenings revolving around your venture/brand. It can range from value and knowledge relating to products and services that are currently offered by the business to the introduction of new products and services to the current line. And it does have the potential to make these subscribers, the future customers, hence ensuring a purchase at one point. Newsletters help in driving results. And Write Right assures that everything is covered as per your business and its needs. Experienced newsletter writers join hands with competent content marketing strategists and designers to guarantee that your newsletters are well-curated to engage your target audience with valuable, pertinent content aimed towards driving traffic back to your site and serving projected commercial objectives.
Collaborating with a newsletter service provider such as Write Right ensures that your newsletter marketing efforts are streamlined to reach your intended recipients. Our committed group of experts strives to translate your brand into comprehensible content via engaging content layered off with a specific call to action.
Importance of Newsletters
As there is a visible increment in social media and marketing tactics, people are pre-assuming that newsletter aka email marketing has lost its charm, or you can say, it must be outdated by now! But nah, it's time for a reality check. Irrespective of the above-stated line, Email marketing has proven to be more effective than all the other marketing strategies used by all varieties of brands/businesses. Not only does the newsletter perform effectively and efficiently as a content marketing component but it also delivers high ROI, which indicates the satisfactory engagement of the customers.
Due to the increasing prevalence of email as a technology, in addition to developments in email marketing improved technology, it has now become convenient to reach a lot of users with email newsletter marketing. Simultaneously, recipients can be grouped according to demographic variables such as age, profession, and more, allowing you to focus on your intended audience while still reaching out to a wide range of people. With this kind of information, newsletters can be curated with the viewpoint of leading the target audiences' interest from general product awareness to sales and then to further subscriptions.
Nurturing leads' interests and then providing them with valuable and essential information regarding your brand/business, get it all covered under the most used marketing strategy, that is, newsletter marketing. Newsletters are basic content marketing tools that help your customers know your brand and its vision subtly better by providing them with the necessary information without overwhelming them with any fancy promotion/sales content.
Email newsletters are an impactful weapon which can be used to outline your business's strengths, showcase your trustworthiness and ever-so-subtly familiarize the customers with your products and services. You should never underestimate the rate of ROI generated via email newsletters. With a surety of highly experienced creative personnel and their technical-backed knowledge, Write Right assures its clients of the delivery of valuable and personalized content to your target customers and prospects, directly in their inboxes.
Process
Write Right's newsletter writers will curate your email newsletters which are intended to catch the attention of your target audience by blending domain expertise, and internal specialized skills with credible email marketing practices, via the inclusion of news-based headlines, informational essays and articles, press conferences or interviews, and many more. And from there, it's gonna be all about consistency and dedication towards your goals relating to the perfectly designed newsletter. Write Right collaborates with you to develop the content timeframe that will best maintain user engagement.
We understand the value of content that is time framed and well-curated to catch the eyes of the reader/viewer, at Write Right, we value your goals and projections regarding this essential content marketing tactic. Needless to say that prepping an email marketing content schedule will ensure that brand awareness promotes the values of your overall business strategy. And while planning is one of the important aspects of this newsletter writing process, execution plays an important role too. We also suggest how frequently you should deliver the newsletter so that your intended audience doesn't get tired of them.
Customized Newsletter Content
Your core audience deserves well-tailored and personalized newsletter content which assures a better headstart as compared to your rivals. Email marketing content may vary depending on the reader/viewer.
So, your newsletter content should be versatile and flexible to get the desired results from the target customers. Say, your current customers will be more engrossed in knowing the information regarding the products, services and current affairs of your company/brand.
Whereas, your potential leads will be more inclined to react better to content that showcases the value offered by your company, or more basic information that positions your company as a key player in its field. Write Right contends to be your one-stop destination for all the expectations of your customers while keeping in mind the mission and vision of your business.
B2B Newsletters vs B2C Newsletters
Although all newsletters' main goals are one and the same, providing subscribers with a whole lot of valuable content while marketing your business, there is an obvious difference between the secondary goals of B2B and B2C firms. While B2B (business-to-business) newsletters may occasionally focus on conversions, such as product demonstration demands and promotion opportunities for existing consumers, B2C (business-to-customers) tends to focus more on generating direct conversions in the form of either purchase or a subscription.
Here, at Write Right, our team of professionals is here to guide you as to what kind of newsletters have the potential to go beyond the results. We aim to build a better newsletter content marketing strategy that revolves around the dual aspect of goals, to serve you to align your marketing goals and to convert potential leads into customers. We help you tailor a newsletter that demonstrates your business values and builds a positive sentiment for your brand to get at the forefront of customers as well as a potential audience. In this way, a secure and trusted bond will be established between you and your brand, and Write Right aims to achieve this goal.
Why choose Write Right's Newsletter Writing Services?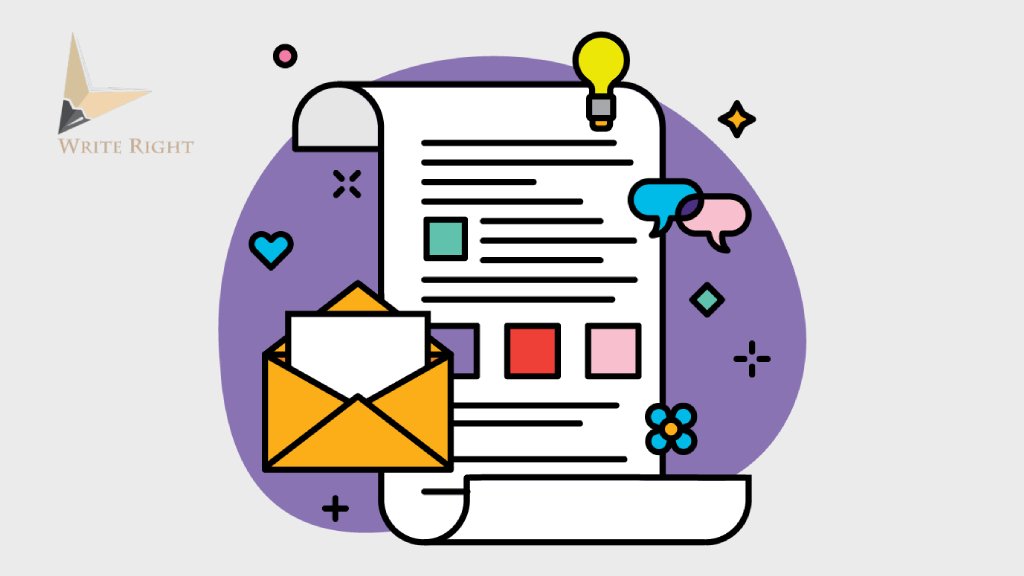 After knowing how crucial and essential this email content marketing can be for your business, you definitely don't want to risk it all to any company, right? At this moment of ambiguity, Write Right can show you the crystal clear pathway to achieve all the goals relating to your marketing strategy.
Write Right's newsletter services starts by focusing on your intended audience, with content backed with data relating to their personalities, preferences, demographics and their journey with your company. The objective is to create for the receiver in order to increase engagement and click-through rates. Our skilled and competent newsletter content writers know the value of the tone and writing style which should be customized for the individual it's intended for. We do know that identical designs, whether in text or in images, will bore the reader out, as they might not generate the desired impact.
Write Right offers you the assistance of reliable industry-expert writers who know how to curate the perfect newsletter content that connects and makes a positive impact on your intended audience. We handle all the data relating to your concerned field and then present you with the optimized and reliable newsletter services that serve your higher marketing results.
With an experience of 6+ years in this content marketing industry, our clients acknowledged our services by calling it quality and professional work. Not only will you get our renowned services but we also guarantee the content that drives results.
Our team of experts strives hard to tailor flexible and customised newsletter writing services which include:
Your brand's vision and mission (in an easy and understandable manner).
Content that educates and informs your intended customers regarding your products and services.
Clear and impactful CTA (calls-to-action)
Content that keeps your target audience hooked till the very last.
Infotainment content, that is original, creative and of course, informative regarding your brand and the products and services offered.
Subject lines are one of the impactful words which serve as the main highlight of any newsletter, hence making it a crucial step in the newsletter writing process. Write Right's well-experienced and highly competent newsletter writers make sure that they use words and a flow of language in such a way that it results in boosting the open rates. Also, it is our writers' aim to knit the words that are impactful and can gain value in the viewer's eyes which can result in achieving higher ROI.
Our writers are careful with their selection of words and market analysis, and at the same time, they resist using those words that are overly technical/difficult to avoid the technical jargon. A special focus is always there on the personalized details of the customers so that they can have a sense of familiarity with the mix of the information that they expect from your business, and we, Write Right are well known for this customized newsletter writing services.
Infotainment is not a new word in the market but its usage and value are exponentially rising these days. This word suggests the expectations of the readers from the content writers these days. Content that fulfills the dual motive of receiving the information with the entertainment aspect, that piece of content which provides relevance and information to the viewers while keeping them hooked up with some interesting punchlines, words or even headers that grabs their attention and impacts them in a positive way. Write Right newsletter writers acknowledge this trend and they strive to curate original content that satisfies not only your intended audiences' expectations but also your brand's marketing goals.
While the content/head of the email is a very essential part of any newsletter, it is also crucial to maintain its format which is easily readable and understandable. By avoiding bulky and boring texts and reformatting them with sub-points, mini paragraphs and bullets with hints of relevant images and videos, our reliable newsletter writing services assure the delivery of perfect engagement.
The Write Right team is always there with unique ideas and engaging content which includes creative illustrations, and videos that help to level up the traffic at your site. Easy, creative and understandable call-to-actions are also provided in between that can establish resonance among existing and potential customers in a way that can help generate the desired goals.
Conclusion
So, basically, it's high time to not let your customers bore out of the monotonous newsletters. The main takeaway is that newsletters need not be over-dramatic or entirely marketing focussed, it can be used as a means to establish a relationship with existing customers and transform your subscribers into clients. And Write Right newsletter writing services are there to help you out relating all the decisions, content, analysis, marketing tactics, etc. Write Right's team is there to guarantee that your newsletter will stand out in your customers' crowded email boxes. Our reliable newsletter writing services are designed in such a way that you will be able to see the desired results of this marketing strategy.