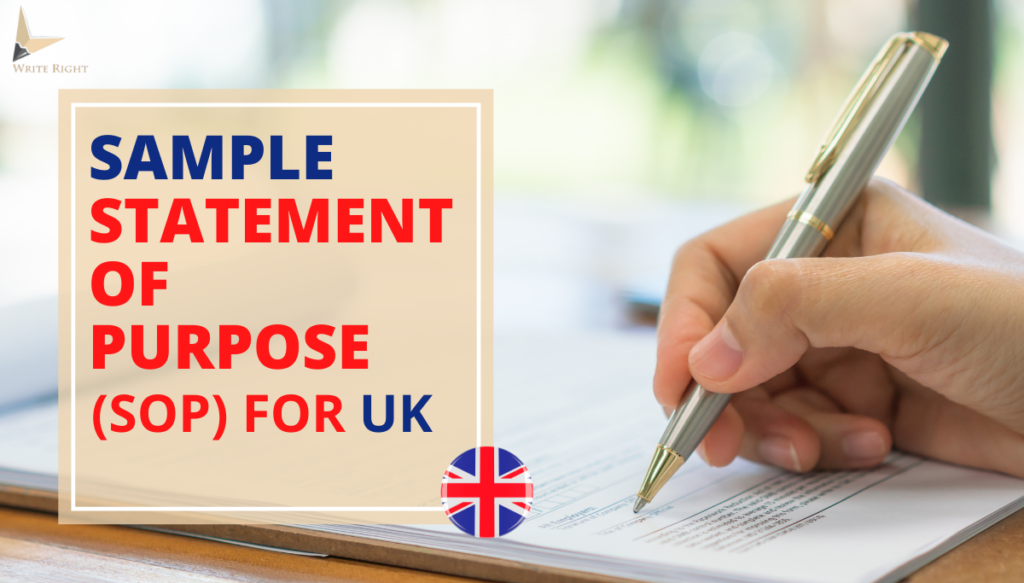 SOP is the inevitable requirement in the career of every student who wants to study abroad. Students find their way to get their seats in desired universities by creating the best SOP to attract readers. In the battle to defeat other students and applicants, every aspirant needs to make the SOPs as flawless as possible. It is because; no matter how well do you write your SOP, any simple mistake can cost you a chance. If your SOP gets rejected, you cannot drop out a year for your desired university in the UK.
In such cases, you must complete all the information and data that an SOP should contain. Most of the time, a sample SOP offers you a better idea. The samples are those SOPs that the admission committee has already approved. Thus, you can gain an assured knowledge of what you should include in your SOP. Here is some imperative information that an SOP includes.
When you start writing your Personal Statement, the very first thing you need to do is brainstorm. There may be many activities in your life, but only those that are worth sharing should be included. So, before you write the actual statement, make a list of all your significant experiences, accomplishments, and activities. Then you can choose those that are directly related to the intended course. You should include some of the distinguishing characteristics that set you apart from others. Making a list of these concepts will also help you to determine how to emphasize these points.
There could be several strategies for writing the opening paragraph of the SOP. An expected-to-win statement, on the other hand, draws the reader in and keeps them perusing until the end. You can simply start with your motivation for the course, but beginning with a creative experience or observation course-related can be a great way of keeping the reader interested in your life's purpose.
You may need to include all of it about yourself in order to impress the admissions committee. But keep in mind that a Statement of Purpose is not a job application. This statement's main objective is to highlight your encouragement for the curriculum and your intended outcomes.
Thus use this statement to showcase only the most important aspects of your life that can demonstrate your uniqueness while also attempting to justify your enthusiasm for the programme.
Your motivation for taking the course, including how you became interested in the field.
Your long-term and short-term career objectives. If you haven't finally agreed on your objectives yet, begin thinking about them now because goal-oriented people are valued.
Your academic background, including subjects, studied and projects, workshops, or seminars completed.
Your work knowledge in the development of the study, as well as other skills gained through certifications.
If you have interests other than academics, such as sports, community festivals, or volunteer opportunities, you can use these tasks to demonstrate different qualities.
You must demonstrate your worth to the selection board by citing evidence and sharing life experiences that will vouch for your skillset. If you don't share expertise in the field where you excelled in leadership qualities, claiming that you are a strong leader may sound impractical to the admission committee. As a result, giving evidence of your interest in the topic or the characteristics mentioned in your statement of purpose will go a long way toward confirming your claim of being a credible candidate for the institution.
Indicate your priority for the United Kingdom and the University of your Choice.
You should dedicate a paragraph to explaining why you chose the United Kingdom as your preferred destination. You should also conduct research on the university to which you are applying and highlight the characteristics that make it an ideal place to further your education. The manner in which you express your curiosity about the university will help you justify that you are serious about your professional goals and that the university is the best platform for you to achieve them.
What does an SOP for MBA/any other program in the UK include?
If you are applying for your MBA programs in the UK, here are the following things that you must include in your SOP for the MBA:
Educational background – The educational background is the most imperative thing to include in your SOP. It helps the evaluation committee acknowledge your previous background and how it can help your program achievement.
Reasons to continue your study in the UK – The subsequent imperative information that you must include in your SOP is the reasons for choosing the UK as the nation to continue with further studies. This information comes under the radar of visa officials. They lookout for a compelling and satisfactory answer to this question.
Why do you prefer the applied university – Every aspirant dream to study in a university that aspires them the most. They learn about the facilities, opportunities, and faculties that influence them to apply to a university from their young days. As an applicant, you also need to specify your influence and passion for choosing the certain university.
Explaining the program – Here, you need to answer why you are choosing the program and how it can be helpful for you. You must explain in detail what influenced you to choose the program and how it can help you achieve your career objectives. If you are applying for MBA, you must explain your motivation behind choosing MBA.
What is your future objective? – While applying for any program, an applicant needs to specify their objectives. Your vision and objective in relevance to the program will make you stand out amongst others. Thus, explain your future objectives in detail and elaborate them that would be fruitful for society.
SAMPLE SOP FOR UK
Today experts and professionals are very well aware of the fact that the 21st century is going to decide the future of human civilisation. We are scooting in a never-ending race with a minute late and a dollar short situation. Last few decades have shown a ray of sunshine especially in the field of E-Education, Science and Technology, E-Trade and E-Commerce, Health and Medical etc but at the same time strictly alarmed us that there is urgent need to control, regulate and manage the monstrously increasing Population, Toxic Pollution and Environmental Changes causing Global Warming and leading to other hazardous outcomes. In the midst of all these climacteric and pivotal situations, one platform that has shown the path and acting as a blessing in disguise in managing and governing every crucial sector is digitalisation and result oriented productive utilisation of data through the next generation field of science that is Data Science involving Artificial Intelligence, Machine Learning etc and implementation and integration of these next-generation cutting edge tools and technological advancement have power and capacity to revolutionise our Education, Medical, Business and Government policymaking system. All these measurements and technological possibilities attracted me since my schooling and I started wondering how I can implement these advancements of technology in the field of education to revamp the whole education system from scratch? Thus, all my professional achievements and experiences are the imprints indicating in the same direction. And applying for a Master's of Education-Educational Technology is the best possible way to achieve my age-long goals.
Coming from a lower middle class traditional Indian family life was full of scarcities and at the same time, I confronted several family issues that challenged me at every stage of life. In spite of traumatic difficulties in her own life, my mother remains the main driving force in gearing my career. Her braveness, attitude and strong will power always kept motivating and inspiring me to never back down from your dreams, your commitments and your responsibilities. Whatever I am today it's all because of my mother, my mentors and my teachers. Being a jovial, appealing personality, curious, quick learner and keen observer I was encircled by lots of people in my day to life since childhood. I never understood why people share their feelings and problems with me, why they perpetually consider me as their first choice with whom they can share, express and why they ask for counselling for their careers and life's issues? As time passed I realised my strengths and I started trying to effectively utilise them for helping people around me and those were the events when I started getting a clear picture of my career in education. Moreover, when I was in 10th standard, to support my mother and to hone my skills I started teaching at a very small age and got a great response and appreciation for my skills and abilities in all kinds of problem-solving. Apart from education and educating I actively participated in badminton and table tennis during the inter-school state-level events and won table tennis competitions. The reason behind sharing this achievement is that this victory made me realise that to achieve my career goals in Education I just need to learn strong time management and administration skills. Therefore, I intentionally opted for both Commerce stream during my intermediate and my undergraduate bachelors in Business Administration program at Stratford University USA with flying colours.
Keeping an eye on my career goals I kept enrolling myself in the field of education during my undergraduate program and as a Management Trainee-Corporate Relations at K. K. Modi International Institute I started utilising my skills and abilities by conducting training needs analysis of clients and corporates along with delivering tailor-made educational programs to market short and long term educational programs. Also, while working as a Freelancer I was awarded several prestigious certifications like Masterclass for IELTS Trainers by the British Council (08/2018) to train the trainer workshop on preparing the test takers of IELTS which enabled me to successfully deliver lessons and train learns for the IELTS exam. I helped refugees (nationals from Afghanistan) to learn English from a basic elementary level for employment purposes which was a great experience and delivered ESL lessons to young learners to help them improve their skills. Also, I earned Global Career counsellor certification by the University of California and Univariety (09/2018 – 01/2019) which is an all-in-one guide to know about career counselling from techniques and trends to best practices. It covers in detail about possible career choices, colleges to be targeted, admission processes, courses, which exams to take, etc. This program consists of everything that one needs to know to become a successful career counsellor. And most importantly I received CELTA – Certificate in the Teaching of English to Speakers of Other Languages) from the University of Cambridge. All these achievements gave me a very strong motivation and booster to work hard to make my career goals at the next level to evolve as a highly-skilled professional in the field of education.
 In the era of E-Learning, I was very much inspired, attracted and impressed by the integration of the latest tools of technology in the development of educational applications. I am capable of speaking Hindi, English, Punjabi and Spanish but when I came through the application based online Spanish learning courses I was really amazed at the efforts made by experts in developing such efficient platforms. This gave me strong reasons and motivation to deliver and try my best for the advancement of technology in education. Currently, as a Mentor at InfyBytes AI Labs(Octo) which is an EdTech Company started by IIT Bombay alumni and Octo is a mobile app which uses the power of human tutors & artificial intelligence to improve fluency and confidence in Speaking English I got great exposure and experience by guiding, mentoring and teaching adult ESL learners by creating a friendly atmosphere for learners to relax in and encourage creativity in the virtual learning environment. Moreover, I ensure learners should receive high value by filling in any learning gaps in-app modules via online group learning sessions by providing inputs on improving the App powered by AI to deliver high-end value to learners. At the same time, I am working as an Academic Lead at NCR Eduservices Pvt. Ltd. which specializes in online tutoring, Education outsourcing, support services for educational institutions, content development and recruitment for educational institutions. I always wanted to work for Edtech companies and currently, I am working with two of them. It is just an amazing experience to work with Etonx, a subsidiary of Eton College, England and manage the EtonX E-Learning platform to ensure learning success by taking part in vetting and training tutors, upholding learner and tutor engagement along with session evaluation and observation for content enrichment by providing feedback on product improvement. I not only learned the technicality of the process to deliver best but at the same time, I learned the ability to deliver under pressure, teamwork, creativity, time management, and most importantly leadership skills by making crucial decisions as I am solely responsible for the entire workplace is Eton and managing the entire eLearning platform.
My major source of learning and gaining proficiency in E-Learning is through an app in play store Octo-Spoken English App where learners first learn from the app and then I take live sessions and guide, mentor and teach our adult ESL learners from all backgrounds with assigned lesson plans. Generally, I teach using at least 50% Hindi language interface and carry out the timetable of online group learning sessions as assigned, by beginning and finishing sessions on time. The specially of this application is the availability of a friendly atmosphere for learners to relax in and encourage creativity in the virtual learning environment. Facilitating 60 minutes online group learning sessions and helping learners to implement the learning from the app into real-life situations is the great source of satisfaction for me. Facing challenges and acid tests keep my enthusiasm high and help me in unleashing my latent potential. But I certainly believe that there is a great need to go deeper and deeper to get in-depth knowledge and skills to make E-Learning platforms more efficient, more user-friendly, easily accessible, more reliable and more result-oriented as they the future of Education. The only way to bring transformation is by enrolling for a Master's in Education Technology and Advancement from the world's best Universities and Institutions.
Applying for a Master's from your esteemed University will surely allow me to work more proficiently in transforming education and making a difference by delivering new learning experiences to the learners in the E-Learning domain which is still a quite new and expects a lot of improvements in several areas like boring online courses, student engagement, integrating technology in education etc. Certainly, these are the major areas I want to work so as to rectify the resistance and barriers resulting in smooth conduction of result-oriented user-friendly top-notch sessions. Furthermore, as these programs are specially designed for already working professionals in the domain of Educational leadership roles by providing them advanced professional learning to develop greater expertise in educational practice by gaining in-depth knowledge of research which will surely help in improving student learning experiences and understanding how technology intersects with educational practices this is the best time, the best opportunity and the best program for me. It is a great honour for me to apply for this master's program from you globally acknowledged university equipped with world-class faculty, mixed cultural and great academic environment along with top-notch facilities. The practical and advanced theoretical understanding and skills of educational technology, leadership and management I will certainly achieve my career goals by applying these learning in my practice as an educator. I will also efficiently enhance my skills in areas such as mentoring new educators, managing curricula and assessment, supporting staff development, and leading organisational change. Hoping for a favourable response I can assure you that if given the opportunity I shall leave no stone unturned.
 Thank You!
This Sample of SOP for the UK guides you about:
Word length
Page length
Writing format, style, and tone
Important sections in SOP
Now that you know the guidelines and important sections to include, create the most compelling SOP now!