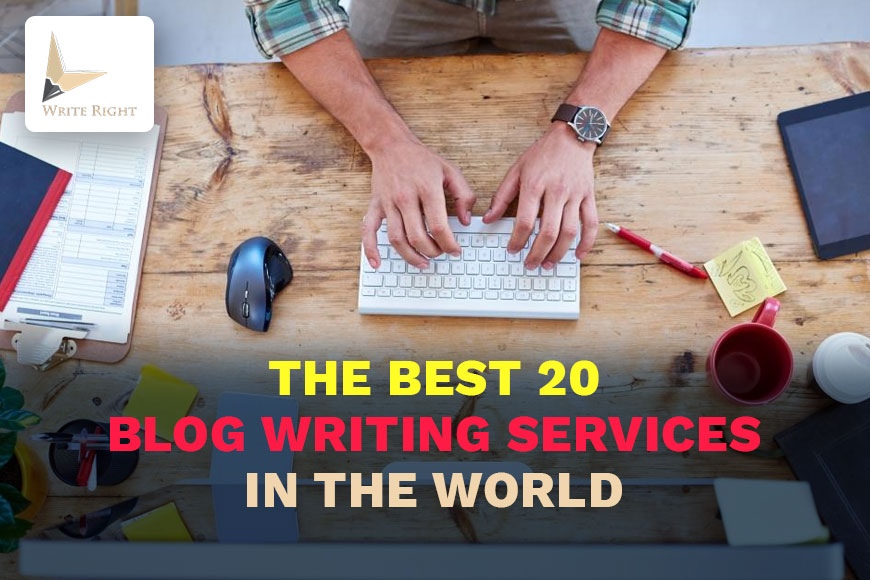 Blog posts are the best way to drive traffic to your site. I am sure you believe me when I say how important that can be for growing your brand to find business success. The greatest thing about Blog posts is that they have the massive potential to penetrate the sentiments of irrational and unwanted customers If done appropriately. Hiring a full-time copywriter is too much of a commitment, hiring a freelancer is too costly and time-consuming. So what do you do? That is where blog writing agencies come in. Let us review the best 20 blog writing services in the world!
1. Write Right:
It is the best blog and content writing company in terms of productivity. It is one of the fastest-growing content marketing agencies based in Ahmedabad, India. With six-plus years of blog and content writing experience, they offer technical, advertising, marketing, and non-technical writing services. It is a rigorous task to find a reliable blog writing company. Write-right became a destination for many content writing enthusiasts for years. Currently, they connect businesses and agencies to the best and most diverse pool of rigorously screened writers available online to facilitate the formation of unique teams of writers to meet specific content needs.
Their easy-to-use, collaborative platform and managed enterprise services allow us to help businesses of any size to scale and improve their content creation. It gets founded by Bhavik Sarkhedi, a visionary, a pioneer, a poet, a writer, and a utopian who envisioned the introduction of content writing into Indian industry and trade. He is the author of three published books that sell well on Amazon. He is one of the most well-known content writers and gurus in the industry. With his dedication and commitment, Write-right scaled many landmarks to be the best in the industry. They take one percent of candidates as writers through rigorously screened trials to give state-of-the-art content with appropriate citations. Plagiarism is an offense in the eyes of the management, and any writer caught doing so will be fired. It is, however, impossible because the firm provides in-house training to avoid plagiarism.
Pros:
1. It is a network of freelance writers and editors.
2. They offer complete blog management apprising your business, writing, images, and posting.
3. The writers are multi-linguists with several specific backgrounds.
4. You could choose from Native, ESL, and EFL writers based on your requirements.
Cons:
1. The team of customer care is friendly and co-operate throughout your project.
2. Possible replacement of writers takes time.
It is a leading blog and content writing company operating from India. They craft engaging contents that include quality, along with all SEO tactics. Your blogs in the online market, need to consist of proper metrics and stories. They include rational metrics, for they have
creative storytellers to make your blog more interesting. That is what makes them the best blog writing services. A typical Taletel begins with real-time data. They have the best blog writers in India who undergo extensive research to find competitive data and industry debate to include in your blog. Such, the blog writing services of Taletel enable you to define your brand by creating brand awareness through captivating content. They relieve your customer's pain by offering direction that answers their queries. That allows you to attain the trust of your customer.
Taletel employs the most advanced anti-plagiarism software available in the industry, which scans every piece of content written by their writers and compares it to millions upon millions of pages on the internet to detect duplicate content. To become a Taletel writer, all of our writers must sign a plagiarism-free assurance, pass a rigorous plagiarism test, and demonstrate that they properly cite sources. They have a strict no-tolerance policy, and any writer who violates it gets removed from using the services. Apart from that, they offer in-house content enrichment programs that help writers marvel in their stream. Hence, their SEO content writing services draw steady traffic and help you retain them until you convert them into your customers. Their creation of Blogs enables you to achieve your commercial goals hassle-free. They have experts to analyze the audience angle, topics, and keywords that meet the SEO perspective. In short, their blog writing services are a complete package that offers you the result best suitable for your business.
Pros:
1. The writers are very dedicated and respond at any time.
2. You can change your writer immediately once you acknowledge he is a misfit for your genre.
3. They could deliver projects even within a day.
Cons:
1. One or two blog posts may cost you more.
2. Editing or rewriting takes two business days.
It is an online content creation platform. They are committed to creating high-powered content that drives SEO for digital agencies and businesses. Their network of writers based across the globe are subject matter experts in more than fifty remarkable industries. They are aware of the issue of plagiarism and robotic content. Estorytellers, a Creative Content Writing Agency, will assist you in providing storytelling personalized original content to your clients and customers. Without a doubt, their expertise in writing human content will increase your sales leads and revenue generation.
With a nominal fee for blog writing service, you can order projects from your favorite writers. That is a great way to work with a select number of writers to ensure continuity for your brand. The quality of writers gets rated by you, clients. You have the freedom to rate every completed article between 1 and 5 stars. Here you need not pay for the content you dislike. If you are not happy with the content your writer has delivered, you can send it back to your writer for unlimited revisions. In a rare case that your writer completely overlooks the mark after the revision process, you can reject the content to refund you the cost of that order.
Pros:
1. Unlimited edits are available until you get satisfied.
2. They offer SEO-rich content with no plagiarism proof.
3. Fast delivery option is available.
Cons:
1. The fee they charge is relatively high.
2. Editing and rewriting may take up to two business days.
It is one of India's most well-known and recognized content and blog consultants and a one-stop-destination for all of your blog and content writing needs. Kalam Kagaz's experts will create web content that will significantly increase your prospective-to-client ratio by using the appropriate amount of catchphrases and trigger phrases. Your website's text will also be search engine optimized to achieve higher rankings on Google, Bing, Yahoo, and other search engines, resulting in more visitors to your site. They are the experts in online content writing; regardless of whether you want it to be humorous, in-your-face, simple informational, or mesmerizing, compelling, we are just there. Their unique selling point is their adherence to deadlines. Client requests get completed within specified time frames, and their service options are faster than most alternatives. So, if you have deadlines, rest assured that they are ahead of the race.
Kalam Kagaz creates one-of-a-kind materials that get tailored to your specific requirements. They understand the value of original content and the in-house team of experienced blog writers guarantees that everything they create for you is 100 percent plagiarism-free and Copy scape-passed. Client satisfaction is their principal concern, and they ensure that you shall not be dissatisfied with their solutions. Their virtually limitless modification policy ensures that any comments or adjustments you request get addressed appropriately to complete your project.
Pros:
1. Availability of writers across the globe.
2. 24/7 customer care is available to address quires from clients.
3. Unlimited edits to assure quality output from the writers.
Cons:
1. Ordering a few blog posts can cost you more.
As the name suggests, Team Bloggism knows its job well. That is why it has maintained its freshness and uniqueness even after so many years of its inception. Bloggism assists you to get in touch with the professional of the area demanded by you. The team is so creative composing many Lifestyle blogs that revolutionalized the financial status of many start-ups, medium-sized companies, and MNCs in India. They have written on varied topics ranging from culture, arts, local news, and politics.
Unlike many other services, The blog writing service is both cost effective and reliable. Bloggism writers are Ambi-dexterous and thoroughly understand the expectations of both the client and the target audiences, with an ability to handle a wide range of niches and subject areas. That adaptability enables them to meet the blog writing needs of a diverse clientele. Not only that, but they also ensure that the blog posts are written at an average reader's level
of cognition so that the corresponding clients can fully absorb the content. They value strong work ethics and professionalism, striving for the highest level of customer satisfaction. Regardless of the nature and size of your business, you can count on Bloggism to get delivered a high-quality blog writing service at affordable prices.
Pros:
1. They hire blog writers across industries and niches.
2. They offer free SEO alignment with keywords and meta tags.
3. They offer you a free trial and discount to win you over.
Cons:
1. Sometimes edits may take a bit of time.
2. Skipping deadlines is inevitable with some writers.
6. Solvid:
It is a vibrant and passionate team of professional SEOs, content marketers, copywriters, and web developers based in the heart of London, United Kingdom. They have assisted companies in the eCommerce, SaaS, crypto, retail, sports, automotive, affiliate, legal, and interior design industries with everything from website audits and copywriting to content marketing and fully-managed SEO campaigns. They help businesses thrive online by implementing effective SEO, content marketing, copywriting & link-building strategies that generate traffic, improve rankings and drive conversions. They have worked with some of the most exciting brands like Roobee, Neovo, Lakeland, Finteza, Mitrefinch, and Smartphone checker in many different niches to create meaningful, data-driven SEO results. They have composed four million words now, and their zeal continues to expand.
They generate backlinks, which play a pivotal role in improving ranking positions and driving targeted traffic. They employ effective link-building techniques such as guest blogging, broken link building, unlinked mentions, etc. They use an assortment of technical expertise, well-crafted content, and high-quality media backlinks to propel brands to the ideal of search results.
Pros:
1. All-day assistance and support to clients in person, via email, or telephone.
2. No vague SEO tactics. Allow the strategies work for the best of your business.
Cons:
1. Focusing on speed could harm the quality of content.
2. Ordering one or two blog posts may cost you an arm and a leg.
7. Copify:
It is a leading content and blog writing agency operating from the United Kingdom. They understand that blogging is an excellent way to increase traffic to your website and engage your audience. They also understand how difficult it can be to decide what to blog about and find the time to fit it into your busy schedule. That is why they have developed this blog writing service that will do all of the work for your cause. If you don't have time to update your blog, they have hundreds of blog writers ready to help.
They can assist you in developing an SEO keyword strategy that will produce excellent results, and they can even format and publish your blog content for you. They will find the best writer for all of your requirements. They can help you quickly and easily source quality content from a network of approved writers. Not only that, but also your copy is completely proofread, formatted, and delivered in most cases in less than 48 hours. They maintain esteemed customer care, and a representative is available every time to address your quire throughout the project of your cause.
Many clients started using Copify to supply content to engage with their customers and drive an increase in traffic. The firm has since reported a 40% increase in traffic, together with significant improvements on many competitive organic search terms.
Pros:
1. Pocket-friendly charges to clients.
2. Perfect SEO with global and neutral English to secure conversions.
Cons:
1. For most writers, English is a second language.
2. Finding a perfect English native writer takes time and patience.
8. Express writers:
It is a leading content and blog writing agency operating from the United Kingdom. They fuel your online presence with an unrivaled focus on matching you to a handpicked team of content creators that care. They cater to multiple formats and expert industries with over 90 expert content writers and their specialist expert writers can write long-form SEO blogs, web pages, emails, landing pages, social media posts, video scripts, etc. Their team of talented writers adhere strictly to your brief, resulting in high-quality content. And they focus on and commit to producing quality in everything they write.
Today, their content creation agency has grown as a leading company with creators, editors, and designers. They have completed more than 40,000 content projects for clients worldwide since its inception in 2011. They will even share a royalty-free picture that suits your background. They charge additional for premium pictures and images. If you are dissatisfied with the posts you receive, you can change your instructions to the writers so that the content is more to your flavor. If you are still not satisfied, you have the option to cancel your package at any time.
Pros:
1. Friendly team and friendly communication
2. SEO rich and plagiarism free content
Cons:
1. Sometimes, you may encounter problems with an EFL or ESL writer
2. Only one free edit is available for a project
9. Iwriter:
They offer your project a different, customized process that allows you to be more hands-off. Your content calendar or spreadsheet will be under the eye and management of our Content Manager, who will place all the orders on your behalf after you deposit. One of our best
features is our strong internal writer management structure. Iwriter staff only dedicated people they interview, and you can breathe easy, knowing they have the capacity, skill set, knowledge, and aptitude to handle your content writing in a high-level manner.
They select writers with several screen tests which pose to be tougher for a mundane candidature. Even after recruiting a candidate, they give proper in-house training to make them par with the industry standards. In iWriter, there are four levels: Standard Writers, Premium Writers, Elite Writers, and Elite Plus Writers. That allows you to make a decision based on your markets. That gives competitive content for the clients. The unique selling point with iwriter is that you are able of tackling 700 to 1500 word articles within two hours or less. You do not ever have to worry about unhappy writers, and they will guarantee success on every project. And on the slim chance, they are human and make a mistake. They work till it is right with free revisions.
Pros:
1. You can find diverse writers on diverse topics.
2. They take less time relatively to complete your projects.
Cons:
1. You may encounter customer care-related problems.
2. You may encounter an inexperienced writer randomly.
10. WriterAccess:
It offers high-quality content created by creative blog writing wizards. It operates business operations from Boston, United States. All you have to do is select one of three monthly plans based on your requirements. It provides access to more talent to help you complete all of your content marketing projects and goals. You could save money and gain access to new content tools if you pay yearly. You may have access to AI-Powered Writer Search, which uses text analysis to match you with writers whose tone and style match yours. Using advanced search, you can find 200+ skill and expertise filters. As a result, you will have access to qualified and talented writers easier.
The content marketing revolution has officially begun. And WriterAccess is at the forefront of this movement, with the world's fastest-growing content creative marketplace linking more than 40,000 customers with more than 15,000 freelance writers, editors, translators, designers, illustrators, animators, and content strategists every day. They have been on the INC 5000 List five years in a row, thanks to software that makes it simple to find talent, place orders, and streamline workflow. Kelly Services, MGM, Draft Kings, Randstad, Accenture, Canyon Ranch, Liberty Mutual, Ancestry, Lids, EveryNurse, and other brands rely on WriterAccess to deliver quality content needed to grow any brand or scale any agency.
Pros:
1. You could choose from a variety of writers.
2. SEO-friendly content ensured with timely delivery.
Cons:
1. Writers cancel orders right before the deadline, which means you need to restart the process.
2. Edits take a little extra time.
11. Content Development Pros:
As the name insinuates, they are a team of top-rated professionals that create content. It is a team of highly experienced content marketers, writers, designers, and developers operating from the United States of America. As a blog writing agency, Content Development Pros has perfected its ability to deliver creative content solutions, having completed over 75,000 satisfied content projects. They have mastered the art of writing, designing, marketing, and web development over the last nine years of solid content experience. White-label content services are also available to agencies and content marketers. Quality, professionalism, experience, and affordability are the pillars of our phenomenal success in content writing services.
Your blogging plan package includes a writer with SEO knowledge, good quality of writing, meta description and title, a unique stock image, and our editorial team working to draft your blog directly to your site. They fully respect intellectual property and go to great lengths to ensure that the work delivered is completely plagiarism-free. You are guaranteed complete satisfaction as one of the top-rated content services and agencies. They provide unlimited revisions to all the clients, even though it is rarer. They provide services on a work-for-hire basis, so all rights get transferred to you upon project completion. Your success is a pivotal event for them. When you outsource content to Content Development Pros, you can expect high-quality results that will help you meet your content goals.
Pros:
1. They offer multiple services apart from blogging
2. The plans are down-to-earth and affordable to medium-scale businesses.
Cons:
1. Sometimes, they may not be bound to deadlines.
2. Writer replacement may take time.
12. FatJoe:
They pride themselves on offering the most scalable and cost-effective blog writing services, which is why agencies switch to them every day. Their high-quality blog posts assist you in attracting new informational search traffic from search engines. Instead of depending simply on product or service pages, blog postings can serve as a secondary Source of traffic by giving relevant and trustworthy responses to users' search queries.
FatJoe offers Surfer SEO optimization with Pro Blog Writing orders. To qualify, when submitting your order, you must include your Surfer SEO Content Creator Link. The brief gets forwarded to your writer, who will strive for more than an 80 score. That gets determined by several factors, including whether the word count requested falls within Surfer SEO's recommended limits. Once completed, they will share the content with you in the form of a downloadable online word-processing document.
Their blog writers are worthy of producing high-quality blog posts for almost every industry. FatJoe works with a handpicked team of expert writers to create high-quality blog posts for you. They deliver Blog Writing in as little as 48 hours with their express delivery option. Standard delivery could take as little as four days. Orders for more than 100 blog posts will have a standard turnaround time of 10 days and an express turnaround time of 5 days. They believe in their services that much that they are prepared to make your first order completely
risk-free. Place an order for up to ten blogs, and if you are not satisfied, they will give you all your money back.
Pros:
1. Strictly adhere to tight deadlines.
2. The blog content is compelling and plagiarism-free.
Cons:
1. For some writers, English is a second language or a foreign language.
2. More than one edit may attract charges.
13. SEO Butler:
They entered the SEO industry in 2014 and have not looked back ever since. Their aim has always been to offer quality products and unparalleled customer service at every part of the journey of buying blog content. Marketers can choose from a variety of SEO products from SEO Butler. The content they write is convincing enough to help you gain backlinks through guest posts. They invest in their team members and systems to bring their customers what they deserve, i.e., the best. They submit any citations order to various indexation processors before delivering it. Despite this, they are unable to guarantee a 100% indexation rate. You can use the Google search operator site:directorylink.com' to see whether a citation is indexed.
Their writers are all from the United States or the United Kingdom. Many of the authors they hire have university degrees in professional writing and mass communications. They offer an edit or rewrite option at every level of content. Kindly contact customer care whether you have an issue with your order or a question before ordering. Surfer is a tool that analyses data based on the keywords that a person is trying to rank. They use their Material Editor function to create Surfer Optimized content. Keep in mind all you need is your Surfer SEO account and a link to the Surfer Content Editor. Their content will be directly entered into your Content Editor link by their writers.
Pros:
1. Native English writers all through the team.
2. Simple pricing system with transparency.
Cons:
1. Pretty long turnaround time.
2. No option to choose a writer from the pool.
14. Scripted:
It focuses on providing expert writers to its members who understand how to develop content that attracts consumers and achieves high search engine rankings. Because the organization takes its appraisal extremely seriously, most candidates were rejected as Scripted writers who do not meet the criteria. The Cruise Control subscription from Scripted provides you with managed services that include everything you need to grow your online audience. With Cruise Control, you'll have a personal project manager who will work with you on each assignment. You receive a team of competent content creators for a fraction of the cost of hiring on-site writers, marketing gurus, or SEO researchers.
They opine blogging is an excellent strategy to meet short and long-term objectives when marketing your company. Even in 2022, it remains one of the most popular marketing methods. The team thinks that continuous, high-quality blogging is one of the most effective strategies to raise brand awareness while providing relevant information to your target audience. Regularly, posting on your blog improves your conversion rate.
Pros:
1. You could choose and retain your favorite writers.
2. Completely plagiarism-free and SEO-rich content.
Cons:
1. Although Cruise Control managed accounts are pricey, you get exceptional value for your money.
2. Edits and rewriting may take a little extra time.
15. Text royals:
Based on pricing, ease of use, editing, fastness Text Royal is the best blog and content writing agency. I have used this service once in a while and am still happy with the service. It is a passionate team of dedicated writers that is always ready to deliver quality blog content to increase the conversion rate of your business both online and offline. I saw Text Royal provides its customers with original written content produced by professional writers. The company was founded way back in 2010 in Edinburgh and has a team of passionate writers, proofreaders, and Customer Support executives. Employees have a great deal of experience and are well-educated in several professions, not just text production. The company closely monitors the quality of its written production to provide the clients with the best content possible.
During years of experience, they mastered the writing process. Their goal is to leave customers satisfied by providing them with compelling content. The work of their project managers is one of the reasons that they have been able to maintain a client satisfaction rate of 98% year after year. They ensure that your project deliverables meet your quality requirements and deadlines.
Pros:
1. Availability of native English writers.
2. Plagiarism-free content with Copyscape-pass certificate.
Cons:
1. Sometimes your projects may go beyond deadlines.
2. More than one edits and rewriting may catch you a fee.
16. Verblio:
It is a professional platform that links you with incredible authors. They have a staff of SEO experts, content gurus, designers, engineers, and business owners. As a company founded by a journalist and a developer, they maintain their excitement and innovative business culture. Any time you ask for content, they write it for you promptly. You define quality by only purchasing items that you appreciate. WordPress and HubSpot are integrated into this platform, making it user-friendly, so you get services without any interruption.
The platform's unique selling point is preferring the high quality of the writing while staying affordable. Verblio provides a network of almost 4,000 freelance writers who have worked on the web before. Marketing agencies and company clients benefit from the website content writing service. Verblio is a good alternative for small enterprises, but it is not cheap. They create content for marketing agencies and businesses in the United States and 15 other countries. That includes franchise businesses and companies from virtually every sector and field. Verblio is very particular about plagiarism. They employ a strict no-tolerance policy, and any writer who violates that policy gets permanently removed from the system.
Pros:
1. They cover almost all the areas of writing.
2. All of our writers must sign a plagiarism pledge, pass a rigorous plagiarism test, and prove that they cite sources.
Cons:
1. The charges they collect are a bit high relatively.
2. They do not create email campaigns or social media posts on behalf of their clients.
17. TextMaster:
It is the leading professional content and blog writing service available online. Founded in 2011, TextMaster is redefining how businesses handle blog writing by bringing together a network of experienced blog content writers. Over the years, the TextMaster team has expanded steadily. The writers of Textmaster are both polymath and philomath and get recruited after a rigorous screening. They have always had the same philosophy of combining the industry's most talented professionals with cutting-edge tools to provide a complete solution online. Today, their international project management team comprises professionals who pioneered with blog and content writing industry.
Apart from content writing, they are well versed in translating several languages. That is why they owe their success to the collaboration with their writers.TextMaster handles everything to make the lives of their authors easier, including developing sophisticated technology, selecting authors, attracting new clients, managing payment and billing, and providing customer support. The content they write is plagiarism-free and properly cited with SEO optimization. That is because their writers are at the fountainhead of their business and the source of the satisfaction of clients.
Pros:
1. The content you receive will be the state of the art because the writers are multi-linguist.
2. You have a chance to select and retain your writers for your future projects.
Cons:
1. Ordering a few blog posts can cost you more.
2. There is only one edit or rewrite available, but if you require more, you must pay extra.
18. Textworker:
It provides cutting-edge Content Writing Services to businesses and organizations. All content is professionally written and ready for publication. Increase your click-through rate and conversions by using flawless content written on-demand. They naturally produce content elevated on Google, Bing, and other search engines writing for your viewers. They collaborate with companies like CBS News, O'Reilly Auto Parts, Localsearch, Avon, Grainger, Dish Network, and many others.
They began nearly 15 years ago as a group of professional content writers that worked independently. The company's founders are friends who shared a desire to write content for business and the arts. Unlike other content providers, they feel your success with commitment and dedication to innovative content creation. They develop content that gets focused on achieving your content objectives. By doing this, they demonstrate why you should continue with their services long-term. That is how they have become one of the world's top content and blog writing companies.
Pros:
1. Textworker possesses better administration and planning to give you hassle-free service.
2. 24/7 customer care.
Cons:
1. Some writers are not native English speakers resulting in unnatural language that may confuse your viewers.
2. You need to pay extra once free edits are over.
19. Crowd Content:
It is a leading blog and content writing agency operating from Canada. Their team contains experts in every niche, including finance, health, legal, and engineering. Their platform motivates writers to produce top-notch content and lets you choose the level of quality you need for your project. When you order, you need to specify your target keywords and topics that the rest gets ensured by the team of experienced SEO writers to be elevated in search results by Google, Bing, and others.
They offer an express content writing service that lets you get your project completed even in a matter of 24 hours without compromising on the quality. At Crowd Content, they do not try to decide the skill level of our writers but let the clients determine their skill levels by the ratings you give them. Writers who perform poorly are removed from the marketplace if their performance does not improve.
Pros:
1. There are no subscription fees; you only pay for the content you require.
2. You can contact writers directly and manage your projects.
Cons:
1. Not all writers are experts on this platform.
2. You could choose and retain your favorite writers.
20. Constant Content:
It is a significant contributor to the blogosphere and the content writing industry in all corners of the world. Constant Content's dedicated team has made a substantial contribution to LinkedIn Learning's high-quality, meticulously edited content for continuing education courses. The product managers at Constant Content have impressed me with their clear, timely communication and on-time delivery of milestones. From the beginning, Constant Content was a pioneer in the creation and sale of pre-written Content on the web and has grown from a small start-up to one of the largest and most reliable marketplaces for high-quality, original, SEO-friendly content.
Their editors offer guidance, so writers produce original content that creates value for any business. Whether it is a haste assignment, long-term commitment, or something in between, you can find it here. Whether you are looking for sales-oriented copywriting, brand-defining content writing, or something completely different, they have thousands of writers with the expertise and support to create it. Over these years, they have evolved with market trends and business needs, and they continue to offer thousands of original articles through their archives. Their primary focus is to create custom content based on client-specific requests and needs. Presently, they connect businesses and agencies to the best and most diverse pool of rigorously screened writers available online. They facilitate the formation of unique teams of writers to meet specific content needs. Their services allow clients to grow businesses of any size to scale and improve their content creation, such as your brand story, drive SEO, thus win sales.
Pros:
1. Native writers were available every time.
2. State-of-the-art SEO that improves conversion rate.
Cons:
1. Relatively they collect higher charges.
2. Edits and rewriting may take time randomly.