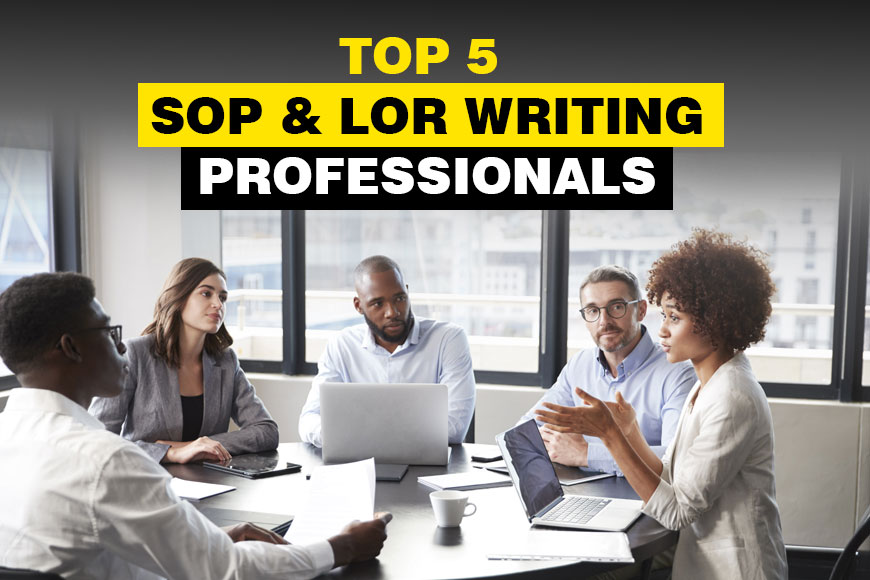 Now everyone knows if you are planning to study abroad looking to widen your career or future prospects, there are a few crucial documents that your application demands. These documents set you apart from the competition and are kind of a decider for the admission committee as to who deserves admission in their institute or country. These documents are the make or break for your application to study abroad.
So, which are these documents?
An SOP Statement of Purpose and a LOR Letter of recommendation.
An SOP gives the complete overview of your learning journey, starting from your education, your work experience, to your plans ahead. It also reflects on your personality. While a LOR is given by your academic instructor or work manager acknowledging your contribution to your learning, whether academic or professional and endorsing you for the program, you have chosen to study abroad.
These documents are vital, and hence they need to be framed with professionalism and uniqueness. The admission committee will undoubtedly look for an SOP and LOR that stand on par with all the applications they have received and gives more value to the applicant's profile.
What simply is a Statement of Purpose, and why is one required?
The SOP, or Statement of Purpose, is a statement that each student enrolling on a programme at a university or college is obliged to produce to justify and persuade the admission committee of their reason for applying to the course.
The admission committee is familiar with your education from your mark sheets and records and your job experience and interests from the corresponding certifications. However, the Statement of Purpose provides the admission committee with a perspective of who you are.
All other documents prove your accomplishments and achievements, but the SOP is your narrative, told in your own words, that exposes your personality.
As a result, it must be original. It should discuss the concepts that inspire you, your journey, problems experienced, lessons learned, and, most significantly, the rationale for your desire for the given academic course and your plans.
It is also a good time to defend any faults or lapses in your academic life while emphasizing your strengths.
All of this should be done clearly and succinctly within the word limit so that your SOP persuades admission officials of your motivation to take this course and how you are a potential student. You will accomplish the learning objectives and offer value to the study.
Do you want a Statement of Purpose that shows your goals, raises your profile and assures your admission?
It is critical to determine whether there are any criteria or specific directions to be followed while developing an SOP.
Some colleges stipulate precisely what should have been included in SOP; in that case, make sure to have all of those features in your SOP.
There are also formatting rules such as a word restriction of 500-1000 words, a 12-point font, line spacing, etc.
Once you understand the criteria, you can begin thinking about ideas. First, write out your reasons for taking the course.
Then, explain your academic path, focusing on specific stages where you recognized why you should take this PROGRAMME and how you would do your best to attain your learning objectives.
Consider an intriguing method to begin your SOP by thinking about how and what drove you to take this course. You might utilize phrases, but being unique by crafting your own words that express your individuality is preferable.
It will be advantageous to read up on the course, its outcomes, the instructors and their research work, the department, and the ongoing projects and research activities.
And most significantly, the programme subjects and syllabus so that you may persuade the faculty via your SOP how it aligns with your learning goals and how you would be a suitable match for the potential students they should choose.
Keep your essay coherent once you've started developing your thoughts from the brainstorming notes.
The reader should be interested in learning your narrative, and it should persuade them that you are an appropriate student for the program without appearing desperate or overqualified.
The applied programme should be a suitable combination for your learning goals. With your academic background and aspirations, you should come across as the ideal match for the course, capable of getting the most out of it.
You may go back and study the SOP to fine-tune it. Following that, you can have someone with experience examine your essay. This is vital to ensure no spelling or grammar issues and that an SOP can convey the desired impression.
Also, quick spellcheck and proper grammar may not always work since it is crucial to utilize the appropriate words for the context, and computers may not always notice errors.
If any comments might enhance the quality of your SOP, you must implement them and continue with the next stage of review and editing until it is ready to be submitted.
So, how do you get an ideal SOP and LOR?
By hiring professional help, you can ensure your get the best output with minimal charges.
Writing an outstanding SOP & LOR requires great care, attention, patience, and enough time to get it done rightly.  An experienced professional SOP writer will be able to write your draft, polish it and give you a remarkable result within the timeline. It is essential, especially when you opt for specialized courses of MBA, Ph.D., or MS.
Let's look at the top five SOP and LOR Writing professionals for MBA, Ph.D., and MS that can deliver quality creation.
Bloggism
Bloggism are proficient writing service providers that help get SEO-optimized top-quality content. Client satisfaction and premium writing are their priority. Bloggism excel in creating a web presence for high-quality content with affordable charges and adherence to timeline contact Bloggism to get remarkable content with ease. By opting for Bloggism, you will get fast, flexible, and trusted work with marvelous content. Email: contact@bloggism.agency
KalamKagaz
Knowing what to do, with years of experience and their established team of professional writers are carrying out the task of delivering great SOP & LOR documents in the most professional manner. Their practice makes them understand your requirements seamlessly. The ace in writing the SOP & LOR content writing services provides 360-degree writing and profile building services. For their professional help, email contact@kalamkagaz.com.
Write Right
Write Right, founded by Bhavik Sarkhedi, is globally ranked as the best among India's top content writing agencies and abroad. They are known for their quality content, adherence to deadlines, and client satisfaction, with a team of creative writers that led Write Right's five years in the service to become enhanced every day. WriteRight specializes in SOP and LOR writing along with Copywriting, Blog Writing, Ghostwriting, Email writing, social media writing, Website content writing, Resume writing, Digital Marketing services, and many more online content services. Contact https://www.write-right.in/ for an SOP and LOR that will fulfill your dream to study abroad.
Taletel
Taletel is a highly creative content writing firm that focuses on delivering quality content. Their inventive content delivery with customized services ensures complete satisfaction to their clients. They follow the changing trends, come up with newer perspectives and deliver strong content within the timeline promised. If you are looking for impressive content within your budget, Taletel is the option for you. Contact now – https://taletel.com/
Estorytellers
Estorytellers is the highest-rated and reviewed content writing agency. It provides all-embracing writing services across industries and is known for its exclusive writing expertise. With 50+ professionals determined to do every assignment with excellence and within the timeline, Estorytellers is a wise choice when it comes to getting proficient SOP & LOR writing services. Contact now – https://estorytellers.com/
Getting ideal SOP & LOR documents that align with your profile along with the course and country you have chosen to study abroad while promises to secure your place in your preferred establishment; it is a job for the masters of the field to do. So, leave it to the experts. Help yourself get an edge over the competition and transform your dream to study abroad into a reality. Go for the skilled content writing services to serve you and deliver incredible writing services.
Why us?
1200+ happy clients
50+ dedicated writers
6+ years of experience
10000+ finished projects