Here at Write Right, we know it can be tough to come up with game changing digital strategy tactics while also staying afloat in a struggling economy. Let us help you out! We're a 360-degree content writing agency based out of India. We provide cutting edge web content, advertising copy, and marketing materials. We're one of India's fastest growing content marketing agencies with young minds and fresh ideas. We do all of your content initiatives so you can do what you care about most!
In light of our success and acknowledgement, we've been listed on Clutch's list of leading digital strategy firms in India. Clutch is a B2B research firm that uses a world class ranking formula to single out key stakeholders in the global business services arena. Their content helps companies looking for a partner find the best vendor suited for their specific needs.
We'd like to take this time to thank our loyal clients for helping us achieve this feat. They took time to talk on the phone with Clutch to assess our impact on a number of important areas. We were evaluated on the basis of quality, attention to project timelines, customer service ability, and overall capability to drive favorable outcomes. Then, those thoughts and feedback were taken through Clutch's transcription and editing steps, and published to our profile. We're pleased to say we've earned an excellent 4.7 out of five stars based on that feedback!
For our most recent review, a financial services firm left feedback for our work. We developed a WordPress platform and iOS/Android version for their site, in addition to content and marketing services. The project continues to be a success! We're described by their leadership team as a "provider of quality content and excellent support." We couldn't be prouder! Take a look at their five-star review below: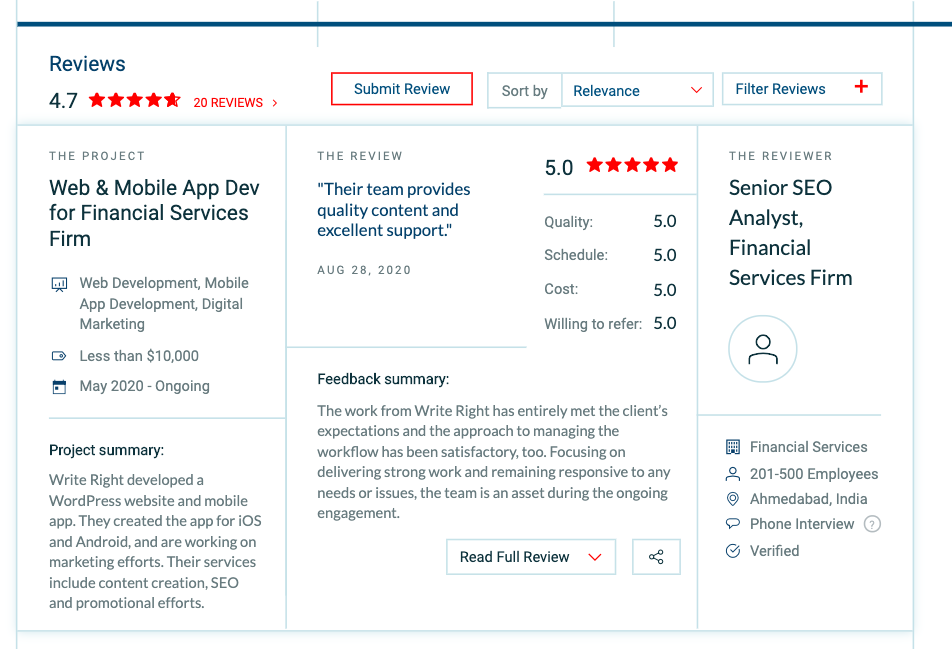 The Manifest, a B2B business data and how-to resource is another great place to learn about how we stack up against our competitors. Their platform helps companies stand out by highlighting their performance against key performance metrics. In fact, they highlight us in their directory of top digital strategy agencies in Ahmedabad, India!
Interested in learning more about how Write Right can help your company excel? Contact us today and we'll walk you through our one of a kind formula for client success!