Guidelines To Draft An SOP For Australia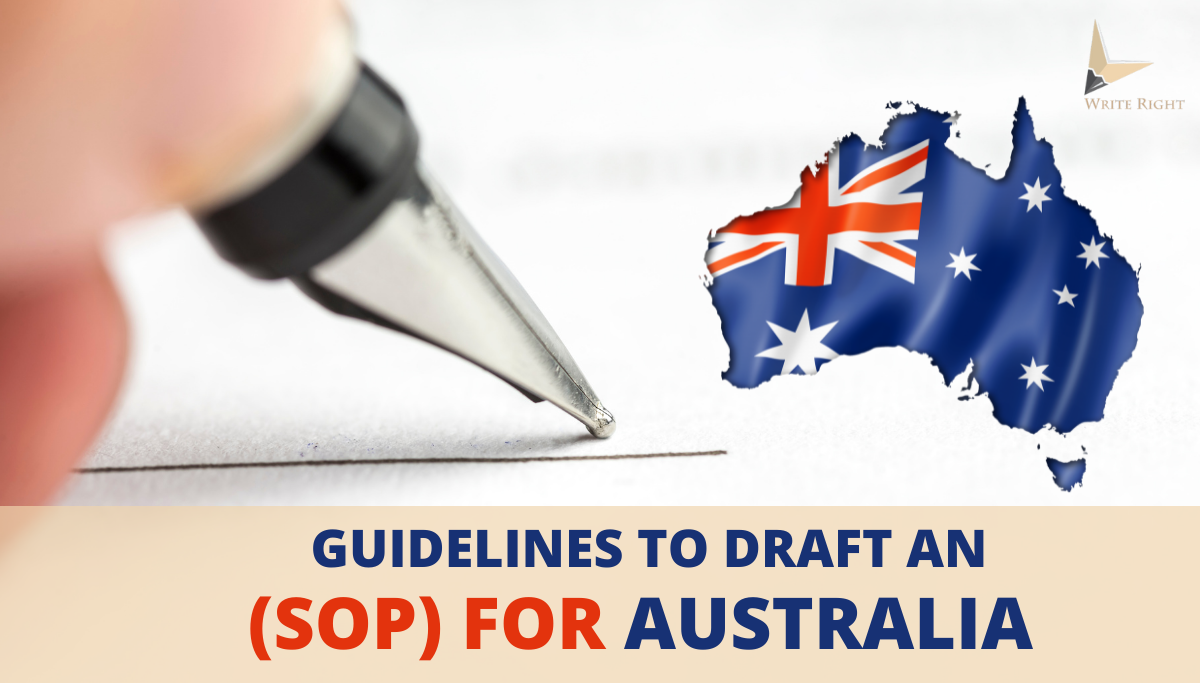 SOP is one of the most dominating documents amongst all other documents in the study abroad application process. It is a sole document that decides the applicant's selection in the desired university. However, apart from university admissions, SOPs are also inevitable in Visa approval. Many nations scrutinize your SOPs to offer approval for your genuine temporary entrant. Applicants from overseas who are applying in Australia solely rely on the SOPs to approve their visa requests.
While debating about SOPs in Australia, Universities in the former country rarely asks you for the SOPs. In most cases, you have to present SOPs to the Visa officers. Further, applicants' crucial admissions in Australia include arts, education programs, and business administration programs. So, as you present SOPs for a specific program, you have to be more compelling and specific. Narrating a story about yourself would simply not work here. Australian SOP is also a lot more different in several other ways.
How distinctive is Australian SOP?
Universities in nations like Canada, the UK, the US, and several other countries demand a transparent SOP with clear intentions of why you are choosing any program. However, Australian SOP is certainly diverse from all other types of SOPs. In Australia, SOPs are more evidence-based. That implies you need to present a document of proof to back them all for every information you encompass.
The Visa officials and universities are quite strict about the SOPs. Applicants making any mistakes in the formatting can also face a straightaway denial. Major final interviews come after scrutinizing your SOPs. So, all the applicants applying for Australian universities must be cautious.
Distinctive qualities of Australian SOP
The Australian SOP comes based on proof and evidence more. All information defined must be accurately covered by the proof.
Applicants entail presenting proof of family income, assets, and economical background to substantiate that they can meet their educational expenses.
All the applicants must also offer detailed information about the university, program, and why are they applying for it?
You should also mention the previous history of traveling to Australia
General guidelines to draft an Australian SOP
The guidelines and strategies to draft Australian SOP are partially similar to that of SOPs of other nations. While drafting your SOP for Australia, you must ensure the below-mentioned procedures to attain approval.
1. Length of the SOP
Your SOP should be of a maximum of three pages. Any applicant must not exceed the maximum page count limit. Writing beyond that would make your SOP boring and discarded.
2. English proficiency
One more thing that the Visa officials and universities pay attention to is proficiency in English. The applicant has to communicate in English as a medium, so you must be quite proficient in English. Your SOP's English must match your proficiency as well.
3. Document to immune every appealed data
Every data you provide in the SOP must have a relevant document to support it.
Australia is a nation full of opportunities and exposure for education. If you aim for Australia for your future courses, you must draft a compelling and resilient SOP For Australian Student Visa.
Topics that you should cover in the Australian SOP
When you are drafting an SOP for Australia, you need to be very cautious. The universities and even the Visa officers in Australia are quite strict about the SOPs. They don't want a single mistake in the SOP. So, if you are drafting an SOP for an Australian university, here are topics that you should cover.
1. Reason for studying in Australia
The first thing you need to cover in your SOP is why you choose Australia. You can describe what makes Australia different from other nations in education.
2. Economic circumstances
The next thing that you need to include is the economic circumstances of you and your family.
3. Course details
After economic circumstances, you should mention the details about courses and the duration of the course.
4. University details
You also need to mention the university if you are applying for a visa. In the case of grad school SOP, mention the reasons for choosing the desired grad school.
Conclusion
Ending up, this is the way you should draft a SOP for Australia. You can battle the difficulties and gain a seat in the ideal college with all exact data and organization.