Guidelines To Draft An SOP For Australia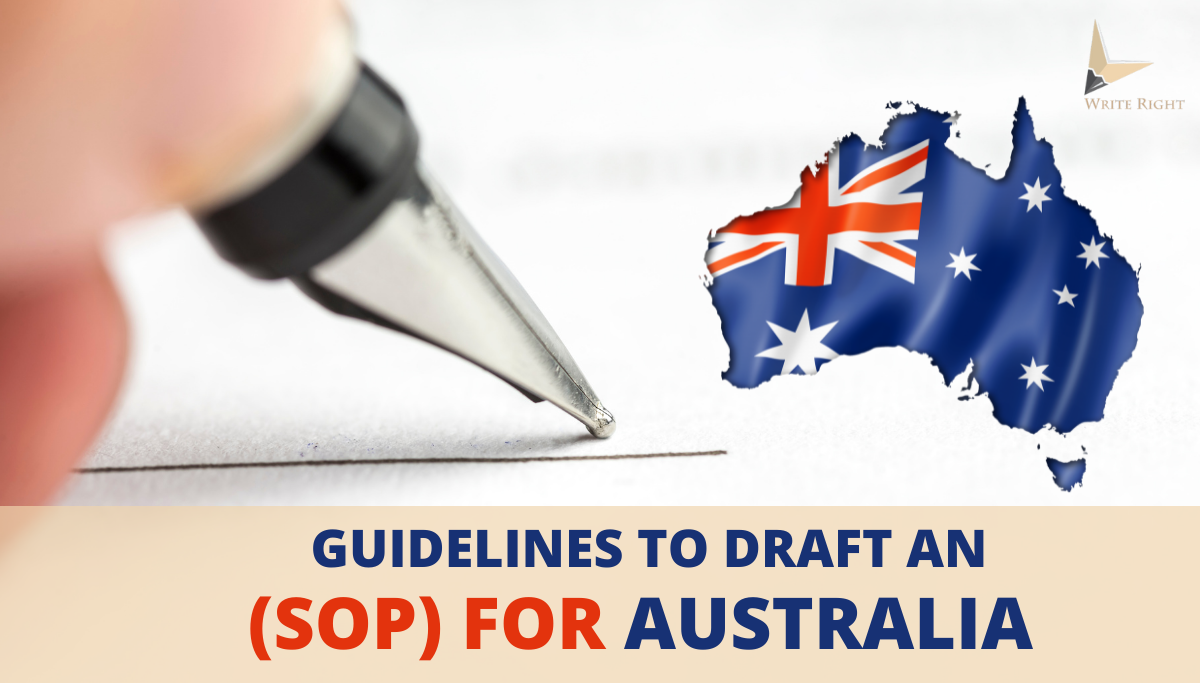 SOP is one of the most dominating documents amongst all other documents in the study abroad application process. It is a sole document that decides the applicant's selection in the desired university. However, apart from university admissions, SOPs are also inevitable in Visa approval. Many nations scrutinize your SOPs to offer approval for your genuine temporary entrant. Applicants from overseas who are applying in Australia solely rely on the SOPs to approve their visa requests.
While debating about SOPs in Australia, Universities in the former country rarely asks you for the SOPs. In most cases, you have to present SOPs to the Visa officers. Further, applicants' crucial admissions in Australia include arts, education programs, and business administration programs. So, as you present SOPs for a specific program, you have to be more compelling and specific. Narrating a story about yourself would simply not work here. Australian SOP is also a lot more different in several other ways.
The first and foremost question when you're writing a Sop is the course you are applying for. For instance, sop for MS and MBA will be very different and with different formats, so it is essential to keep in mind which course or the program you're writing about as numerous courses are available to students before and after graduation.
SOP should be a document that is unique from the others.
To start, make a list of important information that has to be included right from the education courses or the specific subjects you want to get expertise into. You want to include your SOP, which could consist of both your short-term and long-term goals.
The next step is to select the primary or significant relevant achievements of your SOP, which means the sequence per the format that that particular country or the university desires.
Furthermore, check for the grammatical errors in what you've drafted, It will thus help to understand the relevant points that are to be included and discard that are not required in short the questions about what you've to include in your SOP and what not to. The next step is to research the university you're going to apply to, and writing various thought-provoking things about the university positively influences the reader, including the point why you want to join that particular college.
The last step is to finalize your document by editing it or re-writing it, and it is advised not to submit your first draft.
Some other important aspects are to evaluate the t your grammar is flawless, the words are used selectively, highlight your extra-curricular activities and rewards as it adds up a positive impact, don't take the content from the internet and just copy-paste it will have a negative influence your SOP from any website, and write it in the first person, keep it short simple and tidy and the word count to 1000 words.
How distinctive is Australian SOP?
Universities in nations like Canada, the UK, the US, and several other countries demand a transparent SOP with clear intentions of why you are choosing any program. However, Australian SOP is certainly diverse from all other types of SOPs. In Australia, SOPs are more evidence-based. That implies you need to present a document of proof to back them all for every information you encompass.
The Visa officials and universities are quite strict about the SOPs. Applicants making any mistakes in the formatting can also face a straightaway denial. Major final interviews come after scrutinizing your SOPs. So, all the applicants applying for Australian universities must be cautious.
Distinctive qualities of Australian SOP
The Australian SOP comes based on proof and evidence more. All information defined must be accurately covered by the proof.
Applicants entail presenting proof of family income, assets, and economical background to substantiate that they can meet their educational expenses.
All the applicants must also offer detailed information about the university, program, and why are they applying for it?
You should also mention the previous history of traveling to Australia
Australia is a country that asks for an SOP before taking admissions in universities across the land; it is like an acumen of the students they're enthusiastic about taking. It creates a representation of the student they are like.
The Australian Universities focus more on holistic development. Hence, it is always good to mention if you've done any volunteering work in a mission, non–profit organization, etc., which positively reflects your personality and is a prime reason to choose you as an applicant.
Moreover, as you are aware that Australia lists among the top preferred countries to consider overseas education, stating your reasons for choosing Australia gives them a chance to finalize and understand that you will make the most from the country and the course.
Next comes the conclusion. It should be brief, reflecting your promise to dedicate to the course wholeheartedly, show your talent and participate in other co-curricular activities, and make your university proud. The guidelines remain pretty the same, which is not to copy SOP along with having a formal style of writing and taking a good time to write SOP as it may need a lot of evaluation and changes before the final documentation.
General guidelines to draft an Australian SOP
The guidelines and strategies to draft Australian SOP are partially similar to that of SOPs of other nations. While drafting your SOP for Australia, you must ensure the below-mentioned procedures to attain approval.
1. Length of the SOP
Your SOP should be of a maximum of three pages. Any applicant must not exceed the maximum page count limit. Writing beyond that would make your SOP boring and discarded.
2. English proficiency
One more thing that the Visa officials and universities pay attention to is proficiency in English. The applicant has to communicate in English as a medium, so you must be quite proficient in English. Your SOP's English must match your proficiency as well.
3. Document to immune every appealed data
Every data you provide in the SOP must have a relevant document to support it.
Australia is a nation full of opportunities and exposure for education. If you aim for Australia for your future courses, you must draft a compelling and resilient SOP For Australian Student Visa.
Topics that you should cover in the Australian SOP
When you are drafting an SOP for Australia, you need to be very cautious. The universities and even the Visa officers in Australia are quite strict about the SOPs. They don't want a single mistake in the SOP. So, if you are drafting an SOP for an Australian university, here are topics that you should cover.
1. Reason for studying in Australia
The first thing you need to cover in your SOP is why you choose Australia. You can describe what makes Australia different from other nations in education.
2. Economic circumstances
The next thing that you need to include is the economic circumstances of you and your family.
3. Course details
After economic circumstances, you should mention the details about courses and the duration of the course.
4. University details
You also need to mention the university if you are applying for a visa. In the case of grad school SOP, mention the reasons for choosing the desired grad school.
Conclusion
Ending up, this is the way you should draft a SOP for Australia. You can battle the difficulties and gain a seat in the ideal college with all exact data and organization.