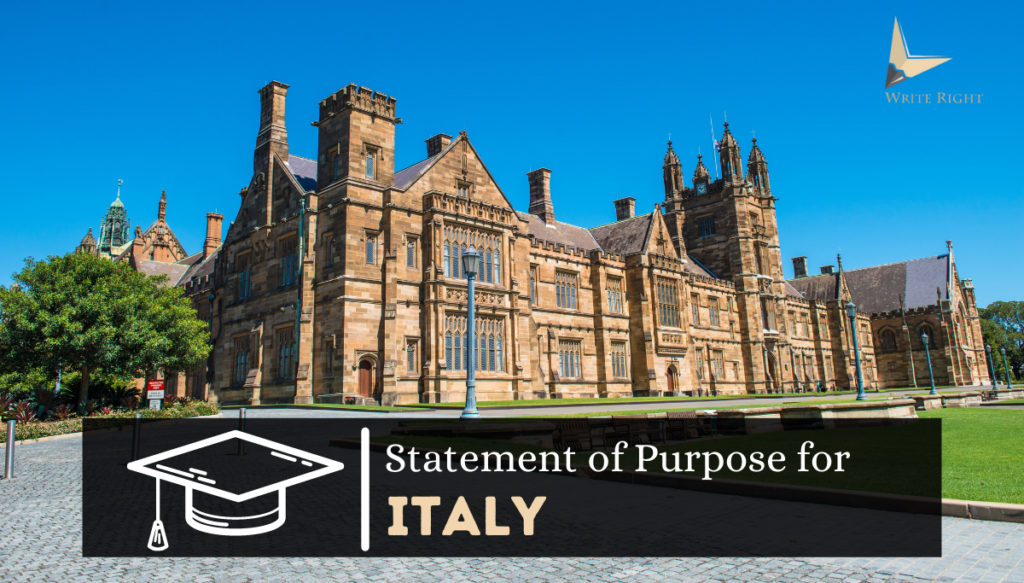 Studying in foreign countries is a dream for many students; the promising career ahead and the increased chances of success are the top alluring reasons. From many educational destinations, today's world has, it might be a problem to search for that one your heart and mind strikes at! And, here in this list comes one nation, Italy, which has a spell-bounding impact owing to eminent universities and numerous upsides such as multi-heritage scenarios and kind people.
Italy is a country of striking beauty, culture, and historical landmarks. But it's also a brilliant study destination because of its great universities. So if you're looking at universities in Italy, are you wondering how to write an SOP? Well, look no further, friend, because you've come to the right place. An SOP for Italy plays a pivotal role in determining an applicant's admission into a top business school. With the fierce competition for admission into these institutions, you must write an essay that sets you apart from all others. So, before continuing forth, here are some important details about an SOP that you cannot miss!
Why pursue MBA from Italy
The MBA program in Italy is designed to closely integrate current management theory and practices. The course imparts knowledge and fosters attitudes essential for the growth of students into competent, responsible, humanistic managers. An MBA can be the key to a new career and better position within your company by undertaking practical world pursuits. It can be a good way to start a new business or take on other projects to expand your skillset. An MBA also shows that you have the drive to succeed. The MBA curriculum in Italy is highly customizable, allowing students to focus on their specific interests and career goals. And because Italy is home to some of the world's leading business schools, students can be sure that they are receiving a quality education.
Traditionally known for its arts and design schools, Italy is indeed a wonderful place to earn an MBA because of the existence of high-quality educational institutions and the comparatively inexpensive cost of studying MBA in Italy. Because the country is host to many worldwide brands, there are numerous chances for management and business learners to learn from industry experts and explore a wide range of options after earning an MBA.
Italy is the world's eighth-largest economy and has historically focused on the role of entrepreneurship in developing a modern economy. Highlighting a few of the main reasons why enrolling for an MBA in Italy is a bright idea:
Universities with globally rated business and management institutions
Provide high-quality education and outstanding placement opportunities.
Fees are relatively reasonable.
A Wide Range of Courses.
Lower Living Expenditure.
You must take each step carefully, from selecting the perfect course to obtaining into your desired institution. Universities frequently need LORs, SOPs, or entrance exam results as an aspect of the eligibility requirements to assess candidates and their appropriateness for the chosen degree.
The best way to get started when you want to write a Statement of Purpose in Italy is to make it the goal to understand what exactly the document you're writing is. Let's start with the basics: why are you writing your essay, who will read it, and what kind of content it needs to have.
Why write an SOP?
An SOP is an application document that conveys information about the student's educational background, career interests, professional development, and overall career prospects for MBA. This statement of purpose or research statement is a short description of your proposed academic work's local and global impact at the target university. An SOP, in a nutshell, brings out a complete picture of a person's true self ranging from personal to academic perspectives.
A Statement of Purpose (SOP) is one such component that is extremely important in the admission process for students wishing to study abroad. Creating an appealing SOP is critical for helping the evaluation committee comprehend your interest in the programme you have applied.
This blog aims to give a complete step-by-step approach to writing a statement of purpose that will help you sail through the evaluation process and gain admission to your ideal academic school.
Who reads an SOP?
An SOP for Italy University is read by a specialized admission panel that understands your past academic results present and future course of action. If your SOP is compiling enough, the first and most crucial step of increasing your chances to get into the University is completed!
What kind of content should an SOP for MBA in Italy have?
An SOP for MBA in Italy should cover your complete personal details, which are crucial for the admission committee to know to have light background knowledge. Moving forth, the SOP should have full-fledged details about academic qualifications and results obtained together with what else you pursued to increase your professional caliber. All the details included in an SOP form a foundation stone of the panel's decision.
We have an answer if you wonder what techniques can help you write a detailed and convincing SOP. Below are six easy tips and strategies to help you write an outstanding SOP without any doubt to boost your chances of admission. Go through the following steps to write a comprehensive Statement of Purpose.
1. Catchy introduction
A clear and intriguing introduction is the key to the success of a good statement of intent. It makes the reader set to the reading and read it till the last. And, once the readers are made to stick to it due to the combination of interesting and knowledgeable instances, you can have already climbed the first phase with due intelligence and informative style of writing and presenting thoughts.
2. Detail talk on qualifications
When pursuing a postgraduate degree, it is important to highlight the research you have done in your field and explain why you want to pursue a particular area of study. A well-written statement of purpose shows the admissions committee that you are passionate about your studies. You can also explain any internship you engaged in during your studying phase to better understand the admission panel.
3. Personalize your SOP
When it comes to writing a statement of purpose, there is no one-size-fits-all formula. The most important part is to make sure that your statement is personal and specific to you. Tailor your statement to highlight your unique skills and experiences, and explain why you are interested in the specific program or field you are applying to.
Don't be afraid to get creative with your statement of purpose. Show off your personality, and let the admissions committee know what makes you stand out from the crowd. Make sure that your statement is well-written and error-free to attain perfection.
4. Be on point
It's better not to run around the bush because being on point gives the panel only the pivotal details they need. An SOP should be written concisely and in a straightforward point.
5. Editing, rewriting, and upgrading SOPs
There are always some mistakes that get skipped when writing an SOP for our visa application. Or, even at a later phase of writing, you might realize that you missed out on a vital point relating to your studies or extra-curricular activities. So, it's better to read your visa SOP two times carefully before doing the further process. Also, if need be, write it again for proper explanation and in-depth search of all the crucial points of importance.
6. Extensive and insightful conclusion
The final impression has as much value as the initial impression has! So, it's advised to have a good and deeply concluded ending for an ideal Statement of Intent. Thus, give proper attention to how you conclude your SOP on an optimistic note.
What is a Statement of Purpose (SOP)?
A Statement of Purpose is an informational document that contains personal statements and is required as a portion of the admission procedure for studying abroad. It is also familiar as an application essay and includes:
A candidate's basic information.
Personal and professional interests.
Academic highlights.
Future CAREER goals.
An SOP is essential in the application procedure for a study abroad programme. It gives the admissions committee important information about the applicant and why they want to pursue a particular course at their UNIVERSITY. It indicates your personal and academic records and who you are as a person, providing information on your writing abilities and English language competency.
Why is SOP important?
A well-written SOP is a vital part of your admissions process. While your academic credentials and other exam rankings, academic records, and backlog records are all objectives, your SOP is your application's only utterly subjective component.
This particular document in your application demonstrates that you have something distinctive that sets you apart from the crowd. As a result, the composition of your application might have a significant impact on your admission.
What Do Colleges Look for in an SOP?
Many international and even domestic institutions need a Statement of Purpose (SOP) from applicants who want to enrol in appropriate courses offered by the university. They request the SOP from applicants in verify and examine the following items:
The writer's or candidate's writing skills
The distinguishing feature that distinguishes their writing from the crowd
Selection of ideas and concepts as mentioned in the SOP
The candidate's distinct personality
Candidates' abilities, prior experiences, interests, and potential
What and how the candidate may offer to the college/department or the university.
The student's motive or inspiration to pursue a particular course must be clear and justified.
The justification for selecting a specific university/college and field of study
Academic and extracurricular accomplishments and awards (if any)
The SOP's overall distinctiveness and readability.
Top 5 Errors to Avoid When Writing an SOP
If you want to study abroad and want to create an excellent statement of purpose for the institution that you wish to enrol, then here are some typical pitfalls to avoid while writing a sop:
Without a course of action or a roadmap, the sop is written at the last minute.
Creating a weak and unclear start and conclusion.
Use casual language, avoid idioms, and use abbreviations if necessary in your sop.
Exceeding the word count and failing to meet the correct word limit.
Making your sop overly showy and enticing.
Given the significance of an SOP, it makes sense to devote time and effort to it. However, as non-native speakers of the language, it might be challenging to create an SOP that is an engaging read. Many highly gifted students fail to live up to their academic and personal profiles, resulting in the loss of a coveted seat.
Why is Write Right the best SOP writing service available in the country?
With numerous content writing agencies out there, you might be wondering how to go for the perfect writing firm which will write an ideal SOP for your MBA program. So, to help you out with the same, given below are some parameters that will help you ascertain which writing firm can be the perfect option for your SOP need.
1. Affordable or cost-efficient services
Whatever might be the case, you would not be looking for services that can burn a hole in your pocket. So, it's good to go for services that are quite within your specified budget.
2. Quality writing
Good standard SOPs are the basic need for driving the admission panel to consider your application for further evaluation as it sets on the benchmarks of your requirements. Half of the battle is already won if you can impress and engage the readers with your thought process!
3. Experience in writing
Experience matters the most because, with time, things tend to improve. So, choosing an SOP writing firm that has experience in this field proves to be a cherry on the cake.
4. Following the rules and regulations
As SOP needs for every country stand different from each other, it is crucial to ensure that the rules are abided by with utmost precision so that things get laid down as planned.
So, after going through all the standards mentioned above, you might be sure that Write Right can be your ideal one-stop destination for SOP requirements because it gives you an SOP service that you can afford with the promise of good quality and uniqueness. As the name suggests, the agency strives to write everything right. Properly following the set instructions and guidelines, they are good at creating SOPs as per your needs to impact the reader. Being in the writing profession for a decade gives Write Right an edge over other writing agencies, as the writers are quite familiar with the SOP requirements of different countries to give customers favorable results.
The final takeaway
To conclude, a well-written SOP is the lifeblood of your visa application. The SOP must cater to the need of the institution you are setting your feet into for a glorious future ahead. So, what are you waiting for? Pen down your SOP and give wings to your dreams!