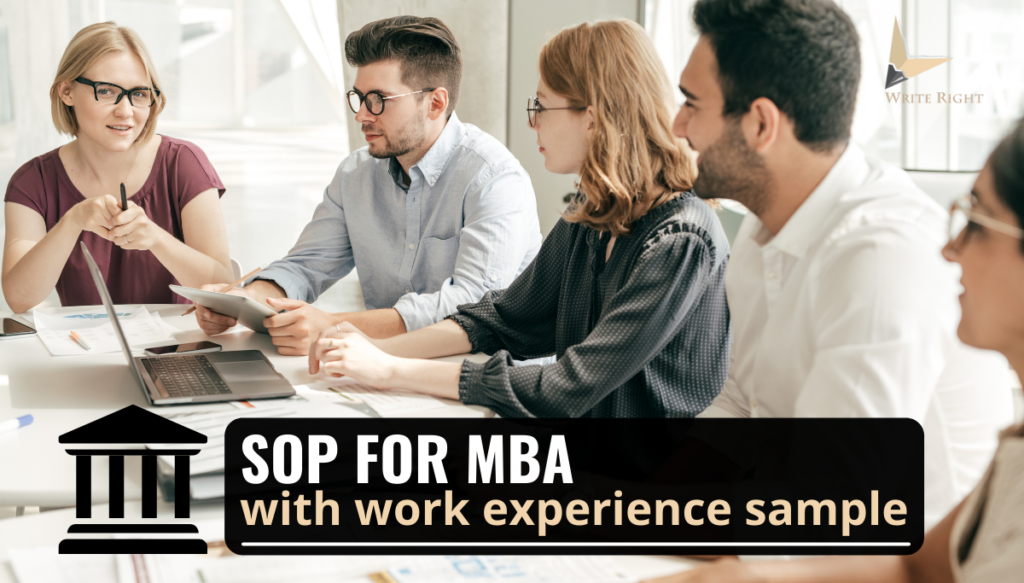 We live in an ambitious time – one that demands more of us than ever before. The world moves at a breakneck pace, and competition for the highest-paying jobs is fierce. Corporations worldwide are looking to hire graduates with exceptional drive, ambition, and a desire to lead. Pursuing MBA from the best colleges gives you an upper hand, and being from the finest institution worldwide is again a jewel in the crown. But, getting into such esteemed universities require you to undergo an application process. One of the key elements of any admission process, including the MBA admission procedure is the Statement of Purpose. If you have applied to international business schools in the past, then you might be familiar with a statement of purpose. However, if this is your first time using the statement of purpose to apply for admissions, then you might have a few questions running around in your head regarding what exactly it entails and how should you go about writing one.
International universities want to know who you are as a person. They want to know how your skills and qualifications will add value to their institution. On a major front, they want in-depth knowledge about your personal to professional life and from skills to achievements. Don't be afraid to share your passions and strengths with admissions—the more transparent you can be about yourself, the more likely you are to grab that spot in the school of your dreams!
Applicants sometimes struggle to write the correct statement of purpose for MBA programmes at leading global universities. Your SOP should highlight your professional objectives, education qualifications, and passion for the management speciality. It should highlight your motivation and career goals while showcasing an interest in enrolling in the university's specific programme.
The Statement of Purpose is a comprehensive examination of both academic experiences. It explains to the admissions committee why you want to pursue a professional degree and how this will benefit your management consulting career.
If you want to explore the program and activities that the institution has to offer your Statement of Purpose should be an apt justification and catching points, proclaiming you as an ideal candidate for the position. It helps you discover how quickly your career can skyrocket.
Top universities worldwide anticipate a comprehensive statement to assess who you are as a student and what distinguishes you from the other applicants.
You should be aware that the SOP serves as a doorway to admission to an overseas university. Your SOP demonstrates to admissions authorities how enthusiastic you are about your job and goals.
We recognize that creating an SOP may be difficult for many people. Therefore we will assist you in understanding the proper approach.
To create an exceptional MBA SOP, include all necessary details to spark the selectors' interest. You must arrange all of the information to demonstrate your academic and professional background.
The SOP must highlight your strengths and demonstrate to the selection that you are a qualified candidate for admission to an international university.
When writing an SOP for an MBA, you should concentrate on three crucial aspects. They are as follows:
Write in a systematic method or the format as prescribed by the university.
You must have a great mastery of the English language, but you must also use the appropriate terms. You may quickly get the focus of the admissions committee if you have a strong writing style and can communicate your motivation to them directly. Let us discuss How to write a statement of purpose for an MBA application.
The SOP is one's only opportunity to impress admissions officers. As a result, you must be original and inventive. Do not be boring since this will reduce your chances of being chosen and make your SOP less inspiring. Make an SOP that highlights your career goals, plans, and stories.
Furthermore, create a list of your professional characteristics and skills. Find the distinctive features that set you apart from other applicants.
Some international organizations need you to respond to queries. You must respond in a reliable and well-structured manner. The appropriate answer in the correct fashion will strengthen your application.
Describe your motivation for pursuing an MBA programme.
An intriguing introduction sets the tone for admissions officials. A candidate must provide a brief description of the MBA program's purpose in this area of the SOP. Try to be creative, humorous, and one-of-a-kind.
In the introduction paragraph, you must answer the following questions:
What motivates you to seek an MBA programme?
How will you make the academy more meaningful?
Why did you choose a particular MBA specialization?
What are some examples of positive turning points in your life?
What opportunities will you have after achieving your MBA specialization?
Provide relevant academic achievements information. 
What is a Statement of Purpose for MBA?
A Statement of Purpose is a form of a personal opinion piece written for the foreign admissions board. SOP demonstrates to them that you are a qualified applicant and the importance of this training in your professional life. An MBA SOP should cover both brief & medium career objectives. The SOP which emphasizes professional ambitions impresses the admission panel to a greater extent.
Points to consider while writing the best Statement of Purpose for MBA
An SOP is nothing less than a life-changing document for you and hence, should be written with utmost patience. So, given ahead are some valuable points that you should not miss on.
Foremost, a good introduction with a persuasive tone can be the best to put forth the first step. It makes the officer go ahead and read the entire key – features of your SOP.
Bold is the tone that you need to choose for writing the introduction of your SOP. Unless of course, you have written something really interesting and catchy. Remember, you are not only writing an SOP but also showcasing yourself as an individual who wants to grow as a professional. Thus, it is very important that you write in a confident manner with complete honesty and sincerity.
The bio section is particularly especially important if you have a strong work experience. It gives you the opportunity to describe your unique career history, job titles, and responsibilities. So, use it wisely!
The best string of words is of high importance when it comes to writing an SOP. A Statement of Purpose should be written in a well-organized manner, and should incorporate all the necessary details in proper format. If your SOP has the ability to present ideas clearly, you are already a step closer to winning the heart of the admission board.
Make sure the SOP you write answers all the questions and nothing gets left out in your SOP.
The SOP is your one opportunity to impress admissions officers. As a result, you must be original and inventive. Don't be boring; it will lessen overall prospects of acceptance and make the SOP less inspiring. Develop an SOP that highlights the professional milestones, objectives, and accomplishments. Compile a list of your formal characteristics and abilities. Discover the distinctive characteristics that set you besides the throng.
You must address your academic life, course selection, hobbies, and ability to fulfil your long-term and short term goals. You can also elaborate on your internship experiences, significant research publications, or extracurricular activities.
Because most foreign institutions offer MBA programmes in various fields, you can select any curriculum based on your interests or academic background. Try to be specific about the talents you have obtained thus far. Do not merely express your thoughts. Instead, give relevant instances and explain them.
Describe your professional background.
One must convince the selection committee that you are a well-deserving candidate. This is very vital for an MBA statement of purpose with job experience. You can discuss your previous professional experience by including the following points:
Mention your professional successes, such as appraisals, accolades, and recognitions.
You can emphasize other soft traits such as honesty, discipline, clever work, promptness, etc.
You can talk about extracurricular activities where you show your leadership, teaching, collaboration, adaptability, etc.
You may also include any additional job relating to social concerns or general well-being.
A captivating conclusion is the best part of your SOP that makes the admission officers stick to your profile.
Statement of Purpose for MBA with work experience
Given below is a sample SOP for MBA students who have mastered a job or garnered some work experience before applying for MBA to an esteemed university.
Statement of Purpose
Since the cradle age human civilization has reviewed massive as well as significant changes in every walk of life. And, in such a case how can its implication in the field of education be far behind? Hence, the modern times require a student to master various skills to reach the pinnacle of success. And, I feel truly honoured that I have been able to set this true with my academic and professional life. Seeking my bachelors and an experience of professional life, I am of the perspective to gain higher education in this field.
My academic journey has been a continuous path of illumination for me. From undertaking my schooling from a reputed institution and passing with flying colors. The world of corporate instilled in me the zeal and zest to unravel more knowledge about such concepts, and hence, I undertook bachelors in business from XXX University from the year ___ to ___ from India. This course enhanced my logical thinking as well as deep rooted analytic skills. During this time I pursued an internship in business development from an organization named ZZ based in New Delhi. I was appreciated with a certificate and letter of experience for the 6 months of training I underwent.
One significant achievement that embarked my learning was an excellence award for business. Also, I garnered an award titled for the best performing intern, owing to the best business model preparation for micro firms from my university. Apart from my scholastic learning, I also played football for my University's team which has enriched my love for sports. Participating in various sports activities and cultural programs added to my growth as well.
Thereafter, to enhance my practical knowledge, I decided to take up a job in the corporate world which will help me utilize my knowledge in the real world. And, so, I took a job at ____ company. Throughout this time, I worked as a Junior Business Analyst on a business success venture, where I obtained the opportunity to get exposed towards the workplace environment in the country's corporate sector. Professionalism teaches the real meaning of success, is what I live by. I engage in learning and research to demonstrate my educational achievements. Competence, requesting advancements, fostering innovation, entrepreneurship, and consulting are all examples of professional practices where I gain greater expertise. I actively help in the improvement and achievement of the goals for the segment. All facets of higher education are enclosed from preparation of lessons to assisting in the learning process.
I wish to enroll in MBA Finance owing to a number of factors. Foremost, I have a passion for learning new concepts which broaden my learning horizon. Furthermore, I am highly interested in acquiring more knowledge about how the finance industry plays an important role in the business world and, also this subject entails a protracted scope for wisdom and practical knowledge. Thereafter, because of such crucial reasons made me go forward by enrolling to a result focusing as well as deep rooted MBA program, where I can put my skills and inquisitive nature to garner the best outcomes. Getting involved again in studies after a period of four years has made me self – evaluate my learning process along with acquiring professional working opportunities.
Being an important stone of success for my future life, this will help me in turn educate numerous children. Business, being an important professional, I want to help numerous business owners get their dreams come true by being a continuous driving force for their corporate house. I ponder upon excellence and expertise in my career in this effective business world, being the backbone of the industry.
Importance of an MBA Statement of Purpose for students
A well-written SOP is essential for college acceptance because it creates a good and positive image of who the applicant is and what he believes. Although university scores as well as other evaluations are the main points to consider, the SOP is the other critical evaluation considered for admittance. So, read the points given below that cast some light on the substantial nature of an SOP:
Positive outlook of the candidate

A good SOP must have the ability to showcase your talents and academics in an optimistic way. Also, everything should be explained in a clear and professional tone.

Helps the admission panel know you better the

A most important objective of an SOP is to help run a will to understand more about you. So, every detail given in the SOP should be true. As it is your pathway to excellence, include all informative and essential points in the SOP.

Increased chances of admissions

Well-formatted and explicitly formed SOP has mushroomed chances of your admissions as it puts forth your strong desire and future way.
Well-formatted and explicitly formed SOP has mushroomed chances of your admissions as it puts forth your strong desire and future way.
Bottom line
In a nutshell, an SOP is enough to bring about a positive outlook to your application; it not only elevates your chances to get into the finest universities but, also helps you make an impact on the evaluator's mind. An MBA SOP is an extremely competitive field of endeavour, having your future prospects laying in front of you. As education plays a crucial role in bringing about change in society, paddle up your cycle to achieve excellence in varied adventures and pursuits of your life.