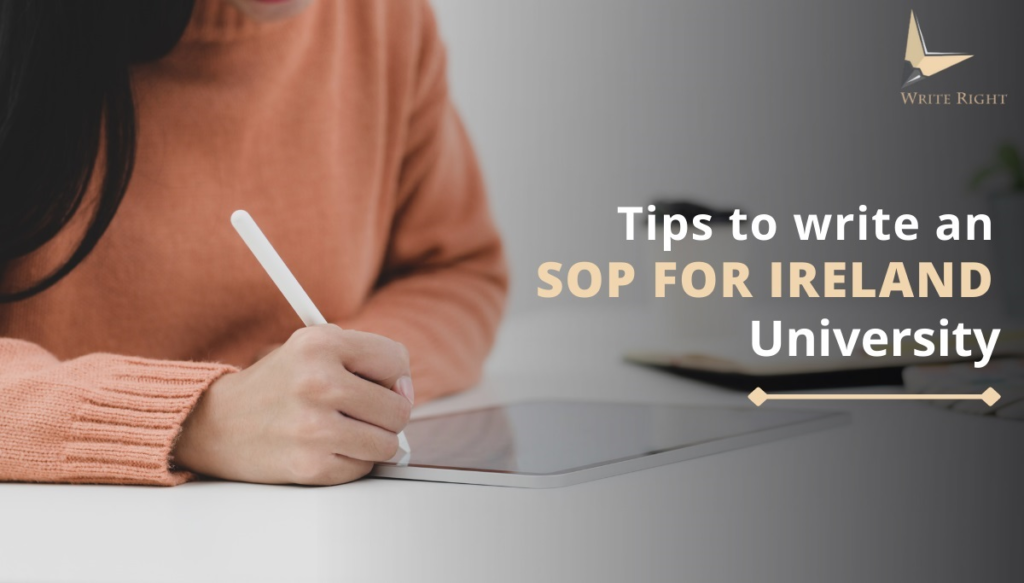 Statement of Purpose commonly known as SOP is a document that answers questions related to the choice of country, achievements, and plans. SOPs define the unique personality of the applicant. SOP for Ireland can be of two kinds one is SOP for Ireland universities and the other is SOP for Ireland student visas.
The purpose of these two SOP seems similar but has a few similarities, which will be going to discuss later in this blog.
A student has to write an SOP for both Ireland Universities and Student Visa. Both SOP will be different from each other and we will tell you, how?
SOP for Ireland Universities
SOP for Ireland Universities varies from university to university. It is more personal if compared to sop for Ireland student visa. But few things are common for each Ireland University such as work experience, academic scores, community culture & volunteering.
The things that may vary from university to university are given below;
Format
Word Limit
Element to be addressed
Information about the course
Skills, Achievements, and interests
Work experience
Future Plans
All these things may not be asked by every university. These may vary according to the university you are applying to.
Now, here are a few tips for writing SOP for Ireland Universities. These tips will help you write an effective SOP for the Universities;
The SOP must not have any grammatical errors
Try to follow the word limit. Don't exceed the word count given by them
Don't try to write a story
Include your Achievements, future aspirations, and academic background
Never repeat the things that you have written in your CV
Always write in easy-to-understand language
Your tone should be official and academic
Go through some Ireland SOP samples to get a better understanding of an SOP and how it should be drafted.
If you will follow all these tips, then your SOP will earn the trust of university councils.
SOP for Ireland: What Makes It Unique and Important?
The SOP for an Ireland student visa must be submitted as a letter instead of an essay. The suggested word limit for this is 500-600 words.
In the case of Irish universities, the SOP is usually included in the application form, which is around 300 words long. A separate document must be uploaded for universities/programs that require a detailed SOP.
In contrast to the United States and Australia, Irish universities have SOP for both master's degree applications.
The Central Applications Office (CAO), solely responsible for centrally processing applications for university programs in Irish Universities and Colleges (HEIs), requires applicants to submit an SOP as one of the necessary documentation for admission.
Tips for Writing an Irish Statement of Purpose
A few pointers can help you write a remarkable statement of purpose for MS in Ireland to compliment your admission application:
The SOP must be free of vernacular and grammatical errors.
The SOP must not be too brief or too detailed.
Whenever a word restriction is specified, try to stick to it. In general, it cannot be longer than two pages.
Never include a story in your SOP. It is your life from an academic and professional standpoint, discussing your future goals while keeping previous personal achievements in mind.
Never repeat your CV details or accomplishment that are mentioned elsewhere in the application in the SOP for MS in Ireland.
Always write an easy-to-understand document, but keep the tone official and the language academic.
Before you begin writing the SOP, brainstorm, plan, and review some samples. If the institution requires specific points to be included in the document, ensure you have them.
In Ireland, support the SOP with LOR for MS.
Try to keep the beginning impression in mind and the first impression you want to make on the selection committee.
Always emphasize your unique points while remaining focused on the course at hand. Write down everything relevant to your admissions decision.
Because a statement of purpose is unique and personal, never duplicate it from anywhere and avoid getting someone else to help you write it. The more information it has about you, the more accurate the result it will be able to provide. Remember to start early and have your statement of purpose for MS in Ireland fully prepared before beginning your admission application.
When writing an SOP for Ireland universities, use clear, descriptive, and professional language. Active verbs are preferred. Superfluous words, on the other hand, are frowned upon. Furthermore, the essay should include a balance of academic, extra-curricular activities, and professional elements.
An SOP for an Ireland visa and institution requires a subjective start, followed by an outline of essential aspects linked together to form a solid point.
Statement of Purpose for Ireland Student Visa
SOP for Ireland Student Visa depicts the student's suitability, intention, and eligibility for higher studies in Ireland. You convince them how you are eligible for the visa of Ireland that you are applying for. No doubt, that Ireland is one of the best study destinations for you. But for getting there, you need to have the best visa SOP for Ireland.
Your SOP for a student visa must contain the following elements;
Educational and Professional Qualifications– The visa officers would like to know your educational background and your previous work experience.
Motivation– Your SOP must have the reasons for your interest in the course you are applying to in Ireland.
Family & Financial Background– You should add the occupation and financial stability of your family to give them an idea about your financial status.
Future plans– You need to state your future plans in your SOP. Like, you will come back to India after completing the course. Otherwise, your student visa application will be rejected.
Explanation about the education gap (if any)– Tell them about your education gap, if there is any. If not, then leave it.
The program you want to study– Give them strong reasons about how keen you are to pursue your higher studies in Ireland.
These things must be there in your SOP. Also, you can go through the Ireland visa SOP sample to get a better understanding of student visas.