The Content Writers You Can't Miss to Know and Follow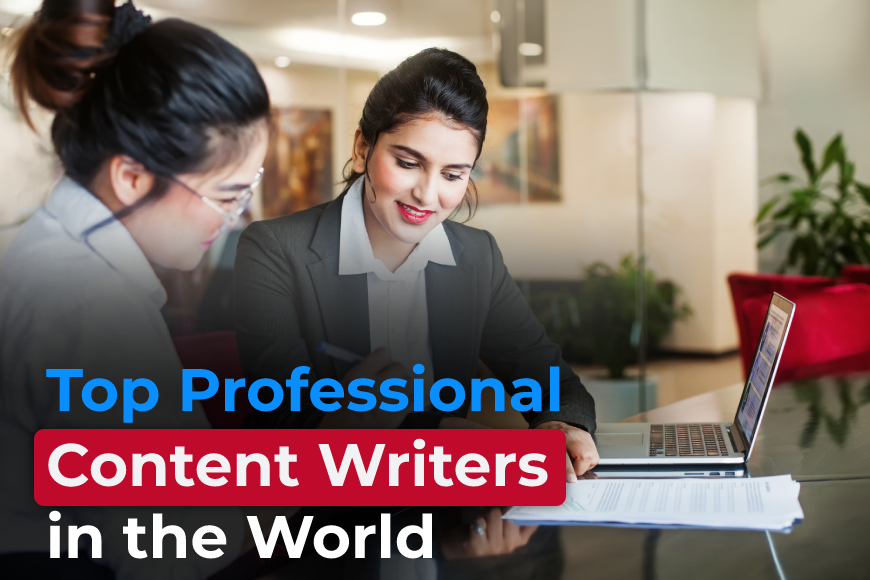 Looking for the experts of content writing? Don't worry we've got you covered. We have prepared a list of the most influential writers in the world. The content writing industry is booming. Freelancing has become the new normal and thus a lot of competition. Who doesn't need a guide to sail through the high tides? If you're a budding writer and want to explore the world of freelancing, you should not miss following them. Here you go:
Ann Handley
She is the pioneer of digital marketing and the inspiration behind millions of young writers. She inspires marketers to make that bold move to break the conventional rules. She is a keynote speaker and a Wall Street Journal bestselling author. She is also the first Chief Content officer in the world! She has redefined businesses through her amazing writing skills.
She is also the co-founder of ClickZ.com which was her first-ever venture. She is based in Massachusetts and currently working as a chief content officer at MarketingProfs.
Bhavik Sarkhedi
He is an author, content specialist, public speaker and the founder of WriteRight, Estorytellers, Telltale and Dad Of Ad. He has been listed in the top 10 most influential content writers in India and has several success stories to his credit. He started to build his aura from his early writings on Huffingtonpost, Entrepreneur and Yourstory.
He is a pro writer, and Content Marketing Consultant. If you want to add a feather to your business, then he is the man you need to consult.
Vaibhav Kakkar
He is a young entrepreneur and a digital marketing expert who helps Brands thrive. He is the founder of IIMSKILLS, Coursedekho and Advisor Uncle. He is an active blogger and writes on digital marketing, content strategy and career development. He is a mentor to several young writers and he has been featured in top news channels like Mid-Day, Prime Time and Zee News. He has trained more than 1000 young writers as well.
Heidi Cohen
She is the chief content officer at Actionable Marketing Guide and she helps businesses to grow through her voice of writing. She is a business strategist and helps brands to craft strategies for development. She has contributed to some big names like New York Times Digital, Cendant's Cheap Tickets and The Economist. She is an expert in digital marketing, content marketing, voice marketing, social media and direct marketing.
Sonia Simone
She is the founding partner of Copyblogger Media and currently, she helps writers to ace the field of writing. She helps young freelancers to develop flair in their writing. She is a writing coach and a mentor to thousands of young writers. She helps content-driven businesses to develop new ideas for growth and transformation. She's also the chief content officer at Copyblogger . She has designed her certification course at Coursera that helps learners to understand the fundamentals of content marketing.
Anuradha Tewari
She is a true storehouse of talent and a robust female entrepreneur. She is an author, director, writer and creative force working in the media industry. She is the creative head of companies for the last 25 years and she has designed a certification course in Screenwriting across the world. She has scripted for various Bollywood movies and Web Series. She has been working on various genres and is very well known for her ConsciousCreativity project, where she guides young minds. She strongly believes in the power of storytelling as a healing tool.
Jeff Goins
Jeff is an author, blogger and public speaker. He was the former marketing director for Adventures in Mission. He is a prolific writer who has established himself among the best content writers in the world. You can find his write-ups on Business Insider, Fast Company and New York Observer. His book,' The art of work' earned him the tag of national bestseller author He has written several other books on marketing, productivity and content writing. He is also the founder of Tribe Writers, a community to voice the young writers.
Nina Amir
Nina is an international speaker, writer, entrepreneur and the author of 'How to blog a book' and 'The author training manual'. She has self-published more than 18 books and most of them are on Amazon's top100 list. She writes to build the readers of tomorrow, a more alert and conscious one. She is also the founder of Non-fiction  Writer's University. He writes about productivity, time management and self-help. As a book editor, she has worked with various clients and helped them to self-publish their books. She has worked for more than 45 publications and has written tons of articles.
Chris Brogan
Chris has played a major role in the upliftment of various multi-million dollar companies. He is a business strategist, marketing pro and brand strategist. He is the president of Chris Brogan Media that provides 360 business solutions. He runs a show called The Backpack Show and he one of the most sought after keynote speakers.
His consultants are some of the big names like Disney, Coke, Google, Microsoft, GM, Cisco etc. Forbes tagged him as the Must Follow Marketing Minds of 2014. His website was listed among the 100 best websites for entrepreneurs.
Nicholas Cole
He started writing when he was 17 years of age and gradually made an impeccable name in the digital marketing industry. Today he is an artist, author and blogger. He helps people to polish their writing skills, turn their skills into a business, growing a loyal follower base etc. He is the founder of Digital Press and a robust blogger. He writes about online gaming and related stuff and contributes to brand building for businesses. He is the author of 'Confessions of a Teenage Gamer, a memoir that became an international success.
Nicole Fenton
She is a senior content strategist, product designer and Researcher. She weaves words to leave readers awestruck. She has been a training manager for Chorus at Vox Media and the head of content in various companies. Her clients are some of the big names like Facebook, Nava, Lab Zero and ProPublica. She helped various business and public Organizations to reach their goals. She currently works at Nava, providing various services.
Katie Martell
She is a writer, producer and author of Trust Me, B2B. She is an expert in marketing and communications. With rising digitalization, she is gearing up to transform the customer experience. She is the host at Experience TV. She is also named as the 'top marketing voice on Linkedin'. She also helps startups in brand building, marketing insights and deep learning. She has so served as the Executive Director of Boston content and as a startup Entrepreneur. She is an iconic public speaker with a distinct and independent perspective.
Britt Skrabanek
She is a blogger, fiction writer, podcast host and content strategist. She has published three novels and is running Super neat Marketing since 2017. She has ventured her energy into the new podcast, LoveYourEnthusiasm. She interviews teachers, explorers and writers to know their version of success. She quit her regular job to pursue writing. She wanted more freedom and independence and came up with her amazing avatar. She is considered the blogging unicorn. She is writing for the last 8 years and helps businesses through content marketing.
Jay Baer
Popularly known as a 7th generation entrepreneur, Jay is an iconic personality in the world of digital marketing. He is the advisor to some of the big brands of the world. His audience loves him speaking and they say he is the most helpful business coach. He is the founder of convincing and converts consulting. He teaches customer retention, B2B influencer marketing and word-of-mouth. He travels around the world to give speeches to various business groups. Without a doubt, he is regarded as the "world's most inspirational marketing speaker" and that's true. Hsi company helps brands to improve content marketing, social media marketing and email marketing.
Nicole Deiker
Nicole is a coach, writer and blogger. You can find her writings on Lifehacker, Popular Science, The Write life and Unbounce. She has been associated with The Billboard, as a contributing writer, for five years. She also mentors writers, teaches writing, publishing and freelancing. Her first novel, The Biographies of ordinary People' earned her a big name in the industry. She has more than 10 years of writing experience and some of her stories are published on Vox, The Simple Dollar and The Penny Hoarder.
Final Takeaway
Writing is not just an art but an emotion. But if you turn that into your profession, you don't have to look back on your career. The world of content writing is full of ups and downs but being stern should not bother you in this game. You need to make that extra effort to achieve your goals. This list has some of those personalities who rose from rags to riches and today earning millions. So keep your hopes high and keep writing!