When I was a child, I always wondered if someone could write for me without a bar of chocolate, And God had listened to me and these news pop-ups in 2020,
"AI robot writers, such as GPT-3 (Generative Pre-trained Transformer), take seconds to create text that seems like humans wrote. In September 2020, GPT-3 wrote an entire essay in The Guardian to convince people not to fear artificial intelligence."
Natural language processing (NLP) and generation are how AI does this. This entails translating human language into computer commands and back. Machine algorithms analyse hundreds of texts, words, phrases, and paragraphs to obtain a broad grasp of the realm of human language in this way. Machines then use the information to construct text.
Content development has been a challenging undertaking for professionals in recent years. Quality content has grown more complex as competition and consumer expectations have risen. As organisations opt to engage in marketing automation, the need for improvised content continues to expand as the growing number of technologies are being utilised to produce content more quickly.
Robots being creative
Okay, but what is AI Writing Tool?
Artificial intelligence (AI) is a tech used to automate jobs that people would otherwise perform. Any software (or series of development tools) that can help rate written content more effectively and successfully is referred to as a writing tool. Whereas a writing tool would not generate new or original content for you, it will simplify the pro content easier and, fast, more accessible best AI writing solutions are meant to automate a variety of Rewritings.
Rewriting, Editing, content development, formatting, and translation are some of the most typical activities that AI writing technologies may assist with. You may use these tools to produce content on the website, blog articles, emails, social media, and other advertising.
Today's time, most AI writing tools are based on GPT-3!
Now, what is GPT-3?
Let's talk over GTA,
GPT-3 is an AI technology developed by OpenAI, a firm that began its voyage in language processing by employing deep learning to produce text-generating algorithms. The number of parameters has expanded more than tenfold in this third iteration, with 175 billion. The new method has opened the way for generative algorithms that genuinely develop text-based solutions on that value and make sense. This case imassiveriables have converted into a significant rise in the application.
But why GPT-3 tools are so treasured?
To keep ahead of the competition, marketing companies must be up to date with current market tools. Thus, the solutions supplied by such a new technology should be thoroughly studied. The tools developed using GPT-3 technology will change how content is created, and the reduction in content delivery will be extraordinary and remembered for a long time.
These technologies also will make it easy to create chatbots that can answer any form of client inquiry. Even how we compose emails will be altered.
This is the global impact that OpenAI has had.
WriteSonic is a fantastic AI authoring tool (unlike Nickelodeon Sonic) that can create personalised content depending on your choices and requirements. It saves you time and helps you focus on other professional aspects. I had tried its services, and it was a high-speed quality ride.
WriteSonic is the best answer for authors who have trouble coming up with new content ideas. It's ideal for content marketers who work in eCommerce. It enables users to develop highly engaging, original, and intriguing content n be distributed across multiple social media channels. It's compatible with both PCs and Macs. (With ten free credits)
Origin: San Francisco, California, United States.
Founder: Samanyou Garg
Founding Year: 2021
Funding: Total Funding Amount $2.6M over three rounds from firms like Rebel Fund, soma Capital, HOF Capital, Amino Capital, Broom Venture, etc.
Pros:
In seconds, you'll have an auto-generated article and optimised content.
AI-powered article and blogger to tell the optimum tone, flow, framework, and voice in writing.
The user interface is modern and easy to use.
Multilingual assistance (24 languages)
Cons:
The disadvantage is that free members don't have access to many features, which means they can't create as much content as they'd like before paying.
Pricing plans:
Writesonic offers a free trial account and four paid plans, which I have shown below.

How to use: They have a help centre for using services instructions.
Evolution of its name,
Conversion AI — Jarvis AI — Jasper AI (Yes, Iron man took that seriously).
Open AI's GPT3-based AI technology powers Jasper, an AI authoring program. The long-form editor in Jasper boss mode understands context better because it glances at 30at 00 characters and takes free-form commands. Bloggers will loooooooove it.
Origin: Austin, Texas, United States
Founder: Dave Rogenmoser
Founding Year: 2020
URL: https://www.jasper.ai/?fpr=renaissancerachel
Funding: Jarvis AI had financing taken from Bossanova Investimentos, but the number remains unknown.
Pros:
Boss Mode AI content generation for full-length blog posts
Long-form writing assistant for 1000+ word articles
Multilingual: 25+ languages endorsed
Fb Group with over 50,000 marketing professionals writing with AI
Plagiarism detector – write without fear of allegations of stealing somebody else's content
Speed writing – strike beginning, and the browser will generate a masterpiece for one's blog article in minutes!
SEO Surfer integration – a tool to help you analyse keywords and optimise your content for search engine rankings
An AI wizard can generate over one million phrases.
Cons:
Because the AI writer has been built on GPT3, it has topic constraints. Publishing about sensitive subjects like sexual wellbeing and health might not be a suitable fit.
Because Jasper lacks built-in SEO functionality, you'll have to pause for a 3rO tool. The great news is that they've integrated with Surfer SEO directly, so you won't have to copy-paste your content between the two.
The cost of using Jasper AI is determined by the quantity of stuff you know. The beginner plan & boss mode remain your choices. During the first 20,000 words, the beginning plan is $29 per month, then increases dependent on word count. It comes with 50+ AI copywriting templates, an infinite number of user logins, and an unlimited number of projects.
The beginning plan features are included in boss mode, the long-form content editor, and free-form instructions.
While there's no "official" free trial, you can get 10,000 bonus credits + a 5-day free trial!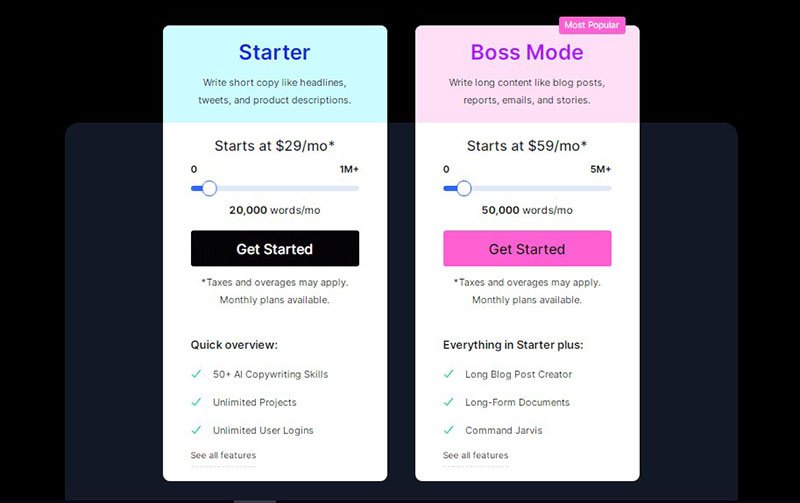 How to use: you can click here for a demo walk!
10 Minute Demo Walkthrough – Jasper
I like its name; if we avoid grammar rules then wri, ting this kind of word could be so easy. (Minc y not)
Okay, but Rytr is one of the most affordable AI writing software. It can be used to write several content types, including website pages, product descriptions, short stories, blog posts, and social media posts. AI writing assistant will have your article ready in less than an hour without human intervention. Rytr also allows users to search for ideas for their reports or even write them in real-time.
Origin: Walnut, CA, USA.
Founder: Abhimanyu Godara
URL: Rytr – Best AI Writer, Content Generator & Writing Assistant
Founding Year: 2017
Funding: they have received $350k from 'Purvi Capital and '500 Startups'.
Pros:
The best AI writing program for individuals on a budget;
Useful when rewriting vast volumes of data.
Cons:
Although Rytr does not support free-form commands, the AI writer can still be used to produce articles by extending specific blog post sections.
It takes a long time to write a long piece.
Pricing plans: It includes three easy-to-use, safe and unlimited packages. In the link below, all three are mentioned. A monthly subscription costs $57 per month, and an annual subscription costs $27, among other initiatives (paid annually). A bespoke plan with extra features is also available from the company.
How to use: Here is the video about Using Rytr.
Pepper type is an AI writing program that uses machine learning to determine consumers' wishes and respond with the most appropriate responses. The GPT-3 model is used in this AI-assisted tool.
Origin: Mumbai, Maharashtra
Founders: Anirudh Singla, Rishabh Shekhar, Rishank Pandey
Founding Year: 2020
URL: https://www.peppertype.ai/
Funding: PepperType.ai is the first step toward a brighter future for creating content by Pepper Content (writing agency). In September 2020, Pepper Content received 42 lakhs rupees in Series A investment.
Pros:
Add-ons such as the brand voice and other features
More than 30 different types of content, plus early access to better ones.
Create large amounts of content in a couple of seconds.
A simple dashboard that displays the team's analytics.
Cons:
Fewer credits and several captions feature numbers without sources, making employing those research topics for our captions challenging.
Many mistakes and errors.
Pricing plans:
They offer two effective plans: the Starter plan (1 user seat) for $25 per month, billed annually, and the Team plan for $165 per month, payable annually.
With the Peppertype free trial plan, you can get started immediately and generate 100+ prints with the program plan, which comes with 10,000 free credits. There is no need to use a credit card.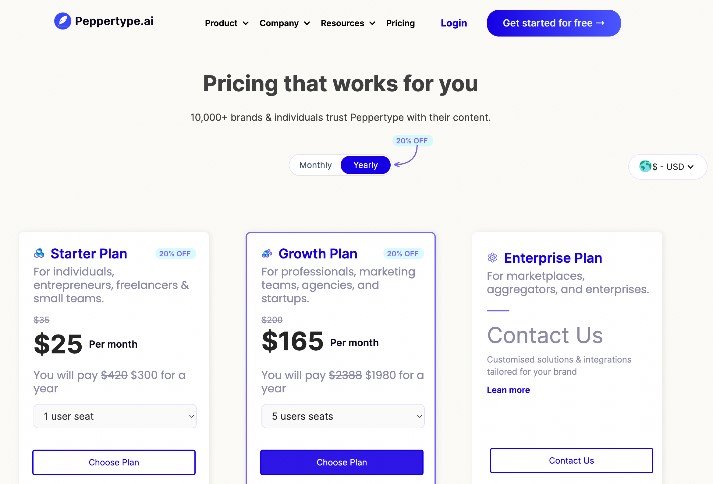 This software can be used in seven simple steps.
Decide on the content type.
Fill in the Product Name and Detail fields.
Go over the results, make necessary changes, and save them.
Look at the Copies You've Saved
Save the findings as a CSV file.
Make more or move on to the next Content-Type.
Access all of your previous copies in one spot.
CopyAI is the polar opposite of what it claims to be. With its various automatic creativity tools, he aids in the eradication of writer's block. It also includes several AI templates to assist you in getting started with your project. CopyAI, in my viewpoint, is for power writers who need some help getting beyond writer's block.
It's among the most cost-effective solutions with access tools and infinite credit in pro mode. There's no need for a paid subscription here, either!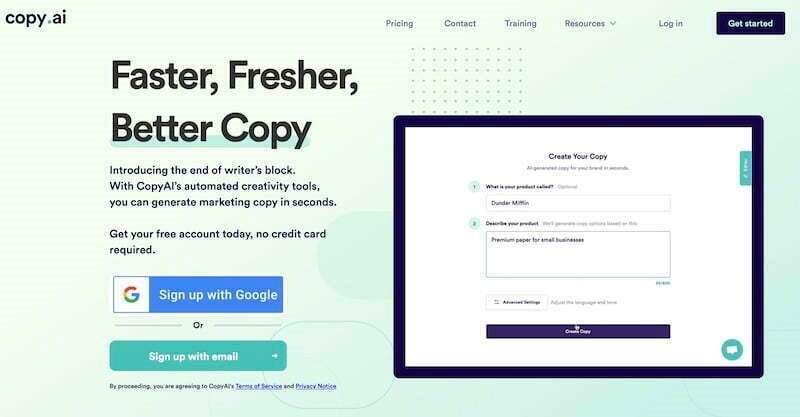 Origin: Memphis, Tennessee, United States.
Founder: Paul Yacoubian
Founding Year: 2020
URL: https://www.copy.ai/
Funding: CopyAI has raised $13.9M over two rounds from firms like Tiger Global Management, Sequoia Capital, Wing Venture Capital, Craft Ventures, and people like Elad Gill.
Pros:
The 100% free version is simple and requires no credit card information.
Email subject line, business name, and in caption creator are free tools that don't require you to sign in.
100+ templates that can use to create a copy.
Diversity of languages
Simpler user interface
Cons:
Surface-level outputs, while it imitates natural language well, there are fewer ways to provide the additional context to dive deep into a topic.
No integrations currently. Therefore, it may not save time and simplify your process as much as possible.
Before upgrading, you can try CopyAI for free to understand how it works. The Pro campaign begins at $49 monthly and gives you access to an infinite number of credits and projects. There also is an enterprise plan for large teams that require collaborative tools.
They are providing training videos and activities.
Wordtune isn't an AI writer in the usual sense because it doesn't allow you to feed a topic and write it in paragraphs of text. It's intended to fine-tune your sentences, as the name suggests. Wordtune is an AI-powered content generating and editing application that helps you produce more concise, appealing phrases.
It combines neural networks using natural language processing technologies to effectively comprehend the context of what you're trying to say and transform it into a compelling message that matches your writing voice precisely.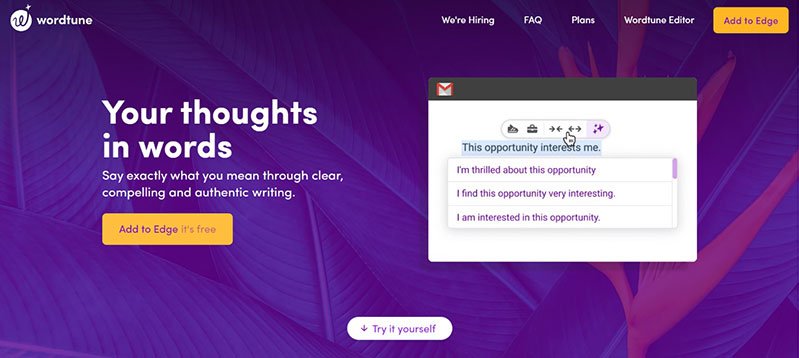 Origin: Tel Aviv, Israel
Founder: Yoav Shoham
Founding Year: 2020
URL: https://www.wordtune.com/
According to Ori Goshen (Co-CEO), funding: According to Ori Goshen, it increased to USD 34.5 million (Co-CEO) from investors such as Walden Catalyst and TPY Capital.
Pros:
An excellent AI integration that aids fact-checking
A keyboard shortcut speeds up the workflow by eliminating the need to click on every word individually.
Rephrasing in non-English languages is possible.
Various modes that alter the intonation of a statement
Cons:
No plagiarism checker.
Only available via Google Chrome.
Pricing Plans: Wordtune, like other grammar checkers, has a free edition, but there is a catch. Unfortunately, most functions are limited, and the base (free) edition of Wordtune can only rewrite sentences.
Wordtune Premium is only $9.99 per month at Wordtune Premium. If you're looking for a low-cost grammar checker, Wordtune Premium is the finest and most acceptable.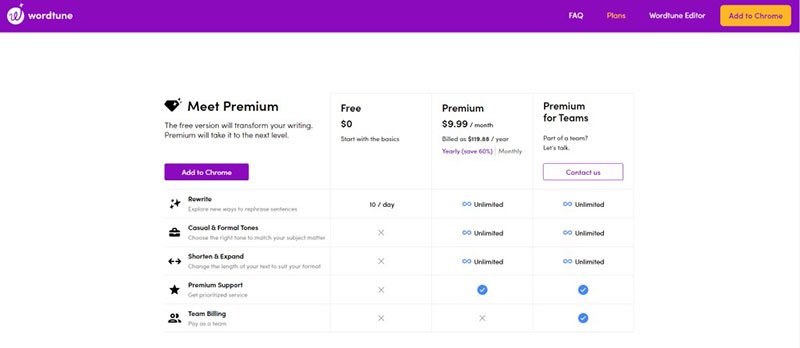 How to use:
Wordtune is here for anyone who likes to write content free of grammatical errors. It can assist freelance writers in producing well-written and intelligible content. Copy and paste your content into Wordtune, which will recommend ways to enhance your difficult-to-read sentences, spelling, and grammatical flaws.
According to their website, Ink for All is AI-author software that allows you to "speak with purpose." It may be used as a text editor and a browser extension. It is proving Ink for All demdemocratisese content marketing process by providing writing assistance and for ols anyone to write high-performing content.
Origin: Houston, Texas, USA.
Founder: Rohan Shravan and Manish Giri
Founding Year: 2015
Funding: It raised $55 million by Silver Lake Waterman, with involvement from Contour Venture Partners, Intel Capital, and others, bringing the total raised to $97 million.
Pros:
They give a distraction-free working environment
Facebook post bullet points
AIDA copy
Blog idea development
Cons:
The endlessly free package means that consumers have few reasons not to try this software.
INK does not provide a free plan but offers packages at various pricing points and an INK Free edition with limited annual and weekly use and features. Their program is acquired through a points-based system, with each piece requiring a specific number of points dependent on the sort of content produced.
INK offers ten free articles each month and is a great place to start if you're new to AI-assisted writing. It also offers over 40 quick SEO writing tools for affiliate marketing, Pay per click (PPC), and social media campaigns. Their accuracy algorithms address the following topics:
A generous free trial period.
Does not always provide the most intellectual output and is prone to wandering off-topic.
More unreliable on specific issues than others.
AI Writer is an AI copywriter service that allows content creators to develop content ideas at scale with the help of an AI writing helper. The platform provides various writing services, such as content creation and blog writing. It is among the most accurate content-generating tools, producing articles from scratch with state-of-the-art AI writing models.
Writers that use artificial intelligence may work on a wide range of themes and niche markets. Now, there's no need for SEO professionals. All content is dynamically optimised engines. With these full-length articles, you'll never run out of ideas for articles. Each point has citations so you can give accurate, high-quality content. Get the most bang for your buck by not needing to search online for the appropriate article template.
Origin: Delaware, USA
Founder: May Habib
Founding Year: 2020
Funding: It has secured $21 million in funding led by venture capital company Insight Partners.
Pros:
Creates distinct article draughts based solely on a title
Text rewording tool that generates content with proper information by validating citations
Verifier of citations
API accessibility
Cons:
Lack of originality;
Over-reliance on algorithms
Decrease in the number of employment available for writers
Lack of nuance and context.
If we compare them with others, there are three basic plans at actual rates.
They have provided an example of their generated blogs, and in their free trial, they explain How to use this.
GrowthBar integrates the pace of AI writing helpers with SEO tools, allowing you to use AI to research keywords, develop ideas, make summaries, and write full-length articles super-fast while following SEO best practices to rank your pieces right away.
Thousands of teams throughout the industry utilise GrowthBar to create content in mass, like Postmates, Product Search, and Square, to name a few.
Origin: Oceanside CA
Founder: Hailey Friedman
Founding Year: 2018
URL: https://www.growthbarseo.com/
Funding: GrowthBar is funded by the founders of Growth Marketing Pro
Pros:
AI content production that is optimised for search engines
Incredibly simple to use; a one-of-a-kind, quick, and simple method to obtain SEO data 'on the go.'
Keyword research and domain inquiries have no restrictions.
Available for free for five days.
Free Chrome Extension for on-the-fly keyword research and competitive intelligence
Cons:
Because of its 'slimmed down' nature, suitable for more basic SEO projects only.
Display keyword difficulty scores unavailability.
Not built for broken link building.
A 5-day free trial is included, and a 7-day money-back assurance. Growthbar offers three different plans: The Standard Plan, which costs $29 per month, The Pro Plan, which costs $79 per month, The Agency Plan, which includes $199 per month.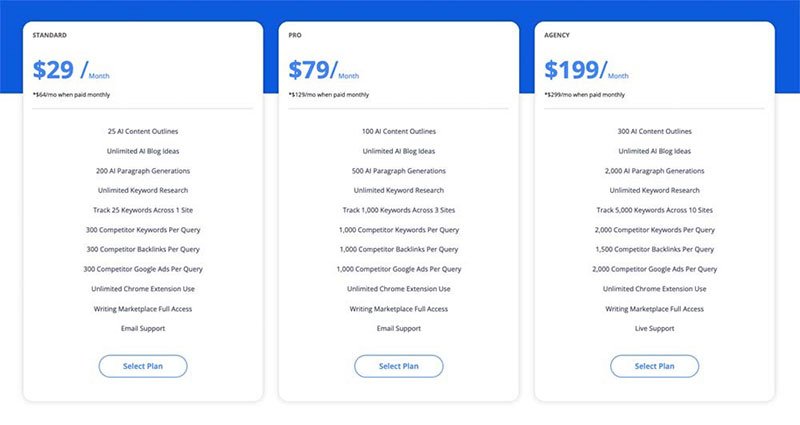 How to use: It has an easy extension to use services and detailed explanations!
Article Forge is artificial intelligence (AI) copywriting software that generates content for a specific topic or niche. Companies including the BBC, Forbes, and The New York Times have utilised it to write articles on various themes.
Article Forge includes a drag-and-drop interface, templates, and other features that make it simple. It takes keywords and subjects in seconds and generates fresh content devoid of typos and grammar errors.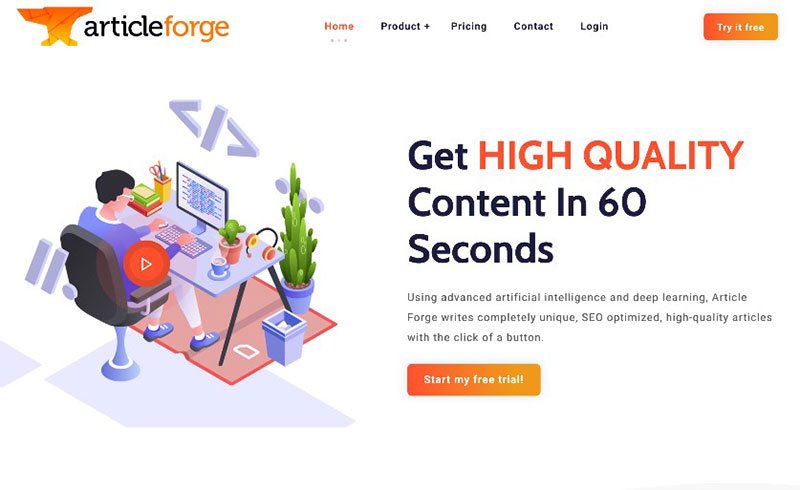 Origin: Baltimore, Maryland, United States
Founder: Alex Cardinell
Founding Year: 2015
URL: https://www.articleforge.com/
Funding: –
Pros:
Reduce the amount of time and money when it comes to content development
No Spinner or binary option.
Most cost-effective instrument for simulating human thinking and writing style.
Cons:
Only 750 words are allowed.
It might not be delightful to put in keywords.
Articles tend to repeat themselves a lot.
There are two plans available from Article Forge. Let's look at the plans and price for Article Forge: Standard procedure: The standard program gives users 250K words monthly with monthly and yearly billing choices. And one, the unlimited subscription gives you limitless words per month and has two paying options: monthly and yearly.
How to use:
they have provided a working example; click
Copywriters of all skill levels may benefit from ProWritingAid's extensive reports, which can help them improve their writing style. It allows you to look for and remove undesired components from your writing, such as redundant information, ambiguity, and phrases that are too lengthy.
ProWritingAid's ubiquity is the one characteristic I'd like to highlight. The software includes a Microsoft Office add-on, a Chrome extension, Scrivener, and Google Docs support. ProWritingAid can assist you regardless of the editor you choose.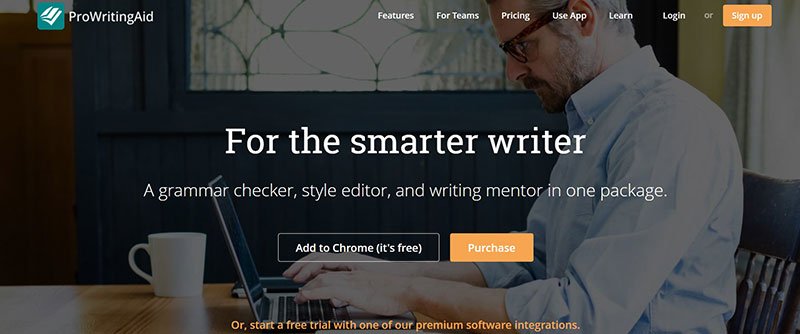 Origin: Oxford, Oxfordshire, United Kingdom.
Founder: Chris Banks
Founding year: 2012
URL: https://prowritingaid.com/
Funding: –
Pros:
Detailed interaction analytics and text tonal analysis
Integration with broad uses like Medium and Gmail
Based on your previous writing scores, you may enhance your writing using comprehensive writing reports, style ideas, and other advice.
Scrivener, Windows and Mac-native software, Word, Google Docs, Google Chrome extensions.
Style and phrase formatting
Cons:
Lags with massive documents like 500 pages at once.
Separate plagiarism checker has to be purchased
ProWritingAid's Chrome extension is free, and you can opt for any paid method per your needs. Plans are segmented, keeping user needs in mind. The service also provides discounts for students and bulk purchases. They provide packages like,
Individual Business Plan at $6/month
Business Teams Plan at $8/user/month (minimum two users, billed annually).
Enterprise Plan at custom rates
They have made a detailed explanation of How anyone can use their tools. You can check it on their website.
Copysmith never copies any smith!
Copysmith is an AI copywriting software that helps users generate content for their blog or website. It uses artificial intelligence algorithms to create unique text with the style of the user's writing.
Copysmith is another AI-based text generator developed to reduce the creation time burden for content marketers. It can write entire articles with a wide range of content styles and tones of voice. It can also autogenerate the text for whole emails, ad headlines, product descriptions, marketing copy, SEO meta titles, descriptions, etc., in San Francisco, California, United States.
Founder: Anna W
Founding year: 2020
Funding: $10Mn funded by PSG and Harmony Venture Labs.
Pros:
Very user-friendly interface
Tutorials available for new users
Well-written ad copy templates
Plagiarism checker
Cons: The only issue is now that credits can exhaust if not utilised within a specific amount of time. For example, if you buy $100 in credits and don't use them within a year, all credits will expire then you will lose all the money. To avoid this, keep records of the recognition and apply them appropriately.
Pricing plans: They have monthly and yearly plans per your needs; if we compare it with other advanced writing AI tools, it is convenient for any agency.
How to use: Copysmith had described every tool with its basics to understand any new bee, too.
Although content will generally retain a high level of quality, there can be instances when it appears spammy and requires manual editing. WordAi can "understand" humans' and can deliver astonishing results. WordAi is a linguistic article spinner that generates human-quality content automatically.
Artificial Intelligence is represented by the letter Ai in the name, and it was given that moniker for a purpose. All you have to do is grab an article and put it into its workspace so it can provide some blazing hot content. Increase your productivity with Word Ai if you truly want to immerse yourself in an online fight to keep a competitive rank.
Origin: Towson, Maryland, United States
Founder: Alex Cardinell
Founding year: 2011
URL: https://wordai.com/
Funding: –
Pros:
In the same amount of time, generate 10x the amount of high-quality content.
Reduce extended content and run-on phrases by splitting them into shorter, more understandable ones.
Rewrite each sentence from the beginning.
You may try before you buy.
Cons: Many features were deleted in the newest edition of the program to simplify the application for users.
Pricing plans: They have a 3-day free trial and three other content writing services.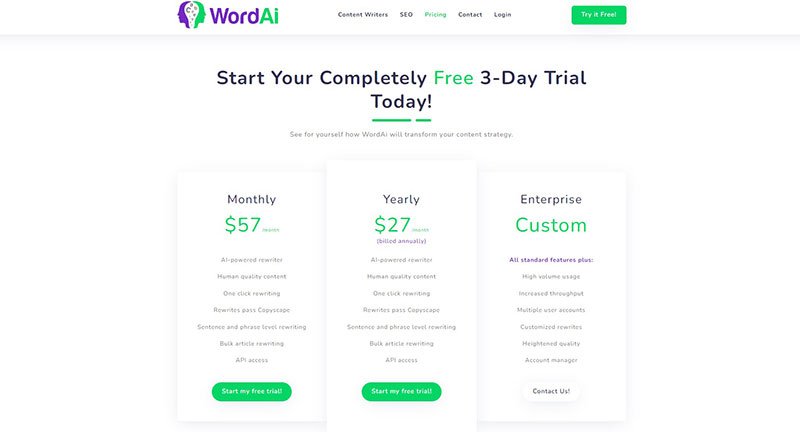 How to use:
WordAI provides whole guidance for using its software. WordAi is highly quick and easy to use. Enter your content, click rewrite, and WordAi will rewrite an entire piece of content in a few moments.
LongShot is an AI technology developed in India that generates Original & Credible long-form content. In minutes, you may go from study to generation to SEO!
LongShot AI is for you if you,
Need AI that works for its niche
Don't want to pick between factual accuracy and human-like writing; why choose when you can have both?
Need a more end-to-end solution, from content analysis to SEO.
Origin: Mumbai, Maharashtra
Founder: Ankur Pandey
Founding year: 2021
Funding: LongShot is the AI system for researching & generating long-form content and was founded by the same team that built Unfound.
Pros:
Cutting-edge technology
Very little time to generate 500 words or even a thousand-word article
Quality Content Ready for posting.
Chrome extensions
Cons:
Lack of a long-form content template
Copy to clipboard, Save, and predict performance not working.
Pricing plans:
It's time to check at Longshot AI'rice plans now that we've reviewed what Longshot is and its ten most popular features. The platform's price card, as well as the characteristics in each category, are shown below. There are three plans to choose from, with the following features: Basic plan, Pro Plan, and Enterprise plan.
For a free plan, you can click here!
They have a help desk, chrome plugin, and video guide to better understand the tool.
LanguageTool is an online proofreading service in more than 20 languages for any human being. It helps to write better content by suggesting grammar, style, and correct spellings. The best part of using LanguageTool is that it's an open-source tool, so I don't need to register or sign up to use it to check the spelling or grammar in my text.
Users also access a quality scoring facility for their texts and extra suggestions with its 'picky mode.' It also prioritises users' privacy by restricting browser add-ons to store data. LanguageTool helps every user like a professional, abiding by clear, precise, and stylistically correct writing techniques.
Origin: Potsdam, Brandenburg, Germany.
Founder: Abhinav Yadav and Narasimha Suda
Founding year: 2017
URL: https://languagetool.org/
Funding: –
Pros:
Easy to use.
Simplify texts and when I am about to get bogged down in long sentences.
Cons:
Lower accuracy.
Inconsistency across different dialects.
Pricing plans: LanguageTool is offered across two pricing plans; the first is Free Plan: 20,000 characters per check and the second is Premium Plan: 40,000 characters per check. And if we talk about periods, a monthly subscription – is $5. 01, a three-month subscription – is $9.50, and an annual subscription is – $14.93.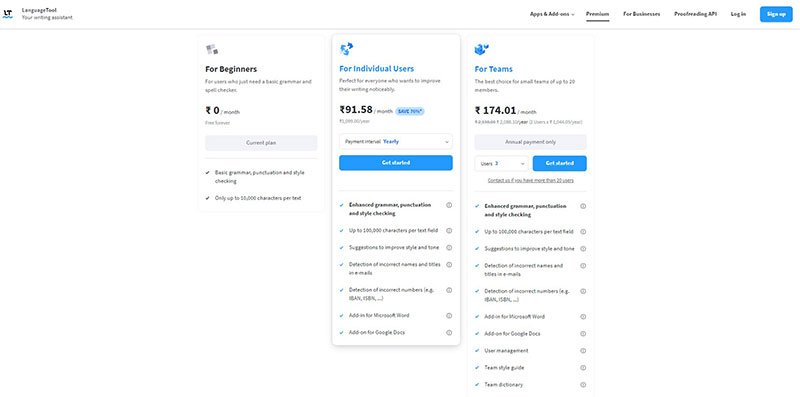 How to use: you can click here and get an extension of language toll and use it easily.
Anyword is an artificial intelligence-based copywriting tool. Clients may utilise its Predicted Performance Rating and A/B test to analyse How different keywords affect the sale of other goods. Anyword generates a variety of marketing copy options for users to choose from when specifying items. Workflows can be considerably accelerated with this method.
The artificial intelligence (AI)-driven application tailors and creates messages for specific platforms. Thanks to Anyword's ideation phrases and text variants, users may generate innovative ideas rapidly.
Origin: New York, USA.
Founder: Yaniv Makeover
Founding year: 2013
URL: https://anyword.com/
Funding: Secured $9.1 million from leading investors like Group 11, UpWest Labs, Innovation Endeavors, and The New York Times
Pros:
Third-party adaptations / API — used with a variety of other applications.
Complimentary 3-day trial – use the tool for free for three days before paying with a debit card.
Uses the AIDA and PAS frameworks.
Predictive performance score – to assess the potential of each communication you send.
Cons:
No license for a lifetime.
Many choices were dropped. Having more options enabled users to enable/disable various rewriting features, which are now implemented automatically with no control.
Word restrictions.
WordAi has two different price options. The monthly price plan will cost $57 monthly and is charged annually at $27 monthly. You'll want the same features regardless of the pricing plan you pick. Also, there is a 30-day money-back assurance, so you may get a return if WordAi doesn't live up to your expectations.
A Custom plan is also available, containing all the regular features and unique benefits. Customised rewrites, which I believe is an ability to enable/disable various rewrite features, are the most intriguing feature here.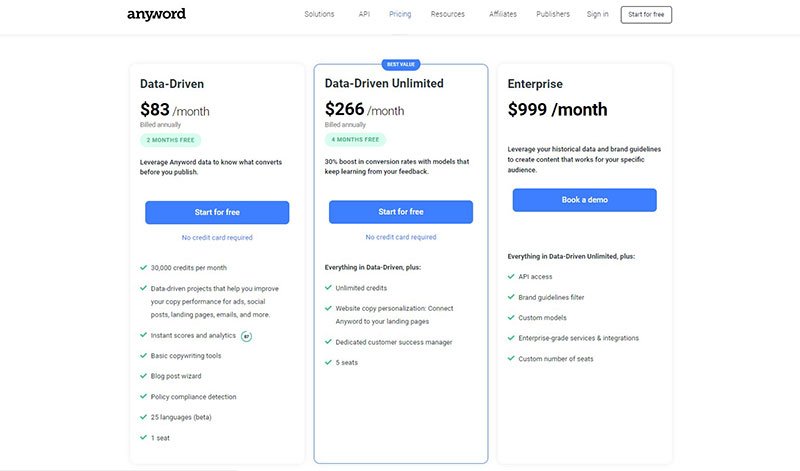 How to use: You can book a demo to experience any word's services.
Scalenut is a content creation tool that makes the writing process more efficient. Its AI writing strategy combines SEO and NLP methodologies to help produce appealing content and page ranking optimisation. Scalenut's SEO Assistant enables you to create content targeted to search engines.
A document editor with your term at the centre displays it when you write in a chosen keyword. It's fantastic that your competitors are shown in a column on the left. Scalenut's Controlled Marketplace is a notable feature, enabling you to hire experts to help you write, design, or produce video content within the platform. Scalenut is a young yet intriguing content intelligence SaaS technology that supports artificial intelligence to help you identify and generate the most appropriate content for your audience.
Origin: Haryana, India
Founder: Gaurav Goyal and Mayank Jain.
Founding year: 2020
URL: https://www.scalenut.com/
Funding: Titan Capital, Angel List, First Principles VC, Abhishek Goyal, and other renowned angel investors led a $400k seed investment.
Pros:
Free edition – A credit card is not required, and it will remain free indefinitely
SEO Research – rather than relying on an integration, SEO is embedded into the platform
Long and short-form AI writing tools
No word length restrictions
Regulated marketplace to hire expert copy editors for blogs, website content, white papers, eBooks, and more
Cons: It occasionally spills out irrelevant information.
Scalenut offers three different price options, as well as a free option. Individual plans start at $29 monthly ($12 if you subscribe for a year), Expansion at $79 monthly ($33 per month if you subscribe for a year), and Pro at $149 monthly ($62 for yearly plans).
Scalenut is an excellent alternative if you don't want to pay extra for an SEO audit and want infinite words. With this tool, you are not restricted to a subscription plan. You may start with a free program, which includes two SEO papers and 2000 words comprising long- and short content. This strategy is an excellent place to begin your AI writing adventure.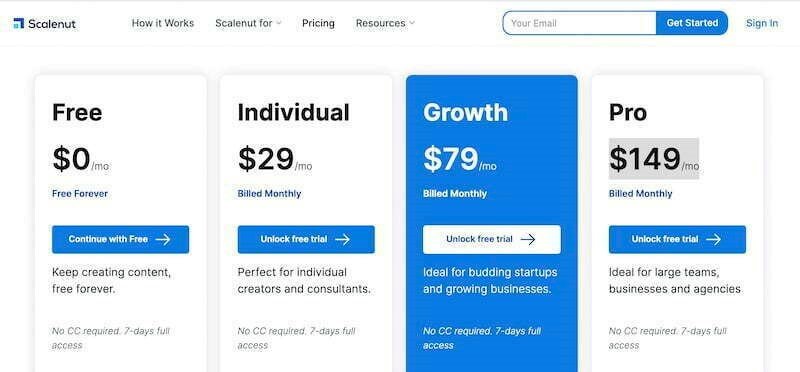 How to use: They provide basic instructions to use their solutions!
CopyMatic is a brand-new AI-powered program that creates infinite copies for sales emails, commercials, and video scripts in only 10 minutes. It's the most excellent copywriting tool for creating high-converting written content!
CopyMatic develops high-converting copy for your websites, such as sales pages, lead capture pages, thank you pages, upsell pages, etc. Because CopyMatic automates the whole copywriting and profit-making process, it offers you a life of complete independence. I'm blown away by How well this program works. There is no longer any need to spend money on pricey freelancers or manually write content.
Origin: Los Angeles, California, United States
Founder: Ryan Faber
Founding year: 2021
Funding: –
Pros:
CopyMatic delivers your business to new heights by translating your content into 108 languages. Get your content translated into over 108 languages and reach a global audience like never before.
New copy kinds and variations: This game-changing program automates the authoring process, giving you complete control. Use the clever text editor to give your automatically generated content the finishing touch with new variants.
100 percent cloud-based hosting: Nothing has to be downloaded or installed. CopyMatic is housed on a dependable cloud server that can be accessed from every device or browser.
Next-generation innovation: This AI tool quickly learns your preferences and creates copies that entice consumers to buy without hesitation!
Authority across categories and niches: CopyMatic allows you to write emails, sales pitches, video scripts, and ad copy for various popular types. It also creates attention-getting content for a variety of themes.
Detailed video training: CopyMatic offers step-by-step training films that help you realise your full potential in minutes!
Cons:
When the AI generates a generic copy, you may need to run it two or three times to achieve better results.
Advanced functionality, such as ongoing content production, are not accessible on other platforms.
Copymatic AI provides two simple pricing plans that are pretty affordable:
Starter plan at $29/month—for up to 1000 credits
Pro plan at $49/month—Unlimited content generation (Unlimited credits)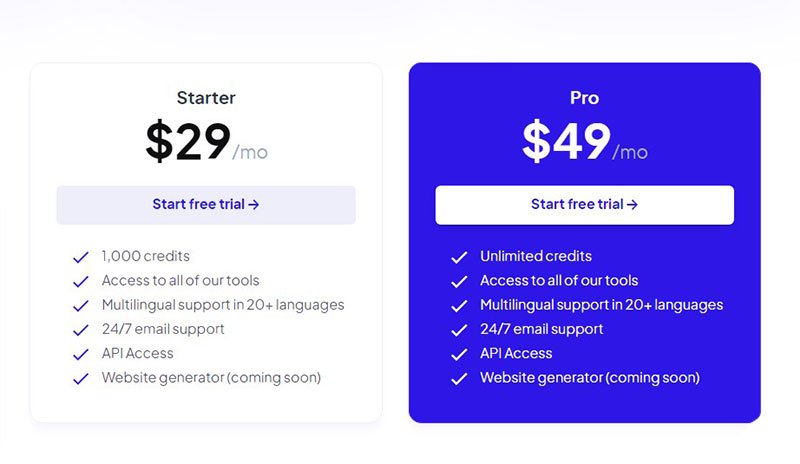 How to use:
Here's the step-by-step process of How to create an article with Copymatic AI,
https://youtu.be/kvl-vWRLMoc
Simplified is a universal platform that makes it easier than ever for you (business owners, freelancers, and content groups) to produce content, expand your businesses, and work with your team.
Origin: Worcester, Massachusetts, United States
Founder: Quoc Pham and Igor Mandryka
Founding year: 2020
Funding: Craft Ventures led an $8.5 million seed investment round with Wing Venture Capital and Khosla Ventures support. 8-Bit Capital, Uncorrelated Ventures, Manik Gupta (Corporate VP, Microsoft), 8-Bit Capital, Mads Johnsen (CPO, Calm), and Ankur Nagpal were among the investors in the round (Founder of Teachable, Vibe Capital).
Pros:
Everything that you need to tell your narrative in one location, like design student layouts templates) and thousands of premium images, movies, GIFs, stickers, icons, music, brand assets, etc.
All the content-creation capabilities you'll need in one app.
Move quicker and remain on-brand with Branding Kits, which merely require your company's URL to capture all critical data.
Google Drive, Compatible with Shopify and other popular programs
Collaborate with your team & your clients
Simplified is a precious tool for all marketers, authors, and producers because of its simple navigation, disciplined process, team collaboration, and reasonable subscription levels.
Cons:
Absence of a doc export option
Simplified subscription plans allow you to create beautiful, AI-powered designs and content in seconds. They have four projects to pick from, depending on your needs. You may learn more about our memberships and compare them here. Individuals pay $0, and teams pay $8 in simplified pricing.
Yes! They get a Free Lifetime plan that will remain free indefinitely. This is the package for you if you're a maker who wants to use Simplified core features.
Unlimited projects, 1000+ typefaces, millions of pictures and icons, tens of thousands of templates, rapid-publication, 1,000 AI copywriting words, and 1 GB of storage.
How to use: Simplified gave simplified videos to understand its tools.
Using AI and natural language processing, Frase analyses the subject coverage on top-ranking websites. After completing the analysis, you will be given a list of keywords or phrases to include in your content to improve your search engine rankings on Google and Bing.
The outline builder in Frase makes it simple to establish an article structure. You may write your content brief or let the program do it for you. It also includes various short content templates you may use to start writing your next blog post.
Origin: Boston, MA, USA.
Founder: Tomas Ratia
Founding year: 2016
Funding: $948K by 2018.
Pros: Frase's main benefit is that it employs its content writing technique. Therefore, it isn't limited to the same topics as other GPT3-based AI writers. You won't need to pay for an additional SEO product like Surfer SEO or Market Muse because it includes SEO optimisation features. You have total control over How you train and construct your templates.
Google Search Console integration
Version controls in the content editor
Undo/redo buttons — none of the other tools has these! You'll have to rely on keyboard shortcuts.
PDF, HTML, or Excel export
Cons:
Frase is centred on SEO copywriting, so unless you're prepared to design your templates, it might not be a suitable fit if you want to produce other types of copy like advertising or press releases.
Frase has three plans to choose from primary, team, and enterprise. The base plan includes one user place, 30 doc credits, and unrestricted document sharing. On the other hand, the enterprise plan is designed for large-scale in-house and agency SEO teams. This bespoke plan includes an infinite number of user seats and limitless document sharing and credit.
Frase offers a "7-day trial," which I meant a free trial.
How to use: Frase had explained its system in simpler formats in video forms.
So, As we've seen, the top 20 AI writing tools help writers and agencies improve their marketing with little work. AI writing helpers are a game-changer for content writers who wish to experiment with different styles or themes without stressing the calibre of their writings.
Content writing is a significant undertaking, and if you have trouble meeting deadlines, and AI writer could help. So yet, no AI author has won the Pulitzer Prize, but it's just a question of time until one does.
AI can assist you in writing innovative and accurate content if you have the correct tools. Look for a free trial of the AI tool so you may check it out before agreeing to a membership.
Let me solve you a bit,
Thank you for your valuable time,
If you like it, please share and comment!