Content is king! Without meaningful and impactful content, your marketing efforts will run stale, or worse, fail. You need consistent and quality content, regardless of what industry your business is in. We at Write Right, pump out world-class bespoke content for our clients. We're a team of passionate marketers and driven storytellers that are always ready to serve you.
In light of our amazing year, Write Right is extremely grateful and excited to announce that we've been officially recognized as India's most reviewed content marketing agency for 2021 by The Manifest!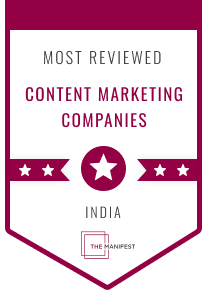 To give you a better understanding of how much this means for our team, we're going to do what we do best and tell you more about our tale.
In 2016, Write Right was established to provide a plethora of writing, creative, and marketing services ranging from creative copywriting, ghostwriting, professional blog writing, social media writing, academic writing, and so much more. Over the years, we've successfully mastered the art of adapting to jive with our clients' brands.
Throughout the years, we've worked with over 1,200 clients and completed more than 156 clients — and those numbers keep growing. In recent years, we've also been highlighted as one of the fastest-growing companies in India. Thanks to our clients, we received this wonderful recognition from The Manifest.
The Manifest is a business news platform that features leading companies from different industries and locations globally. Their goal is to help corporate clients and potential buyers learn more about the best service providers out there.
In their inaugural recognition, Write Right's successful projects were highly regarded. Our team was deemed as the most reviewed and recommended in the content marketing spaces thanks to the tremendous support of our clients.
"It is no less than one of the greatest milestones in our hustle till now to have accomplished this reputation across the globe in such a short time." — Bhavik Sarkhedi, Founder of Write Right
Thank you The Manifest, our entire team, and our beloved clients for making this a sweet achievement for us! We are genuinely honored by this award.
Need help with your content and writing needs? You're in the right place! Write Right is stoked to work with you. Contact us today and tell us more about how we can help!