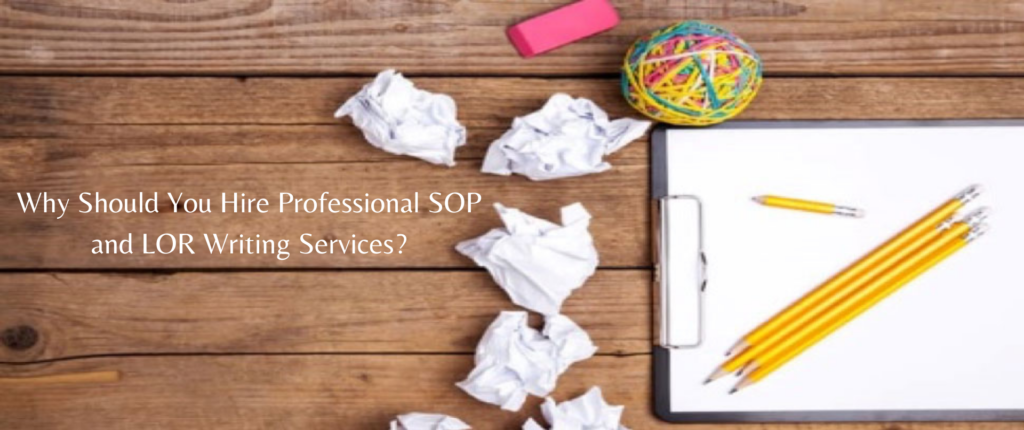 To study abroad or further, students from several corners of the world need to submit a precisely written Statement of Purpose or Letter of recommendation to get admissions to the most prestigious colleges. It is needless to say, the role of an SOP/LOR is highly crucial in a student's life. Simply put – A statement of purpose is a description addressed by the appellant. In contrast, a Letter of recommendation is a recommendation of a professor or lecture showing your qualities, skills, and so on.
However, one common thing that both of these crucial documents include is; about you. The SOP/LOR is a document that convinces the admission officer to offer you admission in reputed colleges abroad. So, it is evident that you need to construct a delicately written SOP/LOR that will grab the admission committee's attention. Now, before moving on to the need for a professional SOP/LOR writer, you must be completely knowledgeable with every detail about SOP/LOR. So, that's bringing you to this part of the article to get to know about SOP and LOR.
Statement of Purpose
A statement of purpose is a crucial document needed while applying for graduate school. This document comes in an essay format that describes who you are. It is again groundless to state that it is an inherent aspect of every student's life. This is because; the admission committee offers you admissions only after reading your SOP. One point that you must be apparent of now is that you have to come out individual. You have to offer reasons why should the admission committee choose you as compared to other students and as to why are you more deserving.
And the most crucial part of writing an SOP is; an SOP is not only a document that shows you as a candidate, but it also shows your writing skills. The admission representatives will also determine how good you are at engaging with words. So, that brings you to a position where you have to give your best shot.
Now that you know about SOP importance, here is the general format for writing your SOP.
General format for SOP
As the SOP is academic writing, so the general format for it is as follows:
Times New Roman fonts with 12 size
1-inch borders on all sides of the document
General length – 1.5 line spacing
Mistakes to avoid while writing your SOP
You are not a skilled writer, so you may come up with errors that may negatively affect your SOP. So, you must ensure to avoid some common errors such as:
You should make sure that your SOP doesn't include spelling or grammatical errors. Even if you are checking on employing tools, you should ensure to select the language preference between UK and US English. If you are submitting your SOP to a university in the UK, you must set the language preference to UK English and likewise for the US.
Further, you should also include a robust and precise tone of writing.
Avoid repetitive language.
Please stay away from informal, and keep it as formal as possible. Avoid using any jargons or short forms.
Show a positive tone in your SOP.
Make sure your SOP stands out on quality, uniqueness and is also plagiarism free. A copied or duplicated SOP is highly frowned upon by the admission committee of every educational institute. Such applications instantly get rejected.Remember, your SOP has to be original and personalised.Now that you are transparent with basics of SOP, let's take a look at how an LOR works. So, the following segment of the article will assist you to know about LOR.
In brief about Letter of Recommendation
A Letter of Recommendation is a summary dispensed by teachers or lecturers on what they think of you and your progress. Usually, these types of documents are from your mentors with whom you have been associated academically or worked professionally in the past. If you explain it in short, a letter of recommendation is a document drafted by someone credible enough to test your skills, achievement, and expertise.
So, a precisely drafted LOR from a well-known recommender will always help you grab the seats in prestigious colleges all over the world. It is more like a review of your persona approved by a professor. Now, the fundamental reason why colleges ask for your LOR is; it offers them an insight into your career profile. So, they can conclude why they should choose you.
So, moving ahead to see how the format of an LOR looks like;
General LOR format and content
LOR is usually a single-page essay. A general acceptable LOR stands between 300 to 400 words. Yet, there may be some specific guidelines pertaining to the institute you are applying to, that you must check out beforehand.
LOR is written in few paragraphs. The introductory paragraph constitutes a robust correlation between the undergraduate and the recommender and how they are relevant in writing a recommendation for you. The second paragraph talks about strengths of the applicant as seen by the recommender, while the third paragraph mentions the technical or other skills, you possess as an applicant and the last paragraph concludes with a summary of why the admission committee choose you as per your recommender's view point.
Further, it would be best if you write your LOR on an A4 size word and convert it into pdf before submitting.
Font size must be around 11-12.
Maintain a 1-inch margin throughout the document.
And the line spacing length must be 1.5.
A general LOR comes within one page of a document
Types of LOR
Keep in mind, since your recommender can be a lecturer or a manager, there are usually two types of LOR you can submit. Depending on the circumstances, the recommender assists you with two types of LOR. And that includes:
Academic LOR
Academic LORs are the documents recommended by professors who taught you any individual subject. Or it may be by someone with whom you have worked within your final project. They recommend you for your academic skills purely.
Professional LOR
These are the LORs usually recommended by your supervisor or reporting manager. They define the professional skills that you are excellent at while working with them.
Now, having understood the intricacies of an LOR, let's throw some light on the common mistakes that you can make while drafting your LOR:
Common mistakes that you make while writing your LOR
Repeating what was discussed!
One of the most common mistakes that every applicant makes is repeat lines that have already been covered earlier in the LOR. This reduces the conciseness in your LOR and makes it cluttered.
Keeping the same information all over
Another mistake that every applicant makes is keeping the same information about themselves throughout the LOR. So, this, as a result, reduces clarity in your LOR.
Wrong recommender
Recommender plays a vital role in your career. So, choosing the wrong recommender creates an impeccable impact on your career.
So, these are the common mistakes that every applicant makes in the LORs that they submit. If you want your LOR to stand out from the crowd, you must avoid the most common mistakes.
Now that you apprehend the basics of SOPs/LORs, here is moving on to the article's most essential part. And that is Why Should You Hire Professional SOP and LOR Writing Services?
Why do you need to Hire Professional SOP and LOR Writing Services?
Before moving on to professionals' needs, you should know what difficulties you face while constructing an SOP/LOR yourself.
Challenges in making SOP/LOR
Working on the last minute
Most of the students find less time to create an SOP/LOR. This is because; they engage themselves in several other admission processes. Most of the students find it tedious to arrange all the documents needed for admissions. So, in such cases, they work on their LOR/SOP in the last minutes. 
Writing is just a few hours' makes your SOP/LOR cluttered. Some students even write it from the internet at the last minute. So, this makes a plagiarized SOP/LOR. But hiring professionals help you a lot. You don't to be worried about your SOP/LOR once you order writing services. They will come up with a unique SOP/LOR within your deadline.
Weak introductory and concluding paragraph
Another major hurdle faced by most of the students is writing weak introducing and concluding paragraphs. You might be a good reader. But writing is an art; it needs concentration to form an engaging LOR/SOP. Writing weak introductory paragraphs will reject your college application, whereas professionals writing services have skilled writers. They write more than 100s of LORs/SOPs. So, this offers them the skillfulness to design your SOP/LOR with magical words that are not ignorable.
Using informal language 
Almost every applicant makes this mistake while writing their SOP/LOR. Both of these documents play a vital role in your admission. So, you must write it in a formal language with proper choices of words. But applicants at their last-minute use informal language that affects their applications in a college. But coming up with professional writing services eliminates informal languages in your document. With years of writing, they know the exact tone your SOP/LOR should conclude.
Exceeding word limit
You must be conscious of the truth that too much sweetness in sweets also makes it unpleasant to eat. Similarly, too many words will also make your SOP/LOR unpleasant to read. Most of the applicants, while creating their SOP/LOR, exceed their word limit. But hiring professionals helps you avoid this problem. This is because professionals come up with documents that are just right for the reader to read.
Making it excessively flashy
You have to stand out from the crowd. But that doesn't imply that you will use excessively flashy words in creating your SOP/LOR. It will make your document sound unnatural. So, you should maintain simplicity with the right choice of words. In such cases, professionals come up with documents that will highly impress the admission committee. They use catchy words to grab attention.
Benefits of hiring professionals
Customize SOP/LOR is what you need in recent times. Admission committees are looking for documents that are simple yet sound unique. So in such cases, hiring professional writing services helps you a lot. With extensive years of expertise in SOP/LOR writing, they come up with works that are hard-to-ignore. So, if you are about to create your SOP/LOR, here are some reasons to go with professional writing.
Excellent quality
Quality is the most vital part of your SOP/LOR. So, if you are submitting any such document, you must ensure the highest quality standards. Hiring professional writing services will always assure you of quality. This is because; professional writing services have skilled writers to commit to the highest standard of quality.
Professional writing and editing
Another essential benefit of hiring a professional writing service is you get SOP/LOR writing that is hard-to-ignore. They have accomplished writers who have years of involvement in writing SOP and LOR. So, this delivers you the work that you demand.
Further, with writing expertise, writers are proficient in using words that will grab readers' attention. And that's not over yet! Professional writing services have dedicated editors to deliver you an error-less SOP/LOR. You may have good writing skills, but editing will make your document more worthy. So, this is why you should always strive for professional writing services.
On-time delivery
Writing services are always committed to the client's satisfaction. So, they try their best possible to deliver every demand of the customer. And on-time delivery is one such target that professional writing services never miss. With a team of writers, they deliver you SOP/LOR in quick turnaround times. So, this makes it an inevitable reason to hire professional writing services.
Free error correction/edit
There are times when you may need last-minute changes in your document. Although writing services never miss their mark in creating the best LOR/SOP, there are some cases when a document needs editing due to wrong information from the customer's end. In such cases, writing services offer you free-error corrections. So, this helps you assure that writing services are always at your help when you need them the most.
100% plagiarism-free
About 90% of the applicants create their SOP/LOR in the last minutes. So, with less time in hand, they depend on the internet to make their SOP/LOR. But one thing that they ignore is they are creating a plagiarized content. That implies creating SOPs/LORs that are 50% of the match to any other SOP/LOR. This, as a result, makes your document repetitive, and you lose your uniqueness.
But hiring professional writing services help you eliminate plagiarized content from your SOP/LOR. Professional writers write your SOP and LOR from scratch and try to keep it as unique as possible. So, you should always hire professional writing services to create your SOP/LOR.
Impeccable writing trend
You may write essays in your schools. But are you aware of all those latest trends in writing SOP/LOR? No! This is because, with time, the format and writing tone of documents changes. But professionals are well-versed with all the latest writing trends to make your SOP/LOR more engaging to read.
Conclusion
Keeping it brief, this is why you need professional writing services for SOP/LOR writing. It would be partisanship to say that these were the only benefits of hiring professionals. Listing all the benefits is like making a never-ending list to choose professionals. Now that you acknowledge all the perks of hiring professional writing services, you must choose the best writing services for your SOP/LOR writing.